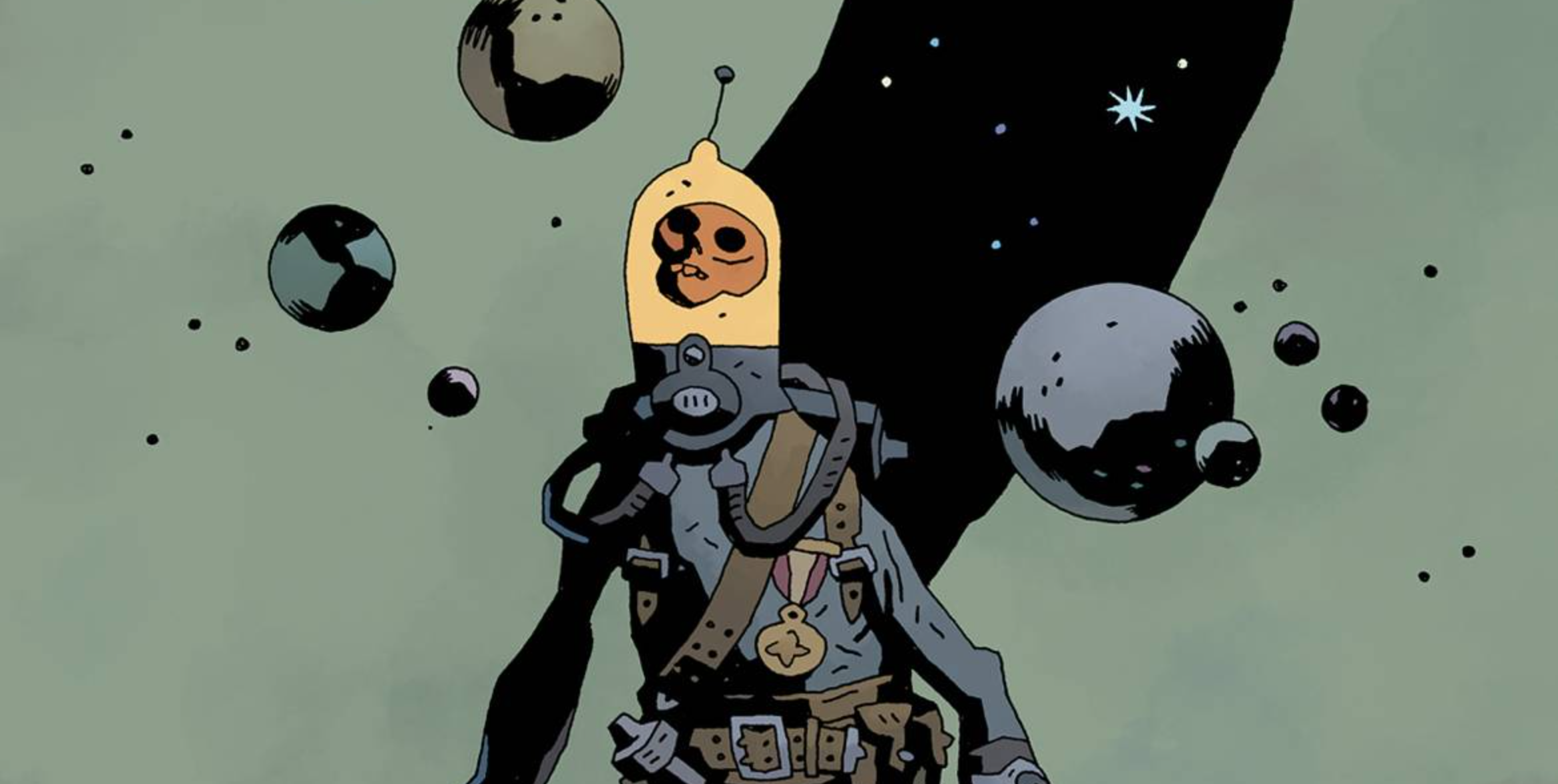 This week, Mike Mignola trades the depths of hell for the heights of space in Radio Spaceman #1.
The title character comes from Mignola's quarantine sketches, dreamed up during Covid-19 lockdown. Mignola and his fans fell in love with the storyless, skull-faced spacefarer. Now, brought to life by Greg Hinkle's pencils, Radio Spaceman soars into his own sci-fi serial.
If you're like me, you might feel a tinge of disappointment upon hearing that a book based on Mignola's sketches is not, in fact, pencilled by Mignola. But that disappointment will vaporize like space-dust the moment you crack open this comic. Hinkle's art immediately pulls you into a fully-realized, fantastical universe.
When storytellers strike the right balance of mystery and clarity, magic happens. Here, Mignola and Hinkle are sorcerers. This book evokes the golden age of pulp serials, before so much sci-fi traded wonder and adventure for meticulous world-building. 
The world of Radio Spaceman brims with tip-of-the-iceberg details that plunge your imagination deeper into the story: ancient alien temples with untold histories, giant monsters minding their own business, the strange mechanics of alien worlds. But these delicious mysteries never impede the straightforward story. It's a classic adventure serial, moving from one peril to the next at warp speed.
As the name implies, the mechanics of Radio Spaceman don't extrapolate from today's technology—there's no Space X or Blue Origin in this cosmos. Instead, this galaxy belongs to the 1950s, or even further back, when radio waves and radioactivity still held space for magic in the popular mind. 
Mignola's macabre sensibilities bring a dash of Lovecraftian horror into the futuristic setting, so fans of Hellboy will find some familiar notes. The book also recalls sci-fi classics like Edgar Rice Burroughs's A Princess of Mars and Georges Méliès's "Le Voyage dans la Lune." It harkens to an era when space travel was the domain of mustachioed men in drawing rooms.
The only true disappointment of the book comes from the cover itself, which indicates that this is part one of only two. There's a charm to this tale that makes you want to stay and explore its depths. It's already obvious that two short issues will barely be enough to dip your toes in.
If you want a classic sci-fi adventure serial with a signature Mignola twist, Radio Spaceman delivers. Grab a floppy from your local comic joint today.