Story: John Layman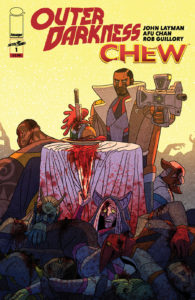 Artists: Rob Guillory, Afu Chan
Letterers: Pat Brosseau, John Layman
Publisher: Image Comics
I confess that I was not bowled over by the idea of an Outer Darkness/Chew crossover. The concept felt forced and gimmicky — the kind of cynical throwaway gesture that a corporate sales division would put into motion so that we didn't forget John Layman's Outer Darkness while it's on hiatus. But I'm pleased to say that I was wrong. Outer Darkness/Chew #1 works. Layman takes two comicbooks with different tones and puts them together in an entertaining way that's suitable for fans of either franchise.
The opening premise is simple and effective. The crew of the spaceship Charon needs a special kind of culinary help after a diplomatic mission goes horribly awry. So, they reach back in time and summon cibopath Tony Chu and his cyber-enhanced partner Jon Colby. Tony and John humorously try to adapt to their new circumstance. But Jon begins to sense that something might not be right with their present situation.
What I didn't expect, but which makes sense in retrospect, is that Chu and Colby would provide a nice comedic balance for Rigg, Prakash, and the rest of the Outer Darkness cast. Chew was always an easygoing book that never took itself too seriously. Meanwhile, Outer Darkness is a more serious comic committed to probing the most disturbing corners of the sci-fi genre. And, though tonally this is a Chew comic, the storytelling primarily suits the audience for Outer Darkness, at least so far. The back matter provides a brief introduction to Chew for those readers unfamiliar with the comic book.
Rob Guillory and Afu Chan join the fray with a seamless artistic partnership that suits the light, relaxed tone of the crossover. But Chan also makes sure we remember that this comicbook is set within the bleak universe of Outer Darkness.  And, as if on cue, Image Comics just announced Chu, a summer spinoff of Chew from Layman and Dan Boultwood timed with the trade release of the Outer Darkness/Chew miniseries. So, maybe there was something a bit cynical about this crossover. Welcome to the bubble, I guess. But, on the upside, at least there's plenty in the Layman universe to keep us busy this year.