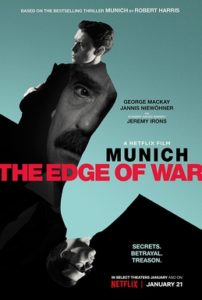 Munich – The Edge of War (2021) is one of the latest Netflix original movies that have become popular during the pandemic. The story, adapted from the novel of the same name by Robert Harris, takes place as the world is on the cusp of World War II. Using the Munich Conference as a background, the plot of the movie focuses on two diplomats — and estranged friends — on opposite sides of the Axis and Allied factions. 
The movie starts with a flashback of Paul, who is of German descent, and Hugh, of British descent, as they wrap up their college years at Oxford. A six-year jump finds Paul working for the German Foreign Service and Hugh working for the British Foreign Ministry. After the time jump, the two are kept separate. Only later do we find out the two have had a falling out. 
The background of the plot is based on reality, however, the movie borders on fan-fiction with some of its fictionalized parts. Many of these parts are used to create suspenseful moments that keep the audience engaged. In what could be considered the apex of suspense, Hugh goes around his superiors to try to get his friend Paul a private meeting with the Prime Minister. In that meeting, Paul hopes to convince the Prime Minister that Adolf Hitler has no plans to abide by the peace treaty that is about to be signed. The actions of Paul seem hollow and do not vibe with the German Nationalist character that had been established. 
The desire of leaders to keep the peace set up in the aftermath of World War I is one point that is very accurate. While the actions of Prime Minister Chamberlin may seem uncaring, the stark reality is that peace set up after World War I was more sacred than any other outcome. While the desire for peace is correct, it does not supply enough action for most audiences. Thus, the more espionage-focused points that were added to the story to supplement this lack of action. That idea of espionage leads to the inevitable pitfall of asking if killing Hitler would cut off the coming problem. While this is something that people may ask among friends, it is a story device that has been used well beyond its shelf-life. 
In the end, Munich-The Edge of War wants to shine a light on the failing of world leaders but does not supply evidence other than the most superficial kind. What starts out as potential espionage and spy thriller devolves into a mess of fantasy and what-ifs. Given all the real-world drama that existed during this time period, what the film offers us is a huge disappointment.  
Munich-The Edge of War
Predictable Tropes
5.0/10
Credits
Starring: George MacKay, Jannis Niewohner, Nick Wymer, Alex Jennings, Jeremy Irons
Director: Christian Schwochow
Writers: Ben Power, Robert Harris
Producer: Andrew Eaton, Katharina Haase,
Distribution: Netflix