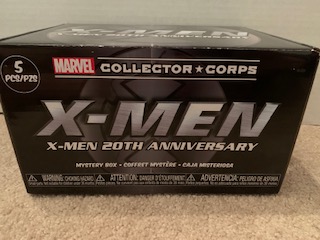 It has been a while since I've done a review on one of these Marvel Collector Corps subscription boxes. Between the launch of the new site and one of my favorite franchises being represented, I figured now was a good time to jump back in.
For those of you that aren't familiar with the Marvel Collector Corps boxes, it is a bi-monthly box made by Funko and distributed by Amazon. Each box typically holds between 4-5 mystery items from Funko's ever-growing lineup of products. Being in the middle of what would have been summer blockbuster movie season, Funko went old school and decided on X-Men (2000) (and a little X2) as July's theme. The choice also lines up nicely as this summer was the 20th anniversary 2000's X-Men.
Opening the box does not give us a ton of clues as to all of the content, but it makes it obvious that, while the theme was the 20th anniversary of the movie, they took some liberties with the products.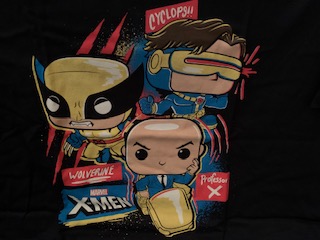 The first item I pulled out of the box is the t-shirt. It seems like a typical choice in these boxes, and they decided to go with black paired with the Funko graphic. Honestly, I have been getting the Marvel Boxes from the beginning, and I can only think of three times that the shirt was not black. The other noticeable thing with the shirt is that, instead of going with the movie designs, they went with the more classic '90s style for the characters. Don't get me wrong, it's a sweet shirt that I will definitely wear, but it would have been cool if it was movie themed. If you buy these boxes to flip, right now, sold listings on eBay are hovering in the $15 range.
By far, the most popular part of these Marvel Collector Corp boxes are the exclusive Funko POPS!. This month, we ended up with two standard-size figures.
One of the more iconic scenes in the movie is Mystique giving a kick as she morphs. Here, 20 years later, it has been captured in POP! form. The figure comes with a stand so that she can be posed in mid-kick to truly stand out. Recent eBay sales have this POP! selling for about $20.
The second POP!, once again, shows that curators decided not to focus on the original X-Men movie. Instead, we get a Wolverine that looks as if he is from Wolverine's solo movie, The Wolverine (2013). In addition, this Wolverine is rocking the bone claws. While not based on that first movie, this is a pretty sweet looking POP!. It also may be the first Wolverine with the bone claws. eBay flippers are bringing in about $20-$25 for this figure.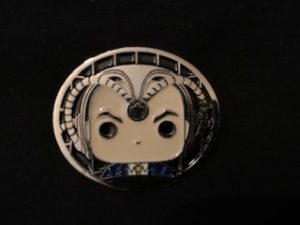 In the last few months, the fourth and fifth items have typically been a decal and a pin. This month, we ended up with an X2 accurate NightCrawler and a chrome Professor X pin. Both items, while cool looking, typically sit in a box with all the other pins and collect dust. The two together are selling for around $8 on eBay.
Results
If you were to price the box out and sell it, you could be looking to make a grand total of around $65. For a box that costs $29.99, that is a pretty good profit margin. Of course, if you are like me and like to wait and see, the chances of it going up on eBay anytime soon are pretty rare.