Developer: Cardboard Computer
Publisher: Annapurna Interactive
Supported Platforms: Windows, Linux, MacOS, PS4, Xbox One, Nintendo Switch
When I finished the final act of Kentucky Route Zero: TV Edition (2020), I sat in silence for a few minutes. I tried to take in all of the emotions I had just experienced, hoping the feeling would last just a bit longer. The final scenes carried some emotional gut punches I had never quite experienced in a video game. When I told my wife I had reached the end, her response was less than enthusiastic: "Every time you tell me about that game, it bores me out of my mind," she said with a laugh.
It's a unique take from her. While she doesn't play as many video games as I do, she at least tries to go on the journey with me when I talk excitedly about a game I'm playing. With Kentucky Route Zero, she just couldn't. And I don't blame her.
I think our sample of two is probably a pretty accurate representation of people's reactions to KRZ: you either love it or you find it incredibly boring.
Originally funded by a Kickstarter campaign in 2011, KRZ has come out in trickles over the past seven years. The final act released about a month ago. Along with act five, developer Cardboard Computer and publisher Annapurna Interactive brought Kentucky Route Zero: TV Edition to consoles that includes all five acts and the four interludes Cardboard Computer originally released on their website to bridge the gaps.
The story follows Conway, an aging truck driver making one final delivery for an antique store that is closing. Conway is looking for a specific address that doesn't appear to exist on any maps. The journey itself will take him through the backroads of Kentucky, exploring the landscape and interacting with the residents, all of whom seem to be connected to one of two companies that drive the area: the Consolidated Power Company and the Hard Times Distillery. Through all five acts and four interludes, the player is shown the struggles of the people who are nothing more than pawns in a chess game played by those with far more power.
It's important to note that the player is not tasked with solving any of these problems. On the contrary, in the face of such hegemony, it's impossible to do anything. You can only observe and chronicle the narrative created by the structures of capitalism, debt, and power.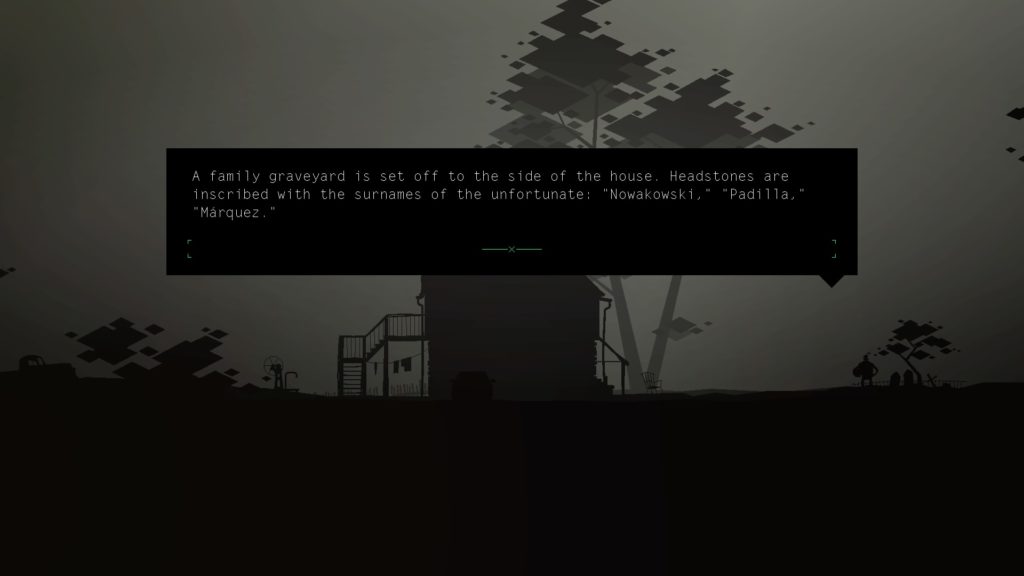 While KRZ bills itself as a point-and-click adventure, I don't entirely think that's accurate. I think interactive fiction would be a better descriptor as elements common to the adventure genre, such as puzzles and agency, are light. Most of the time, the input from the player is simply a selection of dialogue options, many of which will actually just end the conversation. The characters in Kentucky Route Zero have their own worlds and lives, and the player is just moving through each one — a stop on his or her journey. In fact, the agency of the player is completely removed in the final act, creating more of a theatrical play or movie than anything resembling a video game. The player can move through the physical space of the scene, but he or she can really only watch the interactions by all of the characters over the course of a day.
It's decisions like this that have led to such divisive opinions on the game. While critics have nothing but good things to say and some players laud it as an amazing game, others are unsure of what they're experiencing. I fall in the former camp for a few specific reasons. Personally, I love to see independent games push the boundaries of the medium through the interface and story, and I think KRZ does that. It doesn't always land, but at least they try, and that is certainly admirable.
I'm also a little more politically inclined to the story material than others. I'm a pretty progressive lefty, so a narrative that studies working class people and the capitalistic structures that tend to oppress them is right up my alley. And KRZ does a really good job. These themes are represented incredibly well and not in a preachy way. They are presented naturally as matters-of-fact within this world, and I think it's probably the most realistic depiction of these ideas that I have seen, at least in video games.
Everything else about the game is solid, and it ultimately comes down to personal preference. The graphics are simplistic and stylized during the character interaction and movement around the gameboard is done by moving a token down specific roads and stopping when there's a point of interest. I do want to point out that the music is stellar. Each act features an original, recorded song by Ben Babbitt, one of the founders of Cardboard Computer. Specific notice should be paid to the song in act three, which involves the player selecting the first line of each verse and seeing their work laid out in real-time during a concert performance. It feels damn near perfect.
All of that said, when it comes to Kentucky Route Zero, your mileage may vary. Any given player probably has a 50-50 chance of either loving or hating this game. At least, if my extremely small sample size of me and my wife holds any water.