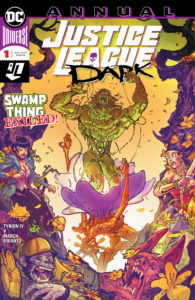 Writers: James Tynion IV (Story), Ram V (Story & Dialogue)
Artist: Guillem March
Colorist: Arif Prianto
Letterer: Rob Leigh
Cover Artists: Riley Rossmo, Ivan Plascencia
Publisher: DC Comics
Swamp Thing was set to have a big summer with the premiere of his new DC Universe series of the same name, but its immediate cancellation put a damper on that front. The Swamp thing of DC Comics is still going strong, however, and this week's Justice League Dark Annual #1 puts the Guardian of the Green in the spotlight.
Annuals usually fall under one of three types of issues —a one-off story, an anthology of stories, or the beginning/end of an arc happening in the main title— and this annual seems to be the first variety with some of the third. The story of Justice League Dark Annual is such: feeling dejected about his place in the world after the fall of the Parliament of Trees (comics!), Swamp Thing lets the wind carry him away to parts unknown, where he soon finds someone faced with a predicament not unlike his. And because this is a superhero comicbook, he obviously finds himself pitted against a familiar foe, the (literally) wooden Floronic Man. 
I haven't read past the first issue of James Tynion's Justice League Dark, but I had no difficulty following the story here, conceived by himself and guest writer Ram V. It's more or less a riff on Swamp Thing's origin, wherein he's faced with a botanist who tragically becomes a man made of flowers, effectively electing him as the new guardian of the Parliament of Flowers (again, comics!).
I have to say the art in this issue is wonderful, especially regarding the new King of Petals himself, who is equal parts creepy and beautiful as depicted by artist Guillem March and colorist Arif Prianto. The art direction of the issue as a whole is rather gorgeous, with ornate layouts (particularly around the flashbacks of the King of Petals's past life) and panel compositions. Rob Leigh's letters also deserve a mention, as there are frequently lots of them, sometimes even broken down into paragraphs on the page beside images. It's certainly a dense read that will take you some time to get through. 
The final page offers a cliffhanger hook for readers interested in following the story that begins here in Justice League Dark, but I don't think it detracts from the insular nature of this one. As someone who hasn't been pulling the series regularly, I'm intrigued to see where this particular arc goes. (It should also be noted that if you're mostly reading Justice League Dark for the likes of Wonder Woman or Detective Chimp, you'll likely be disappointed by their lack of presence in this issue.)