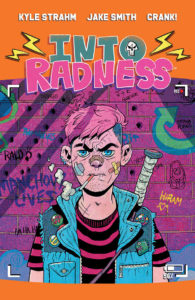 Into Radness tells the story of the group of aspiring influencers behind the VHS-recorded series Into Radness. Think Jackass but more youthful and punky … and a lot less popular. However, their only 12-subscribers status changes overnight when they encounter a guitar-turned-alien creature at a concert. What ensues is a mission to protect their town … or capitalize on the whole affair. The show's lead, Dylan, is willing to do anything for content, but will he lose all of his friends in the process?
There's a lot to love about Into Radness. It's a fun read from start to finish, and I get that part of the appeal is nostalgia: VHS tapes, battle vests, '80s aesthetic, and a group of underdog kids just trying to Make It. But aside from that, it's extremely well written and moves along at a swift pace. The dialogue feels natural, and I appreciate how the lettering establishes necessary context without burdening the overall narrative.
And the narrative is totally ridiculous, but it works! Part of that is the humor. As my mind was trying to process how the alien popped out of the guitar, one of the characters casually asks, "Do you guys think it's weird how that guitar got zonked and turned into a giant lizard?" And they're basically like, "Sure … but CONTENT." In any other book, the logistics would have taken me out of the story. But not here. Plus the villain, Super Influencer Toby Hondo, is the perfect addition to this story of friendship, popularity, and the quest for ultimate radness.