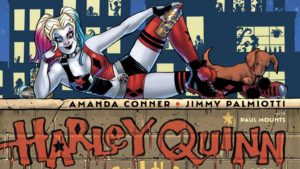 Writers: Amanda Conner and Jimmy Palmiotti
Artist: Amanda Conner
Colorist: Paul Mounts
Letterer: John J. Hill
Cover Artists: Amanda Conner and Alex Sinclair
Editor: Chris Conroy
Publisher: DC Comics
Following the release of Birds of Prey (And the Fantabulous Emancipation of one Harley Quinn) comes Harley Quinn and the Birds of Prey #1 written by Amanda Conner and Jimmy Palmiotti. In this first issue, both writers are tasked with filling in new readers on Harley's current status in the DC Universe, a responsibility that is about as gargantuan a task as that mouthful of a film title. Thankfully, the duo pulls this off successfully, providing a great entry point for new readers and a welcome return for longtime fans.
Within the first few pages, we're dropped in on Harley at her lowest as she dreams of her and Poison Ivy vacationing together on a tropical island with Superman at their command, begrudgingly serving inappropriately named alcoholic drinks to them. However, it is the smell of toe cheese that wakes her up from this fantasy as we see an uncharacteristically downtrodden Harley who recounts her current predicament to her friend Power Girl. From this, new readers learn that Harley now lives on Coney Island in New York, owns a hotel named The Dreamin' Seaman, is late on mortgage payments for said hotel, and has a Gang of Harleys. Oh, and Harley and Ivy are no longer on speaking terms due to Harley's shenanigans. The rest of the issue follows Harley as she takes responsibility and attempts to make amends with the friends she's hurt.
As I said before, this issue is mostly focused on filling in new readers on Harley's current status quo and spends more time with her Gang of Harleys than the actual Birds of Prey, which may be a disappointment for readers expecting to see the latter. And for fans of the original run by Conner and Palmiotti, this issue may simply be a rehash of where the creative team left off. However, Conner and Palmiotti manage to keep Harley's exposition not only succinct but also engaging as well. Much of this is helped by Conner's signature art style that has become nearly iconic for modern day Harley Quinn. Even if you've never followed their original four-year run, chances are you're familiar with her version of Harley that has graced the shelves of comic book shops as one of DC's most popular books. Conner's artwork shows a clear grasp and confidence with the character as she captures the full range of Harley's expressive facial features that brings much of the humor in the story.
Colorist Paul Mounts also does a great job of not only complimenting Conner's artwork but also providing colors that help move the story along by keying readers in on Harley's somber moments of contemplation, wildly colorful antics with her Gang of Harleys, and her impulsively explosive violence when she deems a baseball bat to the skull is the best option for revenge. The lettering by John J. Hill also manages to capture Harley's frenetic voice, especially during the action as Harley aggressively attempts, and fails, to shout out her quip uninterrupted between gunshots and bashing bad guys.
Harley Quinn and the Birds of Prey #1 largely provides setup and background for new fans, and, though this approach may simply be a rehash to longtime fans regarding where Conner and Palmiotti left off with the character, it is a welcome return as the issue stays engaging and humorous throughout. And though the other half of the title doesn't get much time in the story, it becomes clear by the end of the issue that Conner and Palmiotti are ready to hit the gas petal on Harley's adventure with the Birds of Prey.
Harley Quinn and the Birds of Prey #1
Credits
A welcome return from Conner and Palmmiotti
Humorous art
A nice entry point for new readers
Setup is done within the first issue
Letters capture Harley's voice
Credits (cont)
Birds of Prey have minimal presence
May be a bit of a rehash to longtime fans