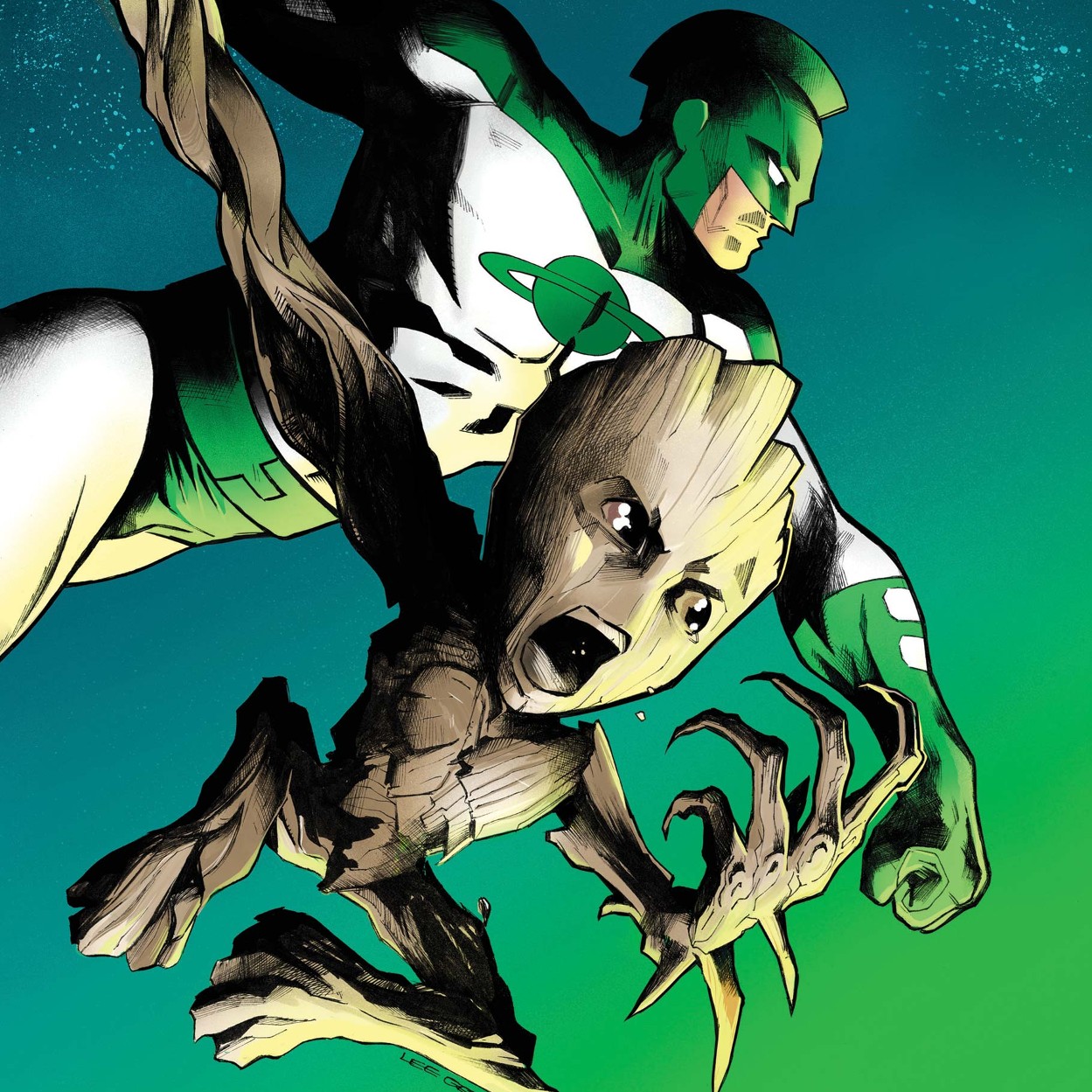 Before his next (and possibly final) film appearance in Guardians of the Galaxy Vol. 3, Groot #1 explores an unseen chapter in the life of our arborous hero. 
Of all the Guardians, Groot is perhaps the most difficult one to spin-off into his own solo adventures. Whereas the other Guardians are quippy, fighty, or a little bit of both, Groot is an enigma; he's often characterized as lacking the faculty of profound speech and only capable of introducing himself in various inflections to convey emotion. (Not always, but usually.) This means a Groot story usually utilizes at least one of the following approaches: pair him with another (speaking) character, and/or exploit his lack of dialogue to emphasize visual storytelling. 
In this new series, writer Dan Abnett opts for the former method by pairing a young Groot with a just-as-young Mar-Vell —the original Captain Marvel— for a new story set earlier in their lives, before either of them became true superheroes. How early? Well, Groot isn't any taller than the average person's knees, while Mar-Vell is far, far away from landing on Earth and meeting Carol Danvers. After Groot's native Planet X falls under attack by unknown forces, his and Mar-Vell's fates become entwined in yet-unseen fashion, forcing each of them on their paths to greatness.
It's a canny decision to have Abnett expand on Groot's early days, since he (and co-writer Andy Lanning) were responsible for reintroducing the character to readers during their Annihilation: Conquest saga, which ultimately led to the incarnation of the Guardians now beloved by fans worldwide. This arguably gives Groot #1 more weight than other similar "flashback" series of late, or at the very least it gives more of a sense of authority by having a crucial figure in the character's redevelopment at the helm.
It remains to be seen how the story proceeds from here, but Abnett sets a good enough foundation that it should make for an entertaining read, and Damian Couceiro's art (with Matt Milla's colors) definitely lends a feeling of retroness in Groot #1 that works with the inherent "classic" setting of the story. More crucially, however, Couceiro is able to deliver on what matters most in any Groot comic: selling the emotional scenes that endear everyone to the lovable tree-thing, especially in his "baby Groot" state originally seen in Guardians of the Galaxy Vol. 2. (Seriously. There's a reason why that thing is a merchandise machine.)