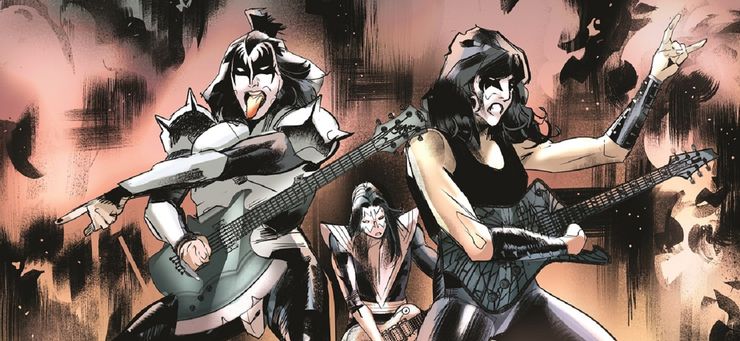 Be honest, assuming you have never heard one of their songs, chances are you still know
who KISS is. Gene Simmons and Paul Stanley worked hard to make sure that not only was KISS touring the world playing music but also they could be found in toys, posters, cartoons, and, yes, even comics. Over the years, those comics have seen the band engaged in various adventures. So when Dynamite announced KISS: Phantom Obsession, my interest was piqued. 
KISS: Phantom Obsession #1 finds the legendary band on their way to perform a private concert. From the beginning, the band has suspicions that things are not as they seem. However, without any solid evidence, the band continues with the scheduled show. However, once the show starts, some of those concerns come to fruition.
Ian Edginton weaves an opening chapter that lays out a well-defined foil for our heroes. However, he leaves the motivations of the band's adversary a mystery–hinting at a much bigger plan, involving the robots, monsters, and blowing shit up that Edginton promised in interviews leading up to the release of KISS: Phantom Obsession. It is that attitude that makes this book work. Let's be honest, comics should be fun. And Edginton clearly had fun writing this book. While exposition-heavy, at no point does it feel bogged down. Instead, he surrounds the exposition with action and hordes of robots. Who can be bored when we are talking about hordes of murderous robots?
With a story that hearkens back to simpler times, Celor adopts a similar attitude with the art. Character designs are basic with lines that clearly mimic styles of the 1980s. Thankfully, uncomplicated backgrounds keep the characters from getting lost within the panels. To complement the straightforward art, Valentina Pinto went with a basic palette of colors. And although Pinto uses a rudimentary color palette, it doesn't lack depth as shading keeps the panels from feeling stagnant. 
When it comes down to it, KISS: Phantom Obsession is a fun, old-school-style comic. Fans of classic comics can enjoy an entertaining story, and fans of KISS will enjoy getting to see the band members embrace their fictional avatars. Just like a KISS concert, everyone who grabs a copy of KISS: Phantom Obsession #1 gets to go home happy.