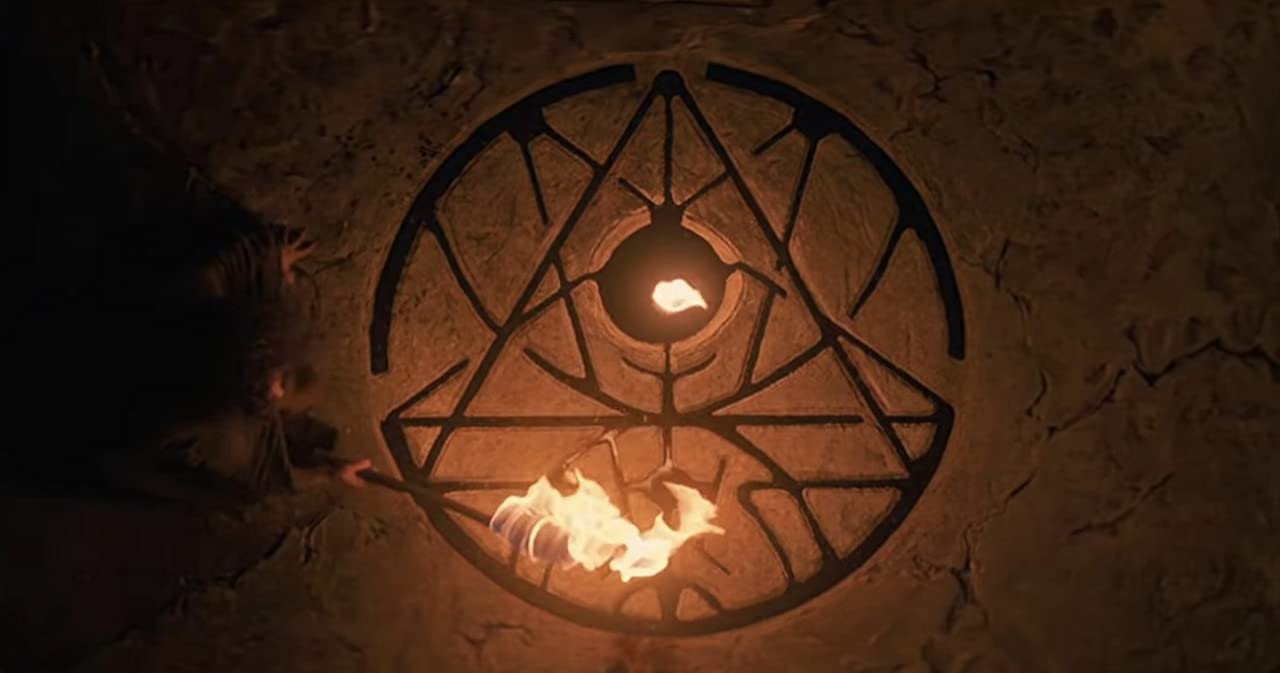 Fear Street Part 3: 1666 (2021) brings the R.L. Stine summer trilogy event to a close. In the first installment, we were introduced to the poor town of Shadyside, whose residents have long been under the curse of Sarah Fier – a scorned witch. After witnessing the horror in 1994, we jump back a couple of decades in the second film to witness the curse wreck havoc at a summer camp. And now, we go way back to where it all began: 1666, where Puritan culture reigned supreme and many innocent people died from unfair witch hunts.
Like the second film, it opens and concludes in 1994, and the origin story is communicated via a vision to Deena (Kiana Madeira) who finds herself a couple of centuries prior as Sarah Fier. Sarah and Hannah (Olivia Scott Welch) are secretly lovers, but, during a party in the woods, their romance is exposed. The townspeople conclude that the devil is involved, and Sarah is tried as a witch. Of course, it's not as simple as the town believes, but it all unfolds in a fairly predictable way.
It's the perfect setting for an origin story about a witch's curse, and the 666 is just the right amount of campiness. However, sadly, that's where my appreciation for this film ends. First, the pacing is completely off. The first half of the movie, set in 1666, moves at a ridiculous speed. As someone who has heavily researched this time period, I am well aware of how one rumor can spread overnight into a full blown witch hunt.
However, for a film, especially a trilogy like this, we leap from a forbidden kiss to a centuries-old curse in no time at all. The narrative that the other two movies have spent time building is completely shattered, and I almost feel betrayed. By making Sarah a sympathetic character, the horror is gone, and it causes the body count of the previous films to be hard to fathom. All of this, in addition to the concluding film being the furthest thing from a slasher, results in it seeming like not even part of the trilogy at all. Moreover, the last half of the movie, set back in 1994, drags on for much too long–either that, or I just wasn't interested anymore.
My verdict is to relish the first one, watch the second one if you're really craving a typical summer camp slasher, and definitely skip the third one. Don't let Fear Street Part 3: 1666 ruin what could have been. Keep your summer slasher heart happy.
Fear Street Part 3: 1666
Seventeenth-Century Setting
9.0/10
Where's the Scares?
3.0/10
Incohesive and Much Too Long
1.0/10
Credits
Stars: Olivia Scott Welch, Kiana Madeira, Benjamin Flores Jr., Ashley Zukerman, Gillian Jacobs
Director: Leigh Janiak
Writers: Phil Graziadei, Leigh Janiak, Kate Trefry
Producers: Kori Adelson, Peter Chernin, Timothy M. Bourne, et al.
Musicians: Marco Beltrami, Anna Drubich, Marcus Trumpp
Credits (cont)
Cinematographer: Caleb Heymann
Film Editor: Rachel Goodlett Katz
Casting Agent: Carmen Cuba
Art Director: Sean Brennan
Costume Designer: Amanda Ford