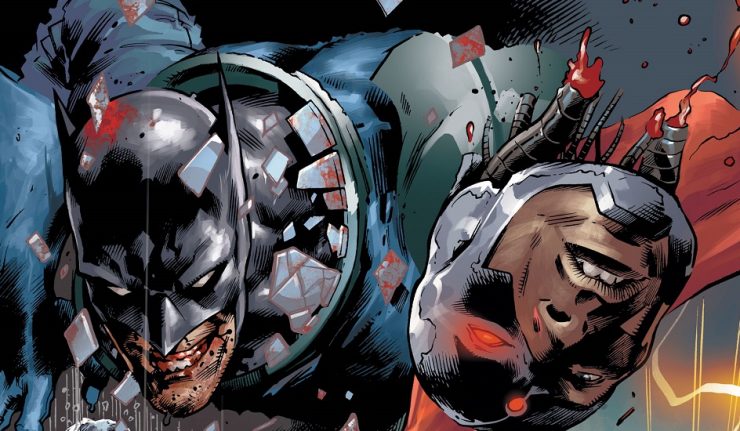 Writer: Tom Taylor
Artist: Trevor Hairsine
Inker: Stefano Gaudiano
Colorist: Rain Beredo
Letterer: Saida Temofonte
Cover Artist: David Finch
Editor: Ben Abernathy
Publisher: DC Comics
DC's DCeased: Dead Planet #1 continues the thrilling saga of the world's greatest heroes against the devastating horror of the corrupted Anti-Life equation. Five years after the events that transpired in DCeased, DCeased: A Good Day To Die, DCeased: Unkillables, and DCeased: Hope At World's End, a distress signal from a dead planet calls out. The Justice League with Cassie, Jon, and Damian as the new trinity attempt to follow the call back to their home planet, Earth. Cyborg needs their help and hopes he is heard by someone or anyone. What they will discover just might change everything they have lost.
As a DC comics and zombie fan, I love the blend of both worlds. Moreover, superheroes and zombie stories, to me, tend to make for really good storytelling on morals and character progression. DCeased: Dead Planet #1's story so far touches on the essence of having hope: the possibility of saving a dead world. David Finch (Batman) provides a wonderful cover that gives us a hint as to what's going on inside the comic. With the corrupted Anti-Life equation still a major threat to life, it intrigues me how the heroes will succeed in not only survival but also who will become an agent of the equation next. Tom Taylor (Injustice and Friendly Neighborhood Spider-Man) writes his story from the heart. This tells us he's taking time to pace and show us what kind of story the readers are diving into.
Accompanied by Taylor's writing, Trevor Hairsine's (Black Panther and Legends of The Dark Knight) artwork captures the ideal vision just as it was displayed in DCeased. His artwork carefully expresses a character's actions and emotions beautifully throughout the comic. Comparatively, I like how Rain Beredo (Justice League Odyssey) and Saida Temofonte (Luminous and DCeased: Unkillables) took their talents and transformed the comic into a special world where they control the very aspect ratio of what professional visual storytelling is about. As equally as important, Stefano Gaudiano (The Walking Dead) and Gigi Baldassini (Over My Dead Body) add pizzazz to their way of inking. Without their involvement, I don't think DCeased: Dead Planet #1 would be as impactful as it is now.
In other words, I can't wait to see what Issue #2 will be like. I hope it will be just as entertaining as the last.