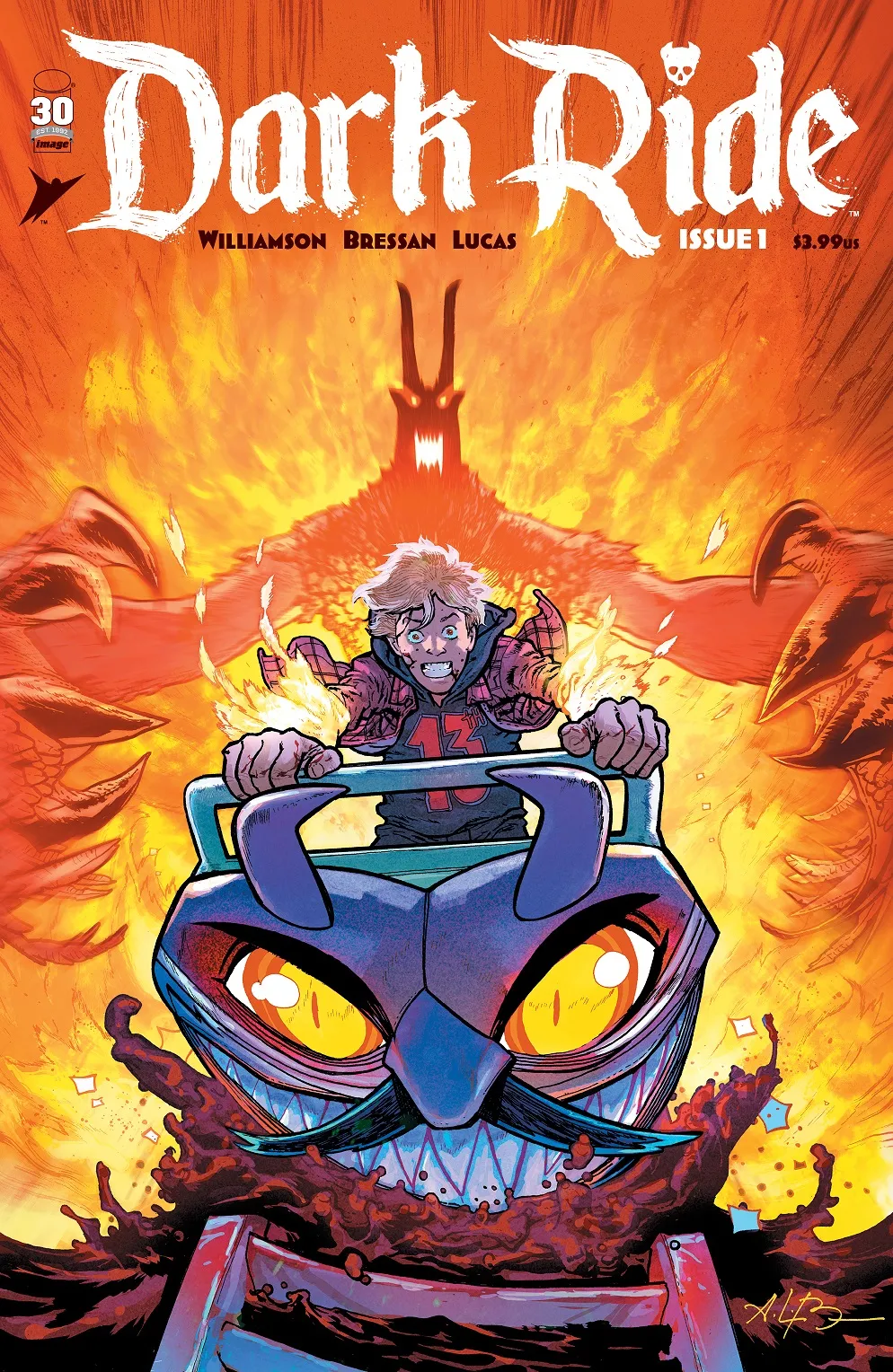 Just in time for spooky season, horror scribe Joshua Williamson re-teams with his Birthright co-creator Andrei Bressan to deliver Dark Ride, the story of
a horror-themed amusement park which is far more than it seems. When self-described park historian and uberfan Owen gets a job at Devil Land, he can barely contain his excitement, even while having to deal with copious amounts of trash and vomit. He also gets a healthy amount of family drama during a chance encounter with Devil Land's owner Sam "Samhain" Dante and his sister Halloween (no, really). His passion is tested when he discovers a ride that seems to manifest one's innermost fears and learns that the park's infamous mascots are not as friendly as their demonic grins would indicate.
Writer Joshua Williamson crafts a darkly humorous tale that relies more on building tension with creepy undertones than jump-scares and gratuitous blood and gore. While fake blood and gore is plentiful, the real stuff is used sparingly and is all the more impactful for it. The less-is-more approach, along with some sharp pacing, definitely keeps things interesting, even as the plot threads begin to increase steadily. While this is primarily Owen's story, the narrative shifts from one character to the next, with each providing their own perspective while still adding to the primary mystery: the true nature of this terrifying park and its reclusive founder.
The tone of the story is captured perfectly by the artistic team. Co-creator and artist Andrei Bressan creates a tapestry of terror, from the chilling opening scene to the gut-punch of an ending that's as emotional as it is stomach-churning. The imagery is also chock-full of fun, between the various rides and attractions (a giant guillotine! 3-D kaiju!), and even the occasional cameo (Rob Zombie!). Colorist Adriano Lucas does some incredible work here as well, adding to the brutality of the opening prologue by depicting it in stark black and white, before washing over the present day with amazing technicolor.
Overall, Dark Ride is a helluva lot of fun while never feeling cliche or predictable. While there is no clear protagonist, each character seems capable of carrying the story in whichever direction it goes and I, for one, am anxious to see where that is. I've read a number of horror comics recently and I must say, this was the first one to make me go "well, that was messed up." Trust me, that's a good thing.