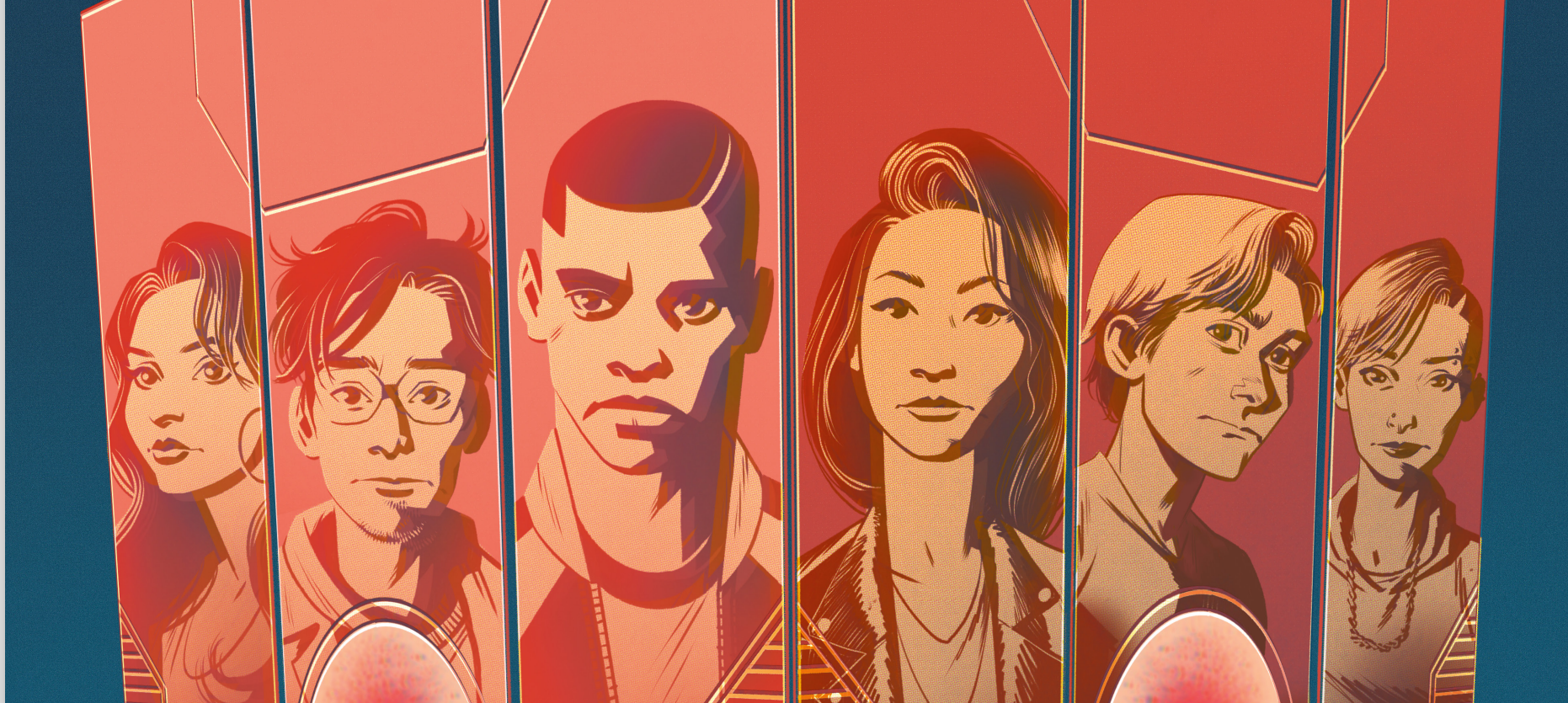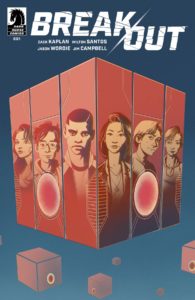 In Break Out #1, earth is being invaded by cubes. While this doesn't exactly scream terror, the cubes regularly abduct people between the ages of 11 and 20, always 36 at a time, and they're never seen again–besides the occasional video an abductee manages to shoot before their phone is seized. It's a tough time to be a kid. And, when Liam's brother, Tommy, is kidnapped, he's determined to do whatever it takes to get him back.
Banding together with an unlikely group of young people, all who have been affected by the invasion in some way or another, Liam and co. intend to break into one of the cubes–a feat that not even the government has managed to achieve. The plan? Buy a cube off the dark web, figure out how it works, and proceed from there.
This first issue does a nice job of introducing the current state of the world, post-cube invasion, and the protagonist, Liam. He lives with his mom and his brother–up until three weeks ago, that is, when he was taken. Their dad died before the invasion, and, although Liam has managed to process that grief to some extent, Tommy's disappearance threatens to bring everything to the surface.
On top of all of that, Liam's mother is pressuring him to acknowledge his acceptance to Carnegie–when all Liam can do is think about his loss. It adds to the tension in a smart way. Although the five who join his quest will surely play a major role, we don't learn much about them yet–plenty of time to reveal those details later.
Zack Kaplan's writing moves along at a swift pace, with believable dialogue, and a thoughtful attention to "new normalcy" and activism. I wish Liam's grief over losing both his dad and his brother had been pressed into more, but I imagine that will unfold more in future issues. The linework by Wilton Santos is youthful and active, and the coloring by Jason Wordie–particularly his use of blues and purples–imbues the narrative with an otherworldly vibe. There is a lot of fun pattern play throughout the story, as well, and I especially like the pages that reveal how the invasion began–the squares are trippy yet essential. And, of course, the lettering by Jim Campbell, is well-crafted, as always.
If you're tired of the same old sci-fi invasion stories, give Break Out #1 a chance!
Break Out #1
Character-Driven Narrative
10.0/10
Clothing Designs (Nirvana, Ramones, etc.)
10.0/10
Pacing for an Introductory Issue
8.0/10
Unique Invasion Idea
7.0/10
Credits
Writer: Zack Kaplan
Artist: Wilton Santos
Colorist: Jason Wordie
Cover Artist: Adam Gorham
Letterer: Jim Campbell
Credits (cont)
Publisher: Dark Horse Comics