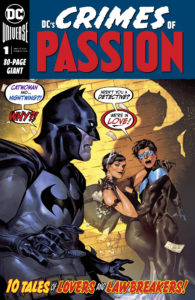 Hey all you comic book romantics out there.
Do you long for tales of superhero love, loss, and heartbreak? Do you crave a saucy noir story or a sultry adventure between two ex-sweethearts? Well, DC's Crimes of Passion is for you, and it doesn't disappoint. Arriving just in time for Valentine's and appealing to the hormone-driven and star-crossed crowd, DC's Crimes of Passion is an 80-page narrative that's broken down into 10 compact stories. It's a beast of a book, and it packs a whole lot of bang for your buck.
Each story has a hero or villain as the focal point as they weave their way through a situation that crosses them with a person, an item, or a feeling from their past. They're all compact and focused with emphasis on the necessary emotional beats that allow the characters to have quieter and more introspective moments. DC's Crimes of Passion is a book that's meant to elicit sympathy. It never hits the same beat twice but always lands the punch its throwing.
Due to the sheer size of the book and the amount of content, it's easier to present the 10 stories in a list-like way with a small synopsis and review of each. So here we go…
Batman in "More Than Maybe"
Writer: Steve Orlando
Artist and Colors: Greg Smallwood
Letterer: Clem Robins
It's a tale about the harsh sacrifices that Batman's had to make in order to fully dedicate himself to his war on crime. Set in the very early days of Bruce Wayne being Batman, "More than Maybe" is a heartbreakingly tragic story about a woman who loves Bruce but hates Batman. This poses a serious problem for Bruce, and he's forced to make a difficult choice. It's rough in more ways than one being Batman, and "More than Maybe" gives a glimpse into one of the less-explored ideas. The art has a golden-age quality to it which works in conjunction with the story to present a Batman story worthy of recognition. Definitely the strongest of the 10 stories contained in DC's Crimes of Passion. 
Wildcat in "Pulling Punches"
Writer: Stephanie Phillips
Artist: Riley Rossmo
Colors: Jordie Bellaire
Letterer: Troy Peteri
This is a Wildcat story that has very little to do with Wildcat. He's just the narrative perspective used to tell a story about pride, desperation, and redemption. It's a fun little romp through a quick adventure that calls back to the days of gangsters instead of gods as the antagonists. Riley Rossmo's art really stands out, though. It's liquid but action-packed and very dynamic. Overall, it's a good but run-of-the-mill story.
Pied Piper in "Secret Admirer"
Writer: Sam Johns and James Tynion IV
Artist: Gleb Melnikov
Colors: Luis Guerrero
Letterer: AndWorld Design
This is a quieter, more normal story about the Pied Piper meeting a costume and artifact collector who's enamored with a feeling. He needs the Piper to do something for him and presents the Piper with something from his past in order to entice him to do it. The art is straightforward and gets the job done without any hiccups that might otherwise pull you out of the immersion. "Secret Admirer" is a quick story that's satisfying.
Green Arrow and Black Canary in "The Crimson Bomber"
Writer: Phillip Kennedy Johnson
Pencils: Paul Fry
Inker: Mark Farmer
Colors: Jeromy Cox
"The Crimson Bomber" is probably the most heartbreaking story in DC's Crimes of Passion. The implications and subject matter of the setup are something that's all too familiar in the real world. However, the topic is handled in a mature and kind way that solidifies why superheroes represent hope. The art does its job beautifully by showcasing the inner turmoil and struggle of the villain and presenting a crime of passion in a sympathetic way. Solid all around.
Plastic Man in "The Prettiest Thing"
Writer: Sina Grace
Artist: Mike Norton
Colors: Hi-Fi
Letterer: Troy Peteri
An old flame needs Plastic Man's help, and Plastic Man is the right guy for the job. The art definitely shines and takes very fun liberties with the malleable nature of Plastic Man, but a lot happens in the truncated story, and it would have benefited from having a few more panels to flesh out the story.
Batwoman in "Out Of The Past"
Writer: Jordan Clark
Pencils: Kieran McKeown
Inker: Dexter Vines
Colors: Adriano Lucas
Letterer: Steve Wands
It's never easy to call and a friend to ask for help. So what does Batwoman do when she gets that call from Maggie Sawyer? She helps of course! But helping crosses her with a seedy character from her past, and this one, she's not too fond of. The art works fantastically in places and misses the mark in others. It definitely felt like trying to cram too much movement into too little spaces. "Out of the Past" does its job and has some interesting concepts, but it's overshadowed by some of the other stories in DC's Crimes of Passion.
Slam Bradley in "One Last Dance"
Writer: Mat Groom
Pencils: Anthony Spay
Inkers: Jason Paz and Wade Von Grawbadger
Colors: Arif Prianto
Letterer: Steve Wands
Slam Bradley investigates. Slam Bradley dances. Slam Bradley punches. That's all that's needed for a good Slam Bradley story, and "One Last Dance" nails it.
Nightwing and Batgirl in "(K)night Falls In Blüdhaven"
Writer: Jay Baruchel
Artist: Andie Tong
Colors: Steve Oliff
Letterer: AndWorld Design
Nightwing's a good guy just trying to do good guy things. This particular thing is helping retrieve a runaway youth who has joined up with a gang of rapscallions. He needs Batgirl's help, though, and their relationship hasn't been peaches and butterflies lately. The dialogue is clunky, and the potential of Barbara and Dick's dynamic is never realized. The art is what you'd want from a Nightwing and Batgirl story, but "(K)night falls in Blüdhaven" falls short of the marks it was trying to hit. Jay Baruchel is an amazing writer and creative, but unfortunately, this one was probably the weakest in DC's Crimes of Passion.
Catwoman in "Can't Buy Me Love"
Writer: Liz Erickson
Artist: Abel
Colors: John Kalisz
Letterer: Tom Napolitano
Catwoman stealing things and bamboozling people is what makes Catwoman great. She's always strongest in a heist story, and "Can't Buy Me Love" is no different. The art gets daring with some elevated perspectives that showcase Catwoman's mischievous nature, but the quieter moments in the latter half of the story is where it shines. She tries and fails to reconnect a distraught couple whom she stole from, but the effort is what counts, right?
The Question in "Reflections Of The Heart"
Writer: Ram V
Artist and Colors: John Paul Leon
Letterer: AndWorld Design
"Reflections of the Heart" is by far the most serious story in DC's Crimes of Passion. It has a poetic feel to it that elevates it from a small story in a large holiday book to something that really stands on its own two feet. The art has a grainy and hardboiled quality that further lends gravity to The Question's quest for justice. It's haunted and dynamic with quieter beats that rope you in. It's a solid story with a good resolution that ends the book beautifully. What more could you ask for?
---
DC's Crimes of Passion is a lot of fun. Each story has its appeal and a lot of different art styles are showcased. Some incredible, some good, and some that just don't hit the right notes. As a whole, though, DC's Crimes of Passion is a gorgeous book and fantastic addition to the Wednesday rack. It's 80 pages, and each page works in conjunction with the others to deliver 10 satisfying stories. The variety and ease of entry is the selling point, but the humanity is the sticking point.