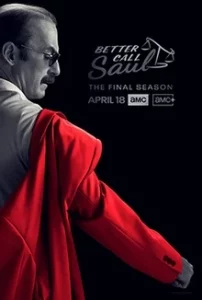 Warning: Spoilers ahead!
Better Call Saul, Season 6 (2022) continues with the latest two episodes. In Episode 6, "Axe and Grind", Jimmy (Bob Odenkirk) and Kim (Rhea Seehorn) work toward putting the final touches on their "D-Day" plan to bring down Howard Hamlin (Patrick Fabian) by forcing a resolution to the Sandpiper case. At the beginning of Episode 6, we get a glimpse of Kim's childhood and how it shaped the woman she grew up to be. In Episode 7, "Plan and Execution," Lalo (Tony Dalton) acts on information he has gained about Fring's (Giancarlo Esposito) secret meth lab that is in the works. Despite a hiccup in the D-Day plan that left us hanging in Episode 6, Jimmy and Kim pull the logistics together, and D-Day goes off without a hitch. However, this midseason finale ends on a startling note, with the sudden appearance of Lalo and the death of Howard.
After Nacho (Michael Mando), Howard is the second major character so far in the series to die abruptly and violently. What I appreciate about Episode 7 is the way in which it showcases Patrick Fabian's talent as an actor and Howard Hamlin's depth as a character. While previous seasons presented Howard as a superficial man concerned with status who is little more than Chuck McGill's (Michael McKean) sidekick, Season 6 reveals that Howard is morally distraught, wanting to do right by his professional relationships whilst struggling with depression, debt, and a crumbling marriage.
We know that something in Season 6 must drive Kim and Jimmy apart, since Kim is not in Breaking Bad. My personal speculation is that Kim will not die in Season 6. When we meet Jimmy as Saul Goodman in Breaking Bad, he is his charming, happy-go-lucky self at its sleaziest, which leads me to believe that he and Kim divorced at some point in his past. I've wondered if there will be a major event, catastrophic enough to discourage Kim from continuing down the criminal path, and I think witnessing the death of Howard would be enough to do it for her.
Regardless of how the series pans out, I feel that the second half of this season will include some major turning points. Stay tuned with Geek'd Out as we assess and react to the final season of Better Call Saul.