A Vicious Circle is…hard to put into words. I mean, there is a lot to unpack with this book but let's start with the genre. It's a time-travel epic with shades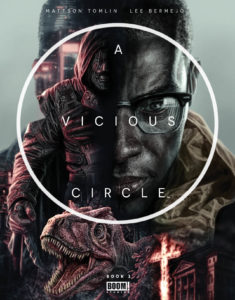 of "The Terminator" and "Looper" but with a conceit that is purely original. It's a dynamic character study of a man who is determined to do what he believes to be right, even in the wake of unspeakable tragedy. It's an intense, weird cyberpunk fantasy with an underlying theme of how those who forget history are doomed to repeat it. It's incredible and beautiful and depressing as f***.
The story begins in 1960 and follows the exploits of Shawn Thacker, a man "from the future" living with a wife and son, along with a monster he keeps in the basement. This monster is seemingly a man from another time but whose goal is in direct opposition to his captor's. Nightmares haunt Thacker and when one such nightmare becomes real, he ends up chasing his former captive across space and time. Soon secrets are revealed and motivations questioned as the two enemies square off, from the far-off future to the distant past, with death and despair following them at every turn.
Writer Mattson Tomlin has a lot to say with this first issue and a lot of it is hard to hear. Clocking in at just about fifty pages, this book is twice as long as your standard comic but Tomlin manages to keep the story at a tight pace. He ultimately reveals very little, raising about as many questions as he answers, while still only teasing what the story is truly about. Setting the events during the Civil Rights movement is both important, yet disheartening, especially when our protagonist plainly states how very little has truly changed in the decades since. Things start off bleak and only get worse from there but it's an enthralling narrative that never lets up.
As stellar as Tomlin's writing is, the true star here is Lee Bermejo on art. Every panel in the issue's first act looks like a photograph, but unlike a lot of photorealistic art, the characters here are depicted with pathos and the kind of emotion that eludes even the best artists at times. From the tired but kind smile of Thacker's wife to the unrelenting rage of racist protestors, every panel is a work of achingly beautiful art. One panel in particular will haunt me for the rest of my days (you'll know when you see it).
While the narrative may be a lot of doom and gloom, it's also a glorious artistic experiment with Bermejo altering his style with every timeline. While the 1960 scenes are depicted neatly, in a stark, monochromatic style, the future is brighter, full of color but with sketchier line art. The change in styles continue with every shift, some of which occur on the same page. These changes can be jarring but they're all part of the experience and are certainly less disorienting than they'd be for our protagonist. My only critique is that the lettering by Becca Carey doesn't always work. The font for Thacker's inner monologue is great but the word balloons used for dialogue just feel so out of place against the superb realism of the art in the first act, although her work matches the style of the later timelines perfectly.