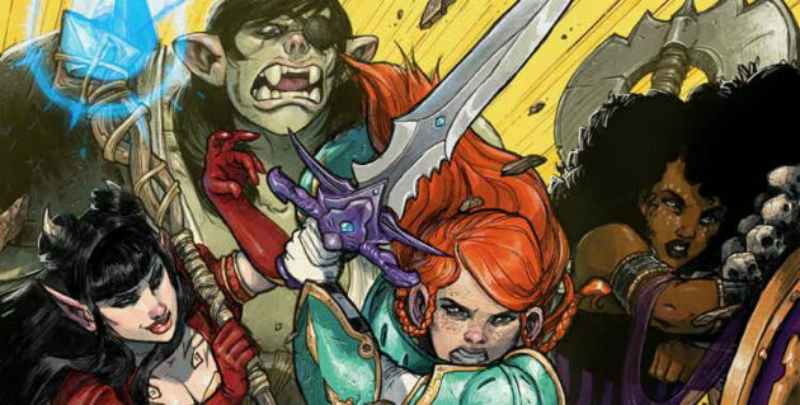 Rat Queens #1
Writer: Kurtis Wiebe
Artist: Owen Gieni
Publisher: Image Comics
A review by Stephanie Cooke
I am SO happy that Rat Queens is back and that it's starting fresh with a new #1. This series has had so much bad luck, which is a complete shame because it started off on such a high note and really brought forth a fun series featuring badass women just running around kicking butts and adventuring together.
Rat Queens came to a very abrupt halt last year after there was noticeably something very off with Vol. 3 of the series. Every single person involved seemed to be phoning it in and fans were left feeling confused. Wiebe thankfully announced a hiatus for the series, allowing him the time to re-calibrate and figure out how to bring back the book and make it great again.
I'm going to be honest and say that I was initially a little bit confused with Rat Queens #1. Following the "end" of the previous run, I didn't understand where this book took place within the continuity. Did it take place before, after, or in some alternate timeline where we magically forgot about Vol. 3? I spoke briefly with Wiebe who explained to me that the book is sort of pulling a Buffy the Vampire Slayer on us. Remember when Dawn shows up and no one really explains what's going on and she's just kind of there and you're like "Huh??" Well, Rat Queens is pulling a Dawn on us and I've been assured that this is a deliberate move that will be explained down the line, so if you're in the same boat that I was, try to just sit back and enjoy the ridiculousness of the characters.
Speaking of ridiculousness, the book is back in fine form here. Rat Queens is at its best when it's not taking itself seriously and is just having fun. People sometimes forget that funny writing can also be good writing. You don't have to do a super serious book to be considered a real writer. Comedy takes a lot of talent and having an ensemble of characters like Hannah, Dee, Violet, and Betty is not an easy task to pull off.
Within this first issue, the whole gang is reunited (AND IT FEELS SO GOOD!!!). They head out to do some good old fashioned questing and on their journey, mid-quest, they meet up with a new band of mercenaries in town, The Cat Kings… Meow! I don't have to tell many of you how into this I am, but FEAR NOT, I am not bias to this book because someone used my love (and all of the Internet's love) of cats here. The two bands of mercenaries then have to team up to defeat what I will call the Demon Canada Goose Dragon. Yeah. Yeaaaaaah. YEEEaaaAAAhhhhhHhhhh.
It's fantastic. And fun. IT'S FANTASTICALLY FUN.
I haven't even gotten to Owen Gieni's art yet either cause wow. What a perfect fit for this series. Honestly. I could not have conjured up (magic terms intended) a better artist to work with Wiebe on this book. Gieni is the whole package here too – pencils, inks, colours, he nails all of them and makes these characters look so good. The unique expressions of each character throughout the story are perfection and it feels like you're watching the characters move and come to life as it plays out. There's a real connection between writer and artist here and it shows in the final product.
The Verdict
Buy it! I know some of you will be hesitant to try out the series again, but let me tell you: Rat Queens #1 is for fans of Lord of the Rings, Dungeons & Dragons, Buffy the Vampire Slayer, and for the fans of Rat Queens before all of its bad luck. Rat Queens is back, it's better than ever, and it has SO much potential.
Rat Queens #1 will be on sale on March 1, 2017.