The Punisher #3
Writer: Becky Cloonan
Artist: Steve Dillon
Color Artist: Frank Martin
Letterer: Joe Sabino
Reviewed by David Hildebrand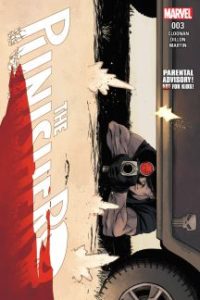 The beginning of this new volume of the Punisher has been has been a lot of fun so far. EMC is the new drug on the street. It takes the weakest of people and turns them into relentless killing machines. Frank has been going on the hunt for Condor, a mercenary outfit that is behind the drug.  During a raid in New York, Castle came across his old commanding officer, Olaf. Olaf has been in cahoots with Condor, but is not appreciative of them pushing him around and has sold them out by giving Castle a list of Condor's operations.
The last issue ended on a very tense note. The Punisher has made his way to Vermont to shut down a producer of EMC.  However, he may have already met his match, as the manufacture Josiah has strapped a suicide vest to his very own daughter, awaiting the Punisher's arrival.  He also has a fully armed gang waiting for the Punisher as well.  The DEA is still hot on Castle's trail too!
We begin this issue with the DEA closing in on Castle. Agent Ortiz and her partner Agent Henderson crash through the door of the motel room that Castle is staying in, only to find a chess piece. A clue to the agents that this is a game to him? Or maybe he is calling them rookies since the piece he left was a Rook. Ortiz obviously doesn't see the humor in this action.  Meanwhile, the Punisher has found Josiah and his gang.  Using a simple Punisher tactic, he takes out Josiah's gang in brutal and bloody fashion.  This issue steps it up in the blood!  The rest of the issue is action packed. We even get a glimpse of the softer side of Castle as he encounters Josiah's daughter, still strapped in the suicide jacket.  Face, Condor's hatchet man makes an appearance as he travels to a compound to pick up soldiers that EMC2 is being tested on.  Things are starting to get intense!
Three issues in, Cloonan and Dillon are really starting to click.  The story is picking up as Castle follows along the trail to eliminate the Condor threats.  One thing that I liked about this issue was the moment that Castle shared with Josiah's daughter, Juniper. You get the feeling of him being the father figure he once was and for the first time since Cloonan has been in control, she has shown that Castle has feelings.  It is good to see some warmth coming from him. It was a nice touch.  Dillon is still killing it with the art. He draws panels where you see the genuine fear in the enemy's eyes as Castle closes in on them.  Certain death is coming for them and Dillon draws an amazing story detailing it. He belongs drawing Punisher and I hope he continues for a long time coming.
Verdict:
Buy it! I have said to buy every issue so far, but this issue is where I feel things are really starting to take off.  I feel like Cloonan gets closer to making Castle her own as she progresses with each issue. I am very glad that she has Dillon with her. They are quickly becoming one of my favorite creative teams.  If you are a Punisher fan, this story through the first three issues will not disappoint you.