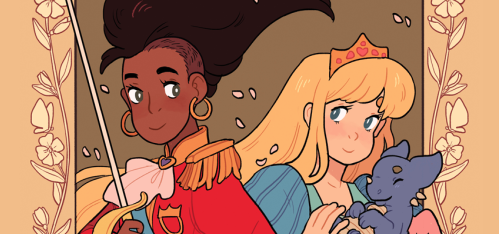 Princess Princess Ever After
Oni Press
Cover by: Katie O'Neill
Created by: Katie O'Neil
Edited by: Ari Yarwood
Designed by Fred Chao
Review by Insha Fitzpatrick
There's so much good about this book… I don't know where to begin.
After having the pleasure of reading this and talking about it on Comicsbound, it was time for a proper review of the graphic novel that's going to make you saw "awwww" all the way through.
Princess Princess Ever After revolves around two princesses. Our knight in shining princess is named Amira and our kind yet distressed princess is named Sadie. Both of them are from different castles, but come together one day when Amira is looking around for princesses to be saved. When she meets Sadie, it's almost instant that she wants to save her and that this girl definitely might need some saving. Obviously, saving a princess from a tower is no easy task, but Amira is quick and brilliant and saved the day for Sadie, but that comes with a cost. After Sadie's rescue, the story takes on a life of it's own. In their adventures, Sadie and Amira become closer, saves some people and takes out an evil foe that has been plaguing Sadie all her life. They both learn what it means to become their own special brand of Princess.
This book is absolutely incredible. There is no way to skirt around that. It's the kind of graphic novel that I very much wish I had as a kid. This is an all-ages LGBT story for the ages that shouldn't be overlooked and ignored. It takes a couple of issues including body issues, bullying, diversity, jealousy, adversity, self-acceptance and more. This is all in this one graphic novel guys!
Katie O'Neill does an amazing job bringing the age-old story of a princess trapped in a tower, but she turns it on its head and brings to life some of the key things that have changed about the "princess story" over the years. It's drawn in a simple, but stylistic way that really lets the story pop. The colors  Anyone can be a prince or princess and anyone can be who they're really meant to be. At the core of the story is a lovely lesson about friendship, acceptance and most important… love.
Verdict:
Buy It! Princess Princess Ever After doesn't come out until September 7th, but it's a good time to preorder it and demand it at your LCS. It reminded me of a simple and sweet Utena (anime) without all the sadness and despair that comes with it. It's lighthearted, funny and carries such a great message that you'll want to read it over and over again.