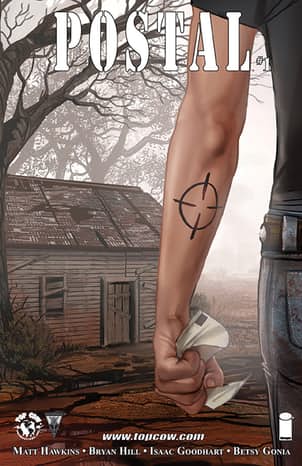 I'm very happy to announce that Top Cow's critically-acclaimed comic series Postal will be made into an original series for Hulu's streaming video service.
Created by writers Matt Hawkins and Brian Hill, along with artist Isaac Goodhart, Postal is about a special town named Eden where criminals go to get a second chance at life and become someone new. The series will be written by The Walking Dead producer Matt Tolmach, according to Deadline.
I have been a fan of this series since the first issue and thought at times that it should be adapted for TV. The characters are so well written that I hope they are able to capture the essence of them and transfer them over to celluloid with ease.  I have also shuffled around in my head who could possibly be cast for the main roles. I don't have any clear choices yet. I'm going to wait to see who else gets added to help develop the series before I commit to who I want to see. I am excited that this is going to happen! The next issue of Postal is out on September 28th.
Check back here at Rogues Portal, I will be reviewing the new issue!