Postal #13
Writer: Brian Hill
Artist: Isaac Goodhart
Colorist: K. Michael Russell
Letterer: Troy Peteri
Publisher: Image
Reviewed by David Hildebrand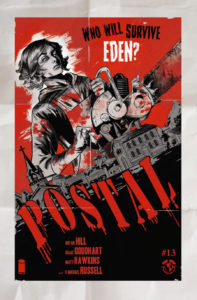 It has been a long three months for me as I waited for Postal to return! The book's third arc ended in April with a very chilling finale and ever since then, I've been looking forward to what comes next. The good news is that the wait is over, Hill and Goodhart are back and with a very strong opening to what is going to be an exciting arc to read!
One of the good things about Postal is that it continues to shine when it momentarily leaves the main characters to focus on another mysterious resident in the town of Eden. This arc is taking us back to Rowan, who we were introduced to way back in issue one.  He now lives on the outskirts of the town in an old trailer. Rowan fights with the guilt from his previous crimes, he is a neo-nazi that hopes to one day redeem himself.  But now his past is starting to catch up with him.
Hill has done an amazing job creating Rowan.  You will hate him for the crime that he committed and sympathize with him as he tries to make things right. Rowan couldn't have been an easy character to create or write for and, what has been done for him, is admirable. This issue is one of the more action packed. At the same time, we are going on this journey of feelings with Rowan as he attempts to correct his mistakes. Even Mayor Shiffron shows an unexpected side of her personality as she takes on a motherly type role with Rowan.  She wants to help him since he has complied with the rules since arriving in Eden, but she also wants to keep this situation contained.
Goodhart continues his outstanding artwork with the help of newcomer colorist, K. Michael Russell. Goodhart does such a good job detailing the backdrops and facial expressions, and does a brilliant job with the shootout scene as well.  Russell's colors seemed brighter to me than past issues. I'm not complaining, just a change that I noticed. There is a pretty awesome splash page thrown in too! I do look forward to his contribution to the book going forward.
The Verdict
Buy It! If you are already reading Postal, then good on you! It's a fantastic book, always one that I read right away as soon as I get my hands on it.  Hill is a very accomplished writer and from issue one, this has been an amazing story. I care about the characters and what happens to each of them. And as each issue has come out, we go deeper into Eden and the diversity that is buried within. Every resident has a story to tell and each one is as exciting as the previous. If you aren't reading this book, go get the trades and catch up! Because Postal is back and it's going to be another wild ride!