Pitiful Human-Lizard: Art of Gold
Written by Jason Loo & Kalman Andrasofszky
Art by Jason Loo
Published by Chapterhouse Comics
Review by Billy Seguire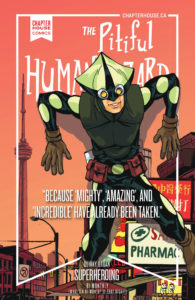 Jason Loo's Pitiful Human-Lizard takes place in a Toronto that's had little interaction with the hustle and bustle of other superheroic storylines happening over at Chapterhouse Comics. While Human-Lizard takes delight in "quirky urban superheroing", that classic mainstream brand of bang and smash action has been contained exclusively in the pages of Captain Canuck. Yet since the launch of Northguard earlier this year, Chapterhouse seems to be committing themselves more and more fully to the idea of a shared universe. While Pitiful Human-Lizard is still very much Loo's own entity, it makes sense for Toronto to be invited into the Canadian Superhero universe proper. Presented as the centrepiece of the Chapterhouse Comics Summer Special 2016, Pitiful Human-Lizard: Art of Gold is a minor crossover with major implications.
The story opens with Lucas Barrett chasing down a streetcar on his commute and, as is tradition in stories that need to introduce a new element, we see him run into an 'old friend' the audience has never met before. Trey is an artist who works in found media. It's the opening day of his gallery show on the East End, featuring sculptures made of gold. Trey tells Lucas the secret that, ever since an incident in a construction yard, anything he touches gets covered in liquid gold. Anyone who's read the ongoing Captain Canuck series will know Trey is walking down a tragic path, and it's that touch of Canuck in an overwhelmingly Lizard setting that sets the tone. It's a perfect blend of both brands' sensibilities, and while the influence of Mr. Gold and an unknowable alien menace that's haunted Captain Canuck since issue one looms large, Loo keeps this story his own by remembering what's consistently kept his comic unique amongst so many others.
The Pitiful Human Lizard prides itself as a series on being a genuine Toronto experience. Living here, you wouldn't ever really consider Toronto to be home to a scrappy underdog, but it makes sense that Lucas is a small fish in a big pond. This issue takes full advantage of the setting, including everything from a flashback to a Mirvish construction yard to a climactic end-of-issue battle in Nathan Phillips Square. In perhaps the most iconic fight in Pitiful Human-Lizard history, both Captain Canuck and the Pitiful Human-Lizard actually fight a possessed form of the letters from the Pan Am TORONTO sign. It's Loo's best use of a local landmark yet. Crucially, the tone never gets too serious in this section. Even though we have two superheroes (one eternally outmatched) fighting an unknowable alien threat, it still boils down finding a way to punch the letter T in the face. The comic never forgets what a ridiculous idea that is.
Although there's an obvious small guy / big guy rivalry between Canuck and the Pitiful Human-Lizard that colours their interaction in a casually antagonist shade, the two ultimately work well together. The indestructible teamed up with the tremendously destructible is a combination that works. You even get shades of a fastball special between the two as the pair work together in a plan that puts Human-Lizard's super-vulnerability to use. In the year that brought us Batman v. Superman, it's great to see a set of heroes coming up against each other for the first time and not losing sight of why both are heroes in the first place. Lucas Barrett may not have the same military training Tom Evans does, but he doesn't need it when his powers allow him to throw his own lifeless body at a monster until he wins.
From the first page it's clear that Andrasofszky and Loo made a harmonious team writing this issue together, and the combination has produced an unlikely dream-team of flavours from both sides. Art of Gold plays with Captain Canuck's formula and bends the rules with Lucas' unique approach to fighting monsters in the downtown core, providing a win while taking things down to a human level where the Pitiful Human-Lizard works best. There's a heart to this story that doesn't give in to the cynicism or fatigue of insurmountable odds and always remembers that the characters involved in the story are people first. I like this a lot.
Loo's art remains crisp, using recognizable landmarks organically within the story to cultivate an immediate sense of place. Nobody draws a more genuine smile on their characters or imbues them with the same sense of lived-in humanity. Loo also has a trademark style of colouring that gives his world such a unique look beyond the usual superhero fare that I'd describe as vibrantly muted. Loo's art grants Toronto its iconic red streetcars and multicoloured Pan Am sign, colouring the rest of his comic to suit the city's palette.
Loo also gets to try his hand at serious superhero action in the Captain Canuck solo portions of the comic, and there's nothing pitiful about Captain Canuck. While his own characters have always been capable of battling condo-sizes giants, their adventures consistently land on the quirky end of the spectrum. Captain Canuck is an icon that comes with a pedigree of musclebound justice. You just have to put him through these situations the traditional way. It's a character that demands the artist delivers in terms of action. Loo does this completely without sacrificing style or substance. While it doesn't feel invasive to Human-Lizard's universe, the approach is undoubtedly different and it shakes up the pace of what normally transpires in either's book. Best of all, Pitiful Human-Lizard: Art of Gold is an incredibly reader-friendly work. In the environment of a Summer Special meant to drive new readers, it's perfect for someone whose only prior knowledge of Pitiful Human-Lizard comes from the title.
The Verdict
Buy It! It's no stretch of the imagination to claim that Pitiful Human-Lizard: Art of Gold is the reason to pick up this year's Chapterhouse Comics Summer Special. In a book that's all about showcasing everything that Chapterhouse can do, the idea of letting two of their most celebrated creators loose in the sandbox is a great concept. While I'm thankful that each book in the Chapterhouse line still has its own contained story unhindered by the burdens of a truly shared universe, it was fun to see these characters interact. I hope we end up seeing more of this in future celebratory events. Welcome to the universe, Pitiful Human-Lizard. Try not to get blood on the carpet.