Penny Steele #1-3
Writer: Darryl Joseph
Artist/Letterer: Sharon Gauthier
Publisher: Steel City Comix
Review by Josh Rose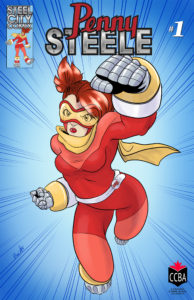 Imagine a superhero that just started out as a person who did the right thing. In her first outing, Penny Steele foils a robbery in a grocery store. No special abilities or suit. Just a bottle of maple syrup and good aim. After the passing of Penny's grandmother, she goes on a journey to find out about her secret life. Penny Steele #1-3 sees Penny learning about Granny Penelope via a road trip scavenger hunt. This trip leads Penny to find everything she needs to become a real superhero.
Daryl Joseph is doing a great job taking us on this adventure with Penny. He introduces us not only to Penny herself but also to her grandmother's backstory. It's a slow build that I look forward to reading more about, especially in regards to the group that recruited Granny Penelope. I'm especially a fan of Sharon Gauthier's appearance, and how Dixon of the Mounted, Big Nick, Auric of the Great White North, and Auroraman are mentioned. A minor detail that bothered me was how Penny was texted about the passing of Granny Penelope instead of getting a phone call.
Gauthier's art is a lot of fun to see, especially when Penny humiliates the Hammer. My favorite page is of Penny wearing the bodysuit for the first time. This page is an homage to Marvel Super Heroes Secret Wars #8 where Spider-man is shown wearing the alien symbiote for the first time.
I found some of Gauthier's lettering to be oddly placed. Sometimes they crossed one another, or the tails were nowhere near the speaker. Reframing the art slightly to make the speech bubbles better associated with their speaker, and the order they speak in would make for a better reading experience.
The Verdict: Buy It!
Penny Steele is a fun origin story about a woman following in her grandmother's footsteps and becoming a full-fledged superhero. Readers need no previous experience to enjoy the tale of Penny Steele, but I do get a certain joy seeing other members of the Canadian Comic Book Alliance.