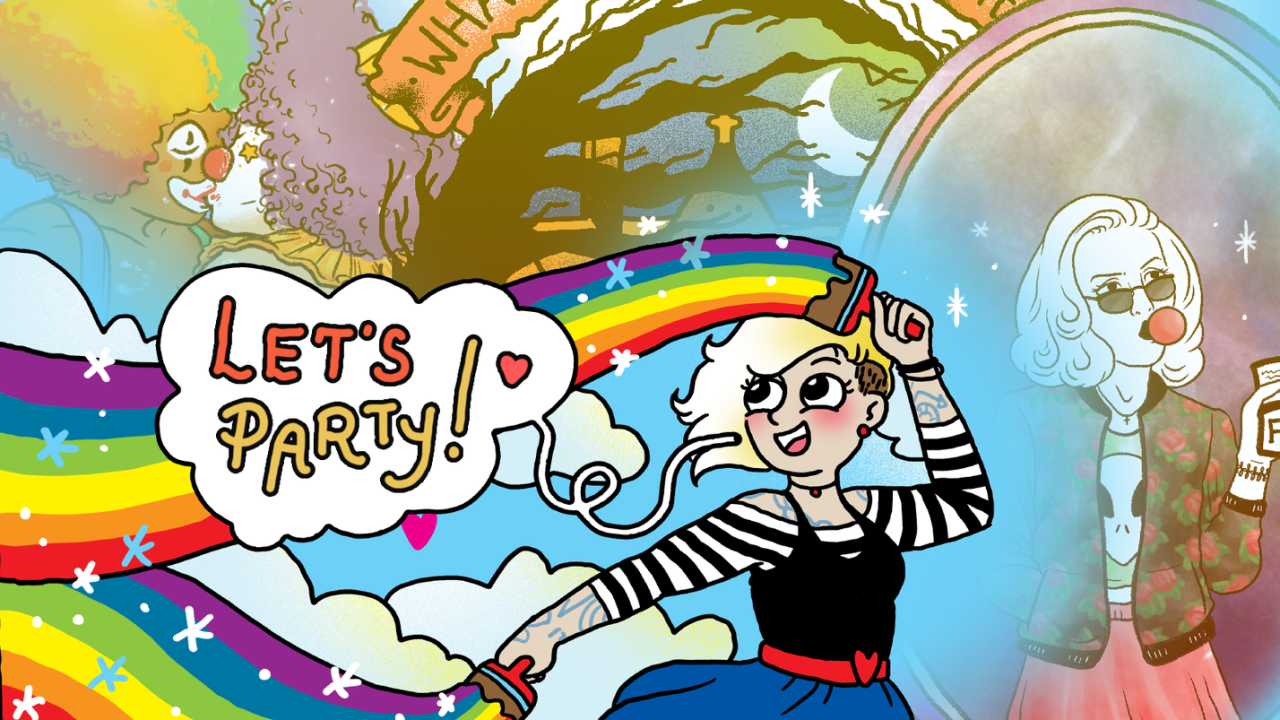 When it comes to making art on the internet, financial stability has always been the thorn in the artist's paw. How do you profit from an audience that believes the consumption of your work should ultimately be free? For some, the answer to that question is Patreon.
For creators, it's a stable income directly linked to their art without the pressures of commercial viability or middle-men dictating what they're able to produce. For fans, it's a way of connecting with an artist or creator they have an interest in, and be rewarded for their support with either exclusive content or a behind the scenes look at an artist's process.
Each month, we'll highlight the Patreon campaign of an interesting creator and share our experiences and recommendations with the crowd here at Rogues Portal.
In March of 2016, I followed Kate Leth.
Who Is Kate Leth?
Kate Leth is super cool. A working writer and artist in the comics community, Leth has made a name for herself working on licensed comic properties including Adventure Time, Bravest Warriors, Fraggle Rock, and Edward Scissorhands. Her original works, webcomic Kate or Die and miniseries Power Up, have been praised for their insight into the comics industry and willingness to open up typical genre conventions. She has frequently spoken up against sexism in the industry and fought for the inclusion of queer themes in all-ages comics as an important issue for struggling youth. Currently the lead writer on both Dynamite's Vampirella and Marvel's Patsy Walker AKA Hellcat, Leth is clearly a talented creator whose career is only in its infancy as she takes on increasingly high-profile projects and makes her presence known.
With natural, frequently hilarious dialogue between characters, Leth penned comics are a joyful read and should be considered to come from the same irreverent school of writing as celebrated peers Ryan North or Chip Zdarsky. I never feel like I'm being lied to when I read a Kate Leth piece. Whether it's an autobiographical webcomic or a story about Fraggles, there's always something true within the work that spoke to her in a way that makes its way through speaking to me. References to things like Sailor Moon, Tim Burton, and The X-Files show up frequently in her work, creating a super-mix of influential 90s media, particularly in her passion for powerful, fully developed female characters.
Kate Leth's art is also raw and honest. Leth's self-taught development as an artist has been public, starting with a personal webcomic in 2010 and visibly improving throughout the last six years in terms of personal style and form. Still, as her craft has grown Leth's art has not lost that core feeling of her art being a medium for the message of her writing to shine. Leth's focus is on a style that achieves a truer realization of her vision. Even in the artists she chooses to collaborate with (Matt Cummings, Brittney Williams) there is an animated quality to her work that fits in tonally and best showcases the personality of her work.
What's Her Patreon About?
Leth's profile on Patreon describes her as "creating Comics, Stories, and Art" and I think that's a terrific way of explaining how she uses the service. Her posts run the gamut between writing, art, and genuine non-fiction storytelling, often focussing most deeply on her personal battles between herself and her art. Organizing her campaign as such allows her to contribute work from all areas of her professional capacity without restricting what she's able to share. The experience of this Patreon gives you a genuine feel for how Leth throws herself into all avenues of creative work in order to survive. It'd be harder to find a truer look into the life of a freelancer.
While Leth describes herself as being more of a writer than an artist, art is still an important aspect of the campaign. Starting in February, Leth began using the platform as a reason to return to personal comics. These comics detail her emotions in moving to a new country and going to therapy. It's her choice to use Patreon to create supportive space to express these thoughts. It's also where she feels comfortable improving as an artist, as the reliable group of loyal followers allows her to create works that experiment a little more with the way she draws her characters or tackles subject matter she may not in a public space.
In terms of longevity and reach, Kate Leth has been on Patreon since November of 2015. She currently has around 350 patrons supporting her work, collectively pledging around $1000 to Leth per month. It's important to note that Patreon itself takes about 5% of this money, and while that may seem like a large number, it's really nothing compared to some of the more heavyweight campaigns. It's a comforting safety net for a campaign that knows it's drawing an intentionally niche audience that'll stay loyal to the vision Leth has for the shape of her career.
Is This Worth My Money EVERY Month?
In March, Leth's Patreon contributions consisted of ten creator posts. This content covered material such as exclusive personal comics, script excerpts from her commercial work on Vampirella, and blogs detailing the highs and lows of Leth's currently transitional life. In one particularly spontaneous update, Leth even provided patrons with a freshly drawn Dungeons & Dragons character sheet she made for personal use that would be perfect for a character that's half barbarian, half sailor scout. It's updates like that, the unexpected little things you didn't know you wanted, that often make campaigns like this great.
Although paid work and the unconventional life of a freelancer can sometimes get in the way of a regular update schedule, Leth makes up for it with the intimate approach she takes addressing her patrons in updates about her personal and professional life. I never felt out of the loop as Kate Leth always imbues her posts with a personal touch to thank patrons for supporting her artistic freedom.
And that, to me, is what makes Leth truly special as a creator. The real drive to contribute to this particular campaign is how much of herself Leth is putting out there on her Patreon, with personal comics about depression and anxiety being some of the most satisfying rewards of admission. Unlike Kickstarter, where you're directly paying for a project, on Patreon you are pledging to Kate Leth as a person. You're paying for the privilege of knowing the person behind the art. This is obviously something not all artists are comfortable with and not all fans are looking for. Yet it's what Leth offers: a connection. Was it worth supporting to me to find out we liked the same Dresden Dolls songs? For me, that answer is an emphatic yes.
Will I Continue My Support?
I'm a fan of Kate Leth. I first discovered her work on Tumblr and followed her both there and on Twitter for about a year before I first picked up one of her books in person at TCAF in 2014. I was attracted to her work because of its honesty, warmth, and humour, as well as the way she extended that genuine personal quality into her art. While she displayed many of those qualities on social media, becoming a patron allowed me access to more of what I really wanted, as well as several bonuses such as the D&D character sheet and monthly, obviously completely accurate, horoscopes.
I initially pledged to the $1 tier throughout March for the purposes of this article and ended up upgrading my support to the $5 tier to see all posts instead. Peeking behind the curtain of her process has been fascinating, and I personally do plan to continue my patronage past this month to see more of what she has to offer. The return of slice-of-life, emotionally personal comics within the campaign makes this worth the price of admission. I appreciate that these are works which thrive in the supportive environment. I do hope they continue.
Especially with a promised Mouse With A Knife comic coming soon exclusively to the campaign, how can I possibly stop now?