Of Cats and Men: Profiles of History's Great Cat-Loving Artists, Writers, Thinkers, and Statesmen
Writer/Artist: Sam Kalda
Genre: Non-Fiction
Publisher: Ten Speed Press
A review by Amelia Wellman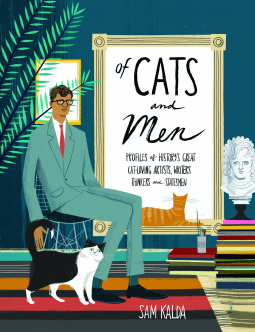 "In ancient times cats were worshipped as Gods; they have not forgotten this." – Terry Pratchett
Of Cats and Men presents a fresh approach to cat entertainment that shows the feline-loving side of some of history's most prominent men. The thirty men profiled range from writers and artists such as Haruki Murakami, T.S. Eliot, and Mark Twain, to historical luminaries such as Sir Winston Churchill, Freddie Mercury, and Nikola Tesla. Told through artwork and hand-lettered quotes, Of Cats and Men twists the 'cat lady' stereotype to show that anybody can enjoy the company of a cat.
I personally love history, but let's be honest, it can be a bit of a dull time to sit and read facts about someone's life. Of Cats and Men knows that big dumps of information can be a lot to take in and each of the profiles of the cat loving men within have only the briefest introduction to them and their works before moving onto the good stuff: their cats.
Learning about King Hywel the Good's protection of cats in 920 CE Wales all the way through to how AI in the future might react to cats was a delight. There's just enough details about the men and their lives to show how their love of cats helped shape what they did and how they did it. The static electricity observed while petting a cat was what ignited Tesla's interest in electricity. Churchill sneaking his cats table scraps shows a side not seen during wartime, blitzed out England, the image that comes to mind when Churchill is mentioned.
Sam Kalda provides the profiles as well as the artwork in Of Cats and Men. Kalda's artwork is highly stylized and honestly, I'm having a hard time trying to describe it. It's a sort of art deco papercraft quality, with the different textures creating a depth that also appears flat. It's a style full of opposites and I'm sorry that I can't do it justice. You'll just have to pick this book up and see it yourself!
The Verdict
Buy it! Of Cats and Men is a charming book that was a lot more informative than I originally thought it would be. Each of the men chosen for this cat lover compendium had just the perfect amount of information on them and their feline friends and the striking art was a perfect companion to the blurbs. Of Cats and Men belongs on any cat lover's shelf!
Of Cats and Men will be available April 18th, 2017.