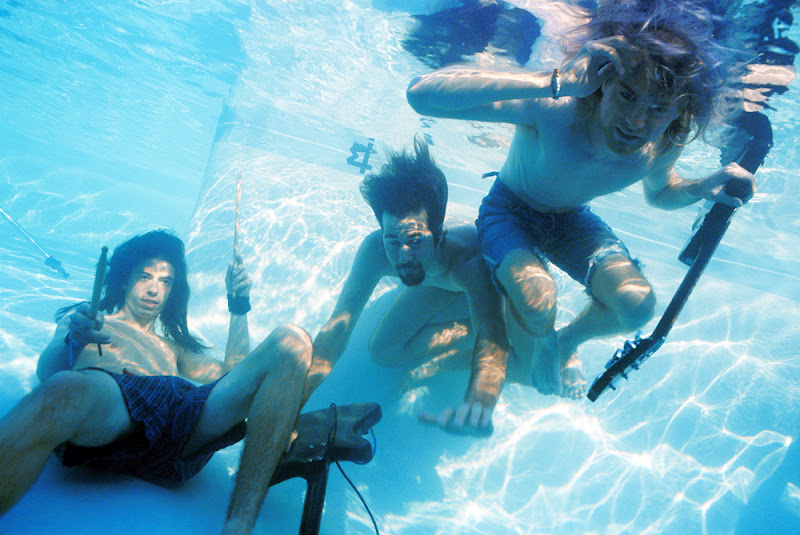 On September 24, 2016, Nirvana's second studio album Nevermind turns 25.
I was born the year Nirvana's first album Bleach was released (1989), so it wasn't until high school that I really became aware of Nirvana. I'm fairly sure I either heard a song of theirs on the radio or at a friend's house—either way, I was immediately hooked. After buying all of their CDs, I moved on to buying books about Nirvana, covering my walls with Nirvana posters, and I even sharpied one of my black low Chuck Taylors with the word "endorsement"—just like Kurt's. At one point I also had a hermit crab named Kurt Cobain, but unfortunately, (or perhaps appropriately), he didn't live very long.
This might seem obsessive, but with most Nirvana fans I meet, it's so much more than just knowing their songs. We know dates, conspiracy theories, art, journal entries, names of past drummers, pre-Nirvana band names (Pen Cap Chew, anyone?), iconic clothing, etc. It's quite the investment, and I am not really sure what to say when people ask me to explain my fascination with the brilliant and disturbed lead singer of such an important band. Perhaps I can say something like: "Fun fact! Kurt's interest in a television special on water births inspired the iconic cover of Nevermind." What a character. But regardless of whether or not you are a Nirvana enthusiast, Nirvana's Nevermind indeed deserves some love—especially on its 25th birthday.  
Nevermind is significant for a number of reasons. Nevermind is the first album to feature Dave Grohl as drummer, and for the band this album really signalled a feeling of "nirvana" or completion. Surprising both the band and the record label, Nevermind was immediately successful—even becoming number one on the US Billboard 200 chart in 1992 (replacing Michael Jackson's Dangerous!). The list of awards and recognition the album has received is seriously long, but one of the more unique is the Library of Congress's 2005 inclusion of Nevermind to the National Recording Registry—an honor reserved for albums that are deemed as "culturally, historically, or aesthetically important."
The success and style of th
e first single off the album, "Smells Like Teen Spirit," marks an important shift in music history: alternative (particularly grunge) music being directed at mainstream audiences. Through Nevermind, Kurt Cobain became known as "the voice of a generation"—a title and accompanying fame that he would struggle with for the few remaining years of his life.
So, how will YOU celebrate the release of Nevermind?
If you're in Seattle, WA, 1) I'm really jealous; 2) Go to the EMP Museum: from 10am-5pm, they have a ton of cool stuff going on: giveaways, displays, screenings, you name it. Check out their website for full details.
Also! Sirius XM's Lithium (Channel 34) will be celebrating all week (from the 19th to the 25th) by re-playing "the exclusive 2011 SiriusXM town hall hosted by Jon Stewart and featuring interviews with Grohl, Novolselic and Butch Vig, the band's producer. The channel will also air the LIVE Nevermind 25th Anniversary Show hosted by Jenny Eliscu and David Fricke."
If nothing else, just play Nevermind, all day long, loud and proud!