NINJA-K #2
Written by Christos Gage
Art by Tomas Giorello with Roberto De La Torre and Ariel Olivetti
Cover by Kenneth Rocafort
Published by Valiant Comics
A review by Stacy Dooks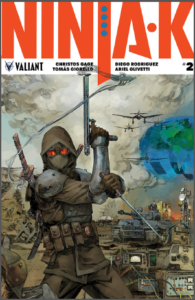 It's of interest to me that while I have real problems with moral ambiguity in a superhero universe I have zero issues with the moral quagmires that spies encounter in their fiction. From Ian Fleming's James Bond to Bill Granger's The November Man to Ed Brudbaker and Steve Epting's Velvet to Greg Rucka's Queen & Country, there's something at once alluring and repulsive about the figure of the spy. Initially a figure of escapism not unlike the superhero, they've become figures with feet of clay who can be pitied almost as much as they're admired. It's cool to read about James Bond or Natasha Romanov but I don't think we'd ever want to actually be them. There's too much pain beneath the poise, a knowledge that while their adventures might seem fun and glamorous there's a backstory of deprivation and hardship we probably don't want to examine too closely. Ostensibly, Ninjak is much the same way. On the surface, it's as I stated in my previous review: James Bond if he was  a ninja. You've got cool gadgets, martial arts badassery, all the accoutrements of the classic Bond archetype but on top of that sundae is the cherry of being not merely a spy but a ninja. Who wouldn't sign up for that? In Ninja-K #2, we learn more of the secret history of MI-6's Ninja program and just how much being the badass can cost.
Colin King's investigation into the mysterious deaths of previous Ninja operatives for MI-6 has led him to Madam Charade, an old enemy of his slain friend and mentor, the previous Ninja-D. Her information sets him on a path to discovering some decidedly unpleasant truths behind the program, as well as the identity of the killer. But as the shadows part and answers are found can Ninjak trust what he's learned, or is there a darker truth on the horizon? And will he survive to share what he knows?
There's a lot to unpack with this issue, and it's only the second chapter. Everything from the love/hate relationship of spies and femme fatales to the personal cost of becoming the premier secret agent of your country to just how far an agency will go to ensure it has the best of the best. There's also a backup story exploring the first ninja operative's efforts on behalf of Great Britain at the end of World War One that's also a page-turner. Gage's writing turns up the pressure on Colin's investigation and provides some excellent dialogue and situations for both the present Ninja-K and his predecessors that offer the illusion of continuity. This universe feels lived in, and the characters have that pinch of realism that balances the more fantastical elements. Giorello's art is amazing as always and the contributions by De La Torre and Olivetti can't be understated.
The Verdict:
You're still here? Buy It! Ninja-K #2 is the continuation of one of Valiant's most intriguing stories to date and you've still got a chance to get in on the ground floor. It's entertaining as all get-out and deserves your hard-earned dollar. Check it out, you won't be sorry you did. Recommended most highly for your eyes only.