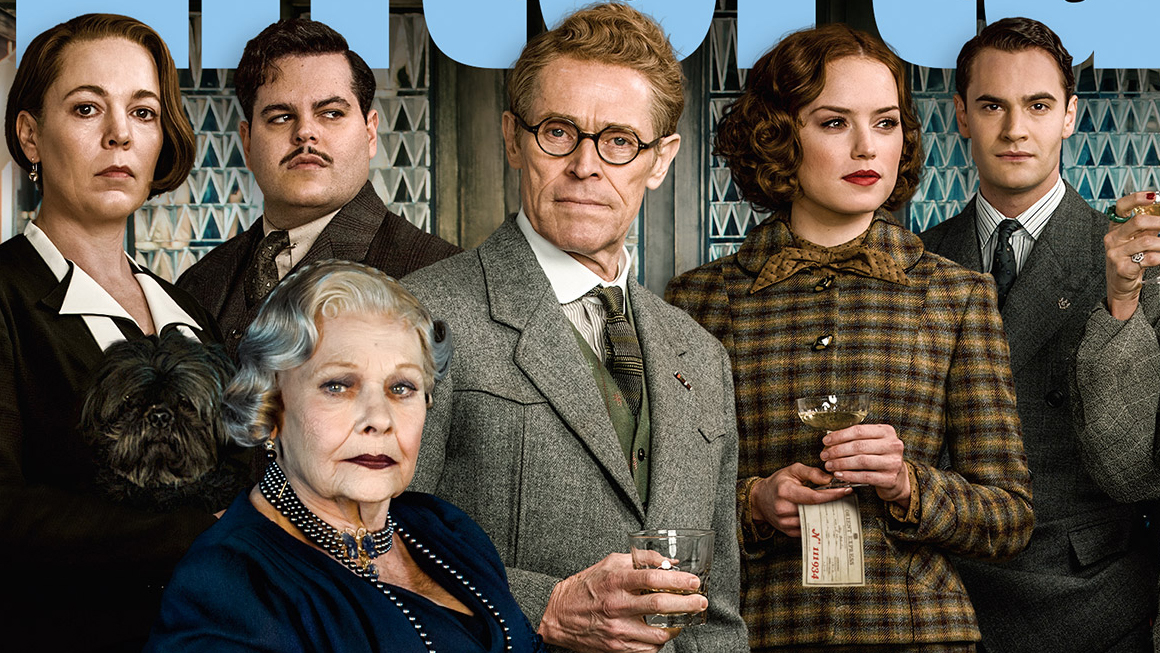 Murder on the Orient Express
Directed by: Kenneth Branagh
Screenplay by: Michael Green
Based on the Novel by: Agatha Christie
Starring: Tom Bateman, Kenneth Branagh, Penélope Cruz, Willem Dafoe, Judi Dench, Johnny Depp, Josh Gad, Derek Jacobi, Leslie Odom, Jr., Michelle Pfeiffer, Daisy Ridley
Review by Allison O'Toole
Murder on the Orient Express is based on Agatha Christie, but there's no denying it's a film by Kenneth Branagh. His earnestness oozes from every frame, and it's unsurprising that this film is being released so close to the holidays, with a snowy setting and sentimentality of a Christmas flick.
Based on Christie's novel of the same name, Orient Express follows famed detective Hercule Poirot (Kenneth Branagh, both director and star) on a train bound for Europe, when a passenger is murdered. Stuck together when the train derails, every passenger—including a Russian princess (Judi Dench), a governess (Daisy Ridley), a doctor (Leslie Odom, Jr.), and a window on the hunt for a new husband (Michelle Pfeiffer)—is a suspect.
Christie's novel is a whodunit, with Poirot methodically interviewing each passenger, and putting the clues together to, inevitably, solve the murder. Poirot is iconically, while a bit silly, ultimately a detached and fundamentally logical character. Branagh, with his flair for the sincere and sentimental, turns that logic into a character flaw. He introduces a love interest to Poirot's past (is she dead? Or did she just leave him?), and lightly suggests that Poirot clings to order and logic because of a broken heart in his past. The film seems to believe that he needs to reconnect with his sense of human empathy, and that his clinical reasoning is should be tempered. It's a framing device that gives the film an emotional arc, and keeps it from being the more detached (but more satisfying) whodunit Christie wrote. We're invited to admire Poirot's skills more than we're invited to solve the mystery ourselves. Many of the clues are glossed over in favour of showcasing the actors, most of whom get a teary monologue or a set piece where they can briefly hold the spotlight in the sizeable ensemble.
Despite content that leans mawkish, the cast is having fun. Daisy Ridley is charming as sensible governess Mary Debenham, Michelle Pfeiffer and Willem Dafoe are fantastic as always, and Broadway vets Leslie Odom, Jr. and Josh Gad feel at home in a cast that mostly seems to be acting for the stage. But these heightened performances feel at home in a film led by Branagh, who exaggerates Poirot's fussiness, playing a typically idiosyncratic role. Branagh fans will likely find this performance charming, but Poirot purists may find him a bit too much of a departure from Christie's descriptions.
The camera seems torn between the fastidiousness of Christie's protagonist and Branagh's grander visions. Carefully-framed overhead angles or shots of hands precisely preparing food and other luxuries feel appropriately finicky, but sweeping shots of CG Istanbul or mountain ranges feel like they're meant for a journey epic. The purpose of the train isn't to transport the characters, it's to trap them in one place. Deviating from the novel, the train is derailed, which lessens the claustrophobia that could have been used to great effect. It expands the stage on which these characters can move, and unnecessarily introduces more action in the background. The film could have drawn tension from the inescapability of the cramped quarters but it's more interested in luxuriating in the train's elegance than framing it as claustrophobic.
But then, despite what the trailers might indicate, this film isn't trying to be a dark murder mystery. This adaptation ostensibly wants to keep viewers guessing, by changing some of the characters from the novel, but it's too caught up in building an emotional framework than presenting the clues. And so what should be a straightforward whodunit becomes cheesy, featuring the kind of teary close-ups that would be Oscar bait if any of the characters had enough screen time to warrant a nod. This sense isn't helped by Patrick Doyle's overbearing score, which relies the kind of swelling crescendos you'd expect in an epic romance.
However, that cheesiness comes from a sincere place. It never felt to me like the kind of cornball concoction that was dreamed up by movie studios for prime emotional manipulation. Its earnestness was the only thing that kept me from rolling my eyes during the emotional climax; it felt like writer Green and director Branagh want desperately for the audience to sympathize with these characters. It was an unnecessary tweak, but I couldn't help but find it a bit endearing.
The Verdict:
It's a pleasant enough movie for a cozy Sunday watch, particularly if you don't already know the twist at the end, and despite being shot in vivid 65mm, there isn't too much here that needs to be seen on the big screen. If you're looking for a movie to watch over the holidays that won't make anyone in your family uncomfortable (although maybe a little bored), you could do worse than Murder on the Orient Express.