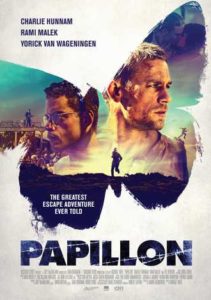 PAPILLON

Director: Michael Noer
Starring: Charlie Hunnam, Rami Malek, Eve Hewson, Roland Møller, Yorick van Wageningen
Writer: Aaron Guzikowski
Based on Papillon and Banco by Henri Charrière
Review by Michael Walls-Kelly
"Thank you for coming. Watch me go to Hell!"
There are few things more unnatural than locking a person away from society. That's why it's such a universal and timeless form of punishment. Prison and solitary confinement alone are chilling concepts, but if that prison thousands of miles from your home, across an Ocean and in an entirely different continent, it becomes a purposefully disorienting experience.
It makes perfect sense why Henri "Papillon" Charrière (Charlie Hunnam) would want to escape this nightmare. The movie doesn't need to spend a lot of time on what would drive Papi to attempt a jailbreak from this horror. In fact, we get more justification for why the rich and bookish forger, Louis Dega (Rami Malek), plans to stay.
Papi is a French safe-cracker and thief who is framed for murder and sent to prison. The opening is a lush look at 1930's nightlife that shows Papi and his girlfriend, Nenette (Eve Hewson), living it up. Papi is very quickly arrested and sentenced to life in prison and ten years of hard labour on Devil's Island in French Guiana. The murder and his sentencing are very quickly and smartly backgrounded — "This is a frame up, they're all in on it. I need to concentrate on breaking out" is the clunky line that glosses it over — in order to focus on life as a prisoner. Papi is a street-smart criminal and quickly befriends Dega in a classic prison partnership: Papi will protect Dega and Dega will pay Papi.
This adaptation of the book of the same name by the real-life Charrière is a lot more violent, dirty and intense than the 1973 adaptation starring Steve McQueen and Dustin Hoffman. Papi, Dega, and the other prisoners toil through the mud. Live shoulder-to-shoulder with fellow prisoners. Also, the all-too-real struggle of dealing with diarrhea while you're trying to hide your money up your ass.
This is the first work I've seen from Danish director Michael Noer, but I enjoyed what he brought to it. It's shot beautifully by Hagen Bogdanski, capturing bustling 1930's France, the awful prison accommodations and the messy, muddy jungles of South America equally well. Papi's attempts to escape and survive, separated by years-long stints in solitary confinement, feel like vignettes. It would be nice if they connected together a little better and it would be even nicer if the movie wasn't over two hours long.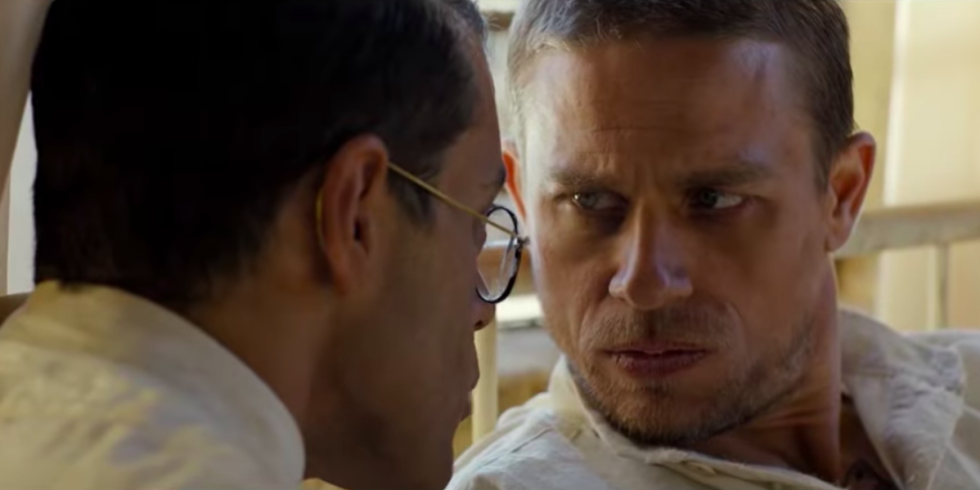 Hunnam and Malek work hard to sell the relationship between their characters. They do a lot with a little. A few more scenes showing when their relationship evolved past a pure business transaction would have been appreciated. Luckily, Malek is as solid as ever. This is a rare instance of Hunnam being used to his strengths. He's channeling Jax from Sons of Anarchy and even some street-wise Arthur from last year's underrated King Arthur: Legend of the Sword. More roles and performances like this would be greatly appreciated in the future.
Overall, Papillon succeeds through its clever interpretation of prison tropes, including an outdoor shower fight scene and struggles to survive solitary with the help of a godsend of a coconut. Papillon is filled with striking imagery that could have used a tighter presentation and a little less meandering, but the accurate depiction of how absolutely shitty a prison work camp ends up being universal.
Verdict: Watch it. This version of Papillon doesn't quite live up to the 1973 film, but there's plenty to like about it. The performances are top-notch, even if Malek's weirdo turn deserved more screen-time. It's messy and doesn't gel together completely, but it's a visual feast that deserves to be seen.