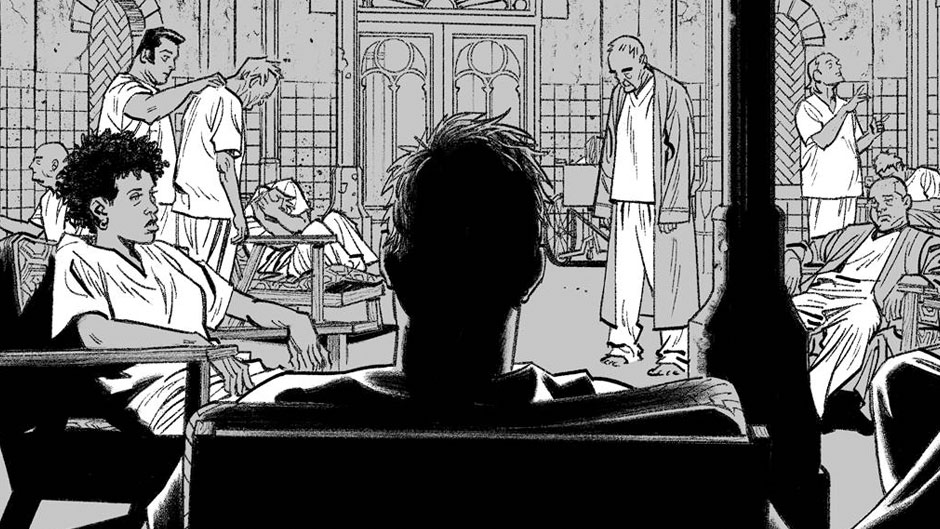 Moon Knight #1
Writer: Jeff Lemire
Artist: Greg Smallwood
Colours: Jordie Bellaire
Review by Adrian Hodgkiss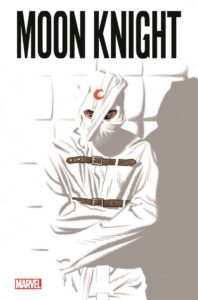 Manhattan's favourite mercenary turned vigilante is back in part 1 of a new 5 part adventure. Moon Knight charts the story of former mercenary Marc Spector who was left for dead under a statue of Egyptian moon god Khonshu. In the shadow of the ancient deity, Marc returned to life and took on Khonshu's aspect to fight crime for his own redemption.  In the books own words "he went completely insane and disappeared for a time, but returned to protect those that travel at night. At least that's what he thinks…"
I have to just quickly preface this review by stating the Warren Ellis' run on Moon knight is one of my favourite comic book runs of recent times. So, it was with excitement and some trepidation that I opened this new number one, this time written and drawn by the formidable team of Lemire, Smallwood and Bellaire. Now, both Smallwood and Bellaire were on art duties during Brian Wood's more recent run on this book (which I didn't read) but it is important to state my dropping of the title was not a slight on them. It is clear they are both super talented at what they do and they are both a great match for the style and tone of this book.
The story itself is as advertised, part 1 of a  longer but ultimately limited run, it opens the story well and hints at the direction this tale will head in. Lemire's script opens on Marc finding himself in what we assume is some kind of asylum. He seems to remember snippets and hints at a former life as Moon Knight the vigilante even if the orderlies and doctors at the asylum are intent on telling him otherwise, or as is often the case, torturing and beating him.  He thinks he's met some of his fellow patients before too, but his connection to them seems to be an only half-remembered glimmer that he can't grasp.
His connection to Khonshu seems to be intact and the Egyptian god's words are the stirring motivation he needs to wake up and attempt an escape. In a makeshift Moon Knight costume fashioned from toilet paper and bed sheets Marc punches his way out of captivity only to reach the roof of his jail and realise that perhaps all is not what it seems. His grip on reality seems to slip in and out of focus and the art and script do a great job of capturing his own crumbling sanity.
The art throughout is both diverse and yet in keeping at all times. Dream sequences are presented in a far sketchier grid format with a more vivid and ethereal colour palette from Bellaire. Conversely, scenes that we are lead to believe are reality are presented in varied layouts with lots of white empty spaces in between the images. These large empty white spaces are not a lack of artistic content but actually add to the tone and atmosphere and continue to hint that this could all be happening inside the confines of our hero's mind. Smallwood's art is strong and at times striking especially on the double page spreads and action scene splash page. A great job is done with the writing and art to make this feel like the whole story could be playing out either in Marc Spector's mind or in reality and in truth by the final page the reader is still none the wiser.
Verdict:
The Marvel solicitation boldly states "the book you'd be insane to miss!", while I agree, not everybody will. Moon Knight has had many short lived runs with various big name writers and artists. For some reason he doesn't seem to have struck a chord with enough readers in the way other street level vigilantes have. His potential is huge, but his runs always seem to be short and then the book is relaunched with another stellar writer at the helm hoping to hit on a winning formula. Personally I think Lemire has made a great start and his script teamed with art and colours by Smallwood and Bellaire could well be what this character needs.
All in all a good kick-off to the story that definitely poses far more questions than it answers. This issue seriously skirts around the neighbourhood of being confusing and anyone who is not accustomed to Moon Knight and his struggle with his own sanity, may have found this too confusing / odd. Personally as a past reader I was intrigued and excited. I think knowing this is part 1 of 5  makes me more keen to add this to my pull list.  I know there will be a natural jumping off point when or if the madness gets too much!