Miss Fury #1
Dynamite Comics
Written by Corinna Bechko
Illustrated by Jonathan Lau
Colored by Vinicius Andrade
Lettered by Simon Bowland
Reviewed by Hafsa Alkhudairi
Miss Fury is Marla Drake and the senior marine engineer. The character was first introduced and was prominently from 1941 to 1952. She was created by June Tarpe Mills. Corinna created a strong female character living in the 1940s. The sexism of the time will not stop her from achieving her goals. These issues are presented unsubtly like the assumption that scientists are men. Other issues include the lack of men during the war and the rise of working women for the war effort. This produced a story that may be loaded with male characters, but the biggest players are the female ones.
The story may have interesting characters. The narrative seems a bit bland, even if the flashback provided amazing character development. Marla went from closing her eyes the first time she hit someone to being able to beat people up. I enjoyed the stylistic choice in the flashback. Instead of a change in the art, there is a date and place attached to panels, indicating the change in time. However, the idea of the narrative seems very bland for this type of story's needs. Miss Fury has so much potential and can be advanced further.
Miss Fury is a periodic piece that provides an experiential story. The art is reminiscent of the time as well to show an understanding of the history of comics. The line work is to point. All together, they make a beautiful combination a very realistic visual narrative. However, it creates a colourful noir detective story that is actually not dark but intriguing. To top it off, there is a play on shadowing whenever Miss Fury is in the shot. There are interesting movement shots for all the panels, making even the static ones dynamic. The art is creative expression of the forties.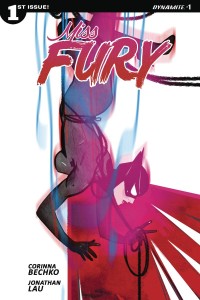 Verdict:
 Wait and See. Miss fury has many good points to the comic and has many aspects that makes it intriguing. However, the story is not developed enough to know if it is good or not. So far, the art is amazing and shows the details are very well done. The flashback is very useful and the evidence of the time frame is convincing. As an intro to an older golden age comic character, it is very interesting. There is potential and I hope the rest of the first arch would present a more intriguing storyline.