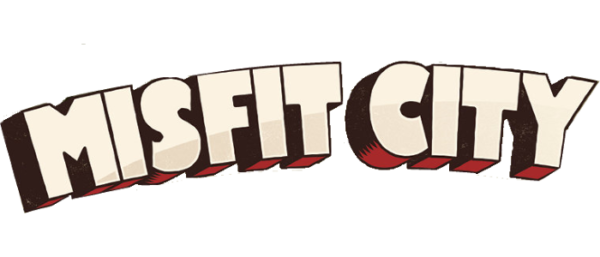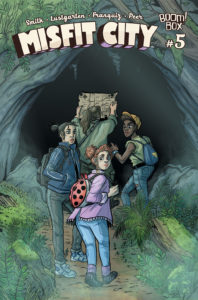 Good news Gloomies fans, this week Boom! Studios announced that the critically acclaimed series, Misfit City will be returning for a second story arc in September.
Acclaimed Series Misfit City Extended for Second Story Arc
"…Legally Blonde's writer Smith's comic book debut [is] one not to miss" – Entertainment Weekly
"Reading this comic always feels more like it's playing out as a cartoon or adventure movie rather than just still panels on a page." – YAYOMG!
"…an exciting treasure romp filled with adventure, danger, love, and friendship." – Comicosity
"BOOM! Studios has consistently been turning out some very cool female-based content over the past few years." – Black Girl Nerds
August 24, 2017 (Los Angeles, Calif.) – The critically acclaimed MISFIT CITY, from screenwriter Kirsten "Kiwi" Smith (Legally Blonde, 10 Things I Hate About You), co-writer Kurt Lustgarten, and artist Naomi Franquiz, kicks off its climactic second story arc in September as the hunt for Black Mary's treasure reaches a dramatic conclusion, BOOM! Studios announced today. With critical acclaim from all corners, including Entertainment Weekly's "Must List," MISFIT CITY is the newest smash hit from the innovative BOOM! Box imprint of BOOM! Studios.
MISFIT CITY is the story of Wilder and her friends, whose hometown is where they filmed that cult kids' adventure movie in the '80s. Nothing ever happens there, until one day they come upon a centuries-old treasure map drawn by the infamous pirate Black Mary, launching a life-imitates-art adventure in the town they all dreamed of escaping.
"After discovering a secret entrance to the caves at Bootlegger's Bluff and finding Captain Denby still alive, the next story arc of MISFIT CITY will follow Wilder, Macy, Dot, and Karma as they continue to hunt for Black Mary's treasure," says Smith. "Their friendship will be tested as romantic entanglements threaten to break the group apart and the stakes are ratcheted up on their adventure. Expect more crackling banter and a hoard of pirate booty… and surprisingly agile assists from Pippin, the dog with no sense of smell."
"Fans of the series have been incredible with their support and we've had so much fun getting to meet them at signings, conventions, and on Twitter," says Lustgarten. "Apart from connecting with so many people, the whole experience has been bonding for us as well. It's our first comic, and our first produced 'credit' together, so it's a true labor of love. This is our baby, so we're glad it went to school and made friends."
Print copies of MISFIT CITY #5, which kicks off the second story arc, will be available for sale at local comic book shops (use comicshoplocator.com to find the nearest one) or at the BOOM! Studios webstore starting September 20. Digital copies can be purchased from content providers like comiXology, iBooks, Google Play, and the BOOM! Studios app