Mighty Morphin' Power Rangers 2016 Annual #1
Written by Kyle Higgins, Trey Moore, Ross Thibodeaux, James Kochalka, Marguerite Bennett, & Jorge Corona
Art by Rod Reis, Terry Moore, Rob Guillory, James Kochalka, Huang Danlan, and Jorge Corona
Colors by Hi-Fi, Taylor Wells, and Gabriel Cassata
Letters by Ed Dukeshire and Jim Campbell
Review by John Dubrawa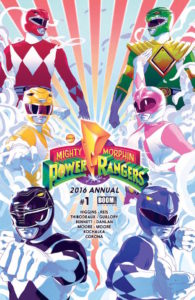 It's kind of amazing, the longevity of the Mighty Morphin' Power Rangers franchise. Between a brand-new feature film on the horizon and the recent comic book series from Boom! Studios, the MMPR are back in full force as if the decades since the first-run of the TV series had never passed. That ongoing rekindled fanaticism continues in the Mighty Morphin' Power Rangers 2016 Annual, where the aforementioned comic series' writer Kyle Higgins is joined by a slew of high-profile creators for an anthology of short stories set within the MMPR world. If that just sounds like a good time waiting to happen, well, great news: it is.
Containing six stories written and drawn by some amazing creators, the Mighty Morphin' Power Rangers 2016 Annual is full of rich content spread across a variety of subject matter within this universe. From the straight-forward story written by Higgins and drawn by Rod Reis, "A Week in the Life…" about Red Ranger Tommy to the more complex origin of Golddar in Trey and Terry Moore's "Only the Strong," there's a range of stories that every Ranger fan is going to love on some level. The best part of this Annual, however, is that the barrier to entry is literally just to be a fan of the material. I haven't been keeping up with the monthly comic series and had absolutely no trouble in this 42-page collection.
For me personally, the highlight of this Annual is Ross Thibodeaux's "Unlikely Heroes," which posits one of the most unfathomable What If's in comics history:  What if the Rangers were captured by one of their foes and Bulk and Skull were their only hope? It's enough to make even Zordon say "aiyiyi," that's for sure. What makes this particular story wonderful is not only Thubodeaux's lighthearted dialogue that's also full of heart, but the fact that Chew's Rob Guillory handles the artwork. His style perfectly captures the bizarre nature of the Bulk and Skull characters while imbuing them with a real sense of fun as well. Seeing Bulk and Skull in their Ranger uniforms might be the best thing about this entire issue.
Nearly all of the stories within this Annual carry a similarly whimsical tone. Marguerite Bennett and Huang Danlan's "A Spot of Trouble," for instance, is all about Trini dealing with a foe that turns everyone into animals while James Kochalka's "It's Putty Time" is presented like Baltazar and Franco kid-friendly short about Putties having feelings. For something a bit more approximating the show itself, Jorge Corona's "What Makes a Ranger" perfectly captures the heroism that made the Rangers such role models for fans like me growing up in the 90s.
Verdict
Buy! It's easy to recommend the Mighty Morphin' Power Rangers 2016 Annual to anyone that has been a fan of the recent ongoing comic or those that just long for more MMPR material in general. You're getting a lot of quality content for your money with this Annual, and the amount of A-list creators on this issue is surreal. Plus, you know you want to see Bulk and Skull become Power Rangers, don't kid yourself.