The Mighty Crusaders #1
Writer: Ian Flynn
Artist: Kelsey Shannon
Colourist: Matt Herms
Letterer: Jack Morelli
Publisher: Dark Circle Comics
A review by Josh Rose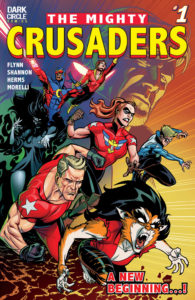 Archie Comics is completely unrecognizable from almost a decade ago when Jon Goldwater took over the company as CEO. He encouraged his creative teams to try and modernize the characters for the 21st century. That began with the introduction of Kevin Keller, the franchise's first openly gay character. Since then they've had Archie fight zombies and the Predator, turned Jughead into a werewolf, and a total reboot of the Archie series. Alongside the Riverdale based series Archie comics released their Dark Circle imprint for their more edgy series, like the Black Hood, The Shield, and The Hangman. Now they've put together a superhero team led by the latest incarnation of the Shield, Victoria Adams, in The Mighty Crusaders #1.
Ian Flynn does a great job with this first issue introducing all of the characters. There's plenty of action to start us off, and he shows us that things aren't going so smoothly with this team. By the use of a news broadcast, Flynn lets us know a bit about the history of the Crusaders, and that this isn't the first team to go by that name. After the team finally puts down Dino-Rex, Victoria Adams goes to talk with the original Shield, Joe Higgins. Through the conversation we get to know who all the characters are. What their struggles, relationships, and personalities are like. All the while Flynn teases what evil he will have the team facing later on.
The Mighty Crusaders #1 has some fantastic looking characters. From the toothy Dino-Rex and creepy Darkling to the grizzled Joe Higgins. Kelsey Shannon does a great job, not only with showcasing the team's cool powers, but also with their expressions and emotions. It goes from their faces and into their whole bodies. Matt Herms' colours are bright and vibrant, but his best colours are the bright greens used to demonstrate one unsavoury character's magics.
The Verdict:
Buy It! The Mighty Crusaders #1 is off to a great start. It has the right amount of action and introduces all the players. In addition to the mystery of the identity of the major villain, we have some beautiful and expressive art. It seem like this will be a simple and fun superhero team book, hopefully with good character development.