We're not the only ones celebrating Alien Day this year. The amazing artists over at Mondo have created some incredible merchandise for the hardcore Alien fan that is going to work any art hound up into a frenzy. The artists they get to work with always create insanely popular pieces that capture the movies we love in all their geeky goodness, and as you'll see, what they're putting out today is some of the best.
Some of these items have been up for pre-order since the 22nd, but others have only gone on sale today both online and in a limited-quantity pop up shop for an extra special Alien Day event.
Kicking off the merchandise available is this incredible 24″x36″ screen print by Kilian Eng. It's intricate and detailed, with the aesthetics that immediately scream Alien as loudly as Kane when a chestburster tears its way through his internal organs. Although its main colour is black, its almost phosphorescent in its shades of blue it uses to light up the terrible anatomy of the alien creature. $50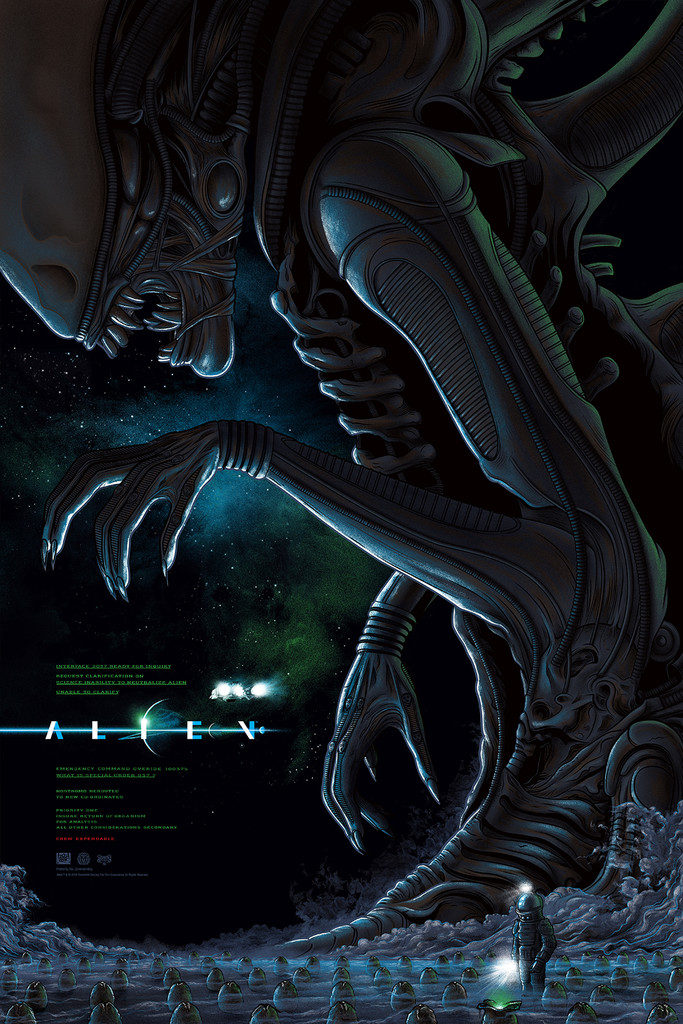 Mondo is known for their posters. So it's reasonable that for Alien Day they would offer more than one. Mike Saputo is the artist responsible for this gorgeous piece depicting an iconic scene from Alien with the titular creature looming overhead. As per usual, the 24″x36″ posters come in regular editions or special edition variants. While the black and green screams Alien to me, I actually prefer the subtle, dangerous overtones of the red version. Of course that's the more expensive option. $45 for green and $65 for red.
This Aliens vinyl soundtrack is hands-down definitely the coolest one off piece of merchandise I've ever seen. Pressed on ultra clear vinyl, the record is filled with green coloured liquid meant to mimic the Xenomorph's acid blood. It's so cool. Unbelievable clever. I can only imagine how cool this would look spinning on the turntable. That is, if anybody actually uses these limited edition records to listen to music. At $225, it's definitely something unique.

As someone who absolutely adored the Prometheus soundtrack, this vinyl gets me really excited. It matches the aesthetics of the film by coming in Engineer white with grey splatter. The cover is adorned with the image of the Space Jockey, a central mystery Prometheus sought to conquor, and comes with exclusive liner notes from composer Marc Streitenfeld. Some people forget about this film, but it's actually my second-favourite of the Alien franchise so I'm glad its included in the collection today. At $35, you might actually be able to afford listening to it, too.

These handknit sweaters in both Alien and Chestburster varieties were made especially for the holidays, so you can show up to see your grandmother in style. Run up to her and give her a great big hug on the face. While the Alien sweater is classy in its festive depiction of the Xenomorph, that Chestbursteris greusomely awesome. The blood-red splatter around the sleeves gives it that extra special touch (and will come in handy if you're prone to spilling the cranberry sauce). $85.
Tell me you don't want this. Look me in the eye and tell me that you wouldn't be wearing a ski mask every time you went outside if this stylish number was an option. I mean, I live in Canada, so that's not actually an unreasonable thought to think, but even if you don't, everybody deserves a hug. Just make sure to have the haunted eyes the model here and you'll be all set. $30 plus any fines you get for wearing this out in public.
With these patch and pin sets, you too can be a crew member of the USCSS Nostromo, doomed to a grisly fate at the hands of an otherworldly menance! I'm partial to the pin set myself. It's subtle merch. Something you could wear and other Alien fans might notice it, but they also won't kick you out of Denny's like they did that time you went in full Xenomorph costume. Thank you Mondo for producing this great set. At $15 for the patches and $25 for the pins, it's no longer unreasonable for you to party like it's 1979.
Source: Mondo