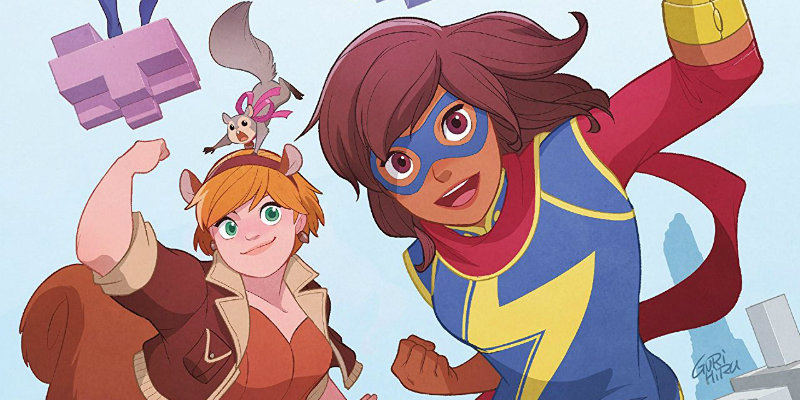 Marvel Rising: Alpha #1
Writer: Devin Grayson
Artist: Georges Duarte
Colourist: Rachelle Rosenberg
Letterer: VC's Clayton Cowles
Publisher: Marvel Comics
Review by Melissa Prange
Get ready to embiggen AND kick butts and eat nuts as Ms. Marvel and Squirrel Girl team up in Marvel Rising: Alpha #1. The duo first joined forces in Marvel Rising #0 (released on Free Comic Book Day) where the not-unlikely team battled A.I.M. during a school field trip to Howard Anthony Stark Institute for Technical Excellence. In Marvel Rising: Alpha #1, the story picks up with the duo once again teaming up to battle the bad guys, and this time, the baddies are video game characters who have been brought to life.
Thanks to Doreen Green's computer science tutoring, she and Kamala Khan finally cross paths. As the two interact in their "normal" lives, neither has any idea of the other's superhero identity–even though they're fighting side by side as Squirrel Girl and Ms. Marvel. With A.I.M. up to something and video game characters running wild, it's only a matter of time before they discover each other's secrets. (Beyond the secret that Kamala is a fanfiction writer, of course.)
In addition to the spectacular team-up of Ms. Marvel and Squirrel Girl, Marvel Rising: Alpha #1 also focuses on a new character, Ember Quade. Bullied by fellow video gamers and disappointed by her Inhuman powers, Ember struggles through her school days with only her mysterious, texting friend for comfort. Doreen and Kamala try to reach out between battles, but it'll be up to Ember to decide whether testing her powers is more important than accepting their help.
Marvel Comics uses Marvel Rising #0 and Marvel Rising: Alpha #1 to introduce readers to the greater Marvel Rising series. Later this year, the comics will expand to include animated shorts and an animated feature film about the younger characters of the Marvel Universe. If Marvel Rising: Alpha #1 is anything to go by, the series will be a fun set of adventures for characters like Squirrel Girl, Ms. Marvel, Spider-Gwen, Quake, and my personal favorite, Lockjaw.
As for Ms. Marvel and Squirrel Girl's current adventure, the comic is funny and sweet with a lot of heart. There is less goofy humor than in The Unbeatable Squirrel Girl (although Doreen does utter some of her classic lines), but the characters still feel real and familiar. The artwork also fits perfectly within the scope of Marvel Rising with its bright colors and cartoon-like look. Overall, Marvel Rising: Alpha #1 is a great comic for fans of Squirrel Girl and Ms. Marvel alike, and it's also a place where newer readers can start.
This series will continue (slightly perplexingly) with Marvel Rising: Squirrel Girl/Ms. Marvel #1 next month. Be sure not to miss out on Ryan North's and G. Willow Wilson's team-up as well!
The Verdict: Buy It.
With more Marvel Rising on the way, Squirrel Girl and Ms. Marvel's series will get you excited about what's to come. Beyond that, if you're fan of either of these characters, there's plenty to like here. While tonally, Marvel Rising: Alpha #1 aligns more with Ms. Marvel than Squirrel Girl, both heroes are as big-hearted and ready to help as always, and the comic is just plain fun. Definitely check it out!