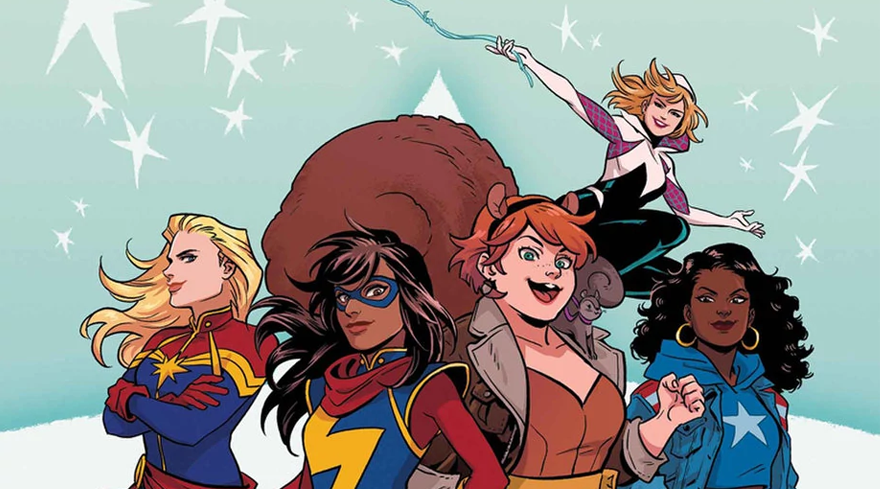 Marvel Rising #1
Writer: Nilah Magruder
Artist: Roberto di Salvo
Colorist: Rachelle Rosenberg
Letterer: VC's Clayton Cowles
Cover Artist: Audrey Mok
Publisher: Marvel Comics
Review by Nico Sprezzatura
Marvel Rising #1 is the beginning of a new limited series based on the cross-media franchise of the same name. Starring some of Marvel's most popular (and not-so-popular) youngsters as they try to make names for themselves in a world of established superheroes, there have already been quite a few projects released under the Marvel Rising banner. These include some animated specials (Initiation and Chasing Ghosts), an animated film (Secret Warriors), digital animatics (Ultimate Comics), and — of course — comicbooks, with last year's (admittedly difficult-to-follow) Marvel Rising. Marvel apparently realized it makes much more sense to publish a series under one name in numeral order, rather than across five differently-titled #1s, since this new series will only be released as Marvel Rising.
While the original run detailed the first meeting of Kamala Khan (Ms. Marvel) and Doreen Green (Squirrel Girl), this new series is likely set sometime after the Secret Warriors movie, so our characters are all acquainted and established now. Specifically, Marvel Rising #1 follows Doreen leading Kamala and some of their super-friends (Miles Morales and Dante Pertuz, AKA Inferno) on a tour of her college campus, Empire State University. Obviously, their academic aspirations quickly take a seat to more pressing matters at hand, specifically the emergence of evil sorceress Morgan le Fay.
Written by Nilah Magruder, who also works as a storyboard artist for animation, Marvel Rising #1 definitely succeeds as a kid-friendly companion to the Marvel Rising cartoons. Her character voices are pretty on-point for each of the ones featured here, but especially Kamala and Doreen, who've basically become the unofficial mascots of the overall Marvel Rising brand. It should also be said that, while this is technically set in a different continuity from the mainstream Marvel Universe, it ultimately doesn't really matter. Magruder's script doesn't require prior knowledge of the Marvel Rising universe; it's a simple, self-contained story featuring recognizable characters doing stuff together. Isn't that all you could really ask for with something like this?
While Roberto di Salvo's art doesn't look like the style of the cartoons, it's still very much in the spirit of them, with expressive characters and dynamic visuals you'd expect from animation. Rachelle Rosenberg's colors very much contribute to that vibe; she's often one of my favorite colorists in the industry working today, so I already knew I could expect that from her. Overall, you could probably give this book to a young fan of the Marvel Rising franchise, and they'd like it just as much as everything else in it.
The Verdict: Buy it.
With a fun story and likable art, Marvel Rising #1 is a perfectly decent companion to the cross-media franchise of the same name.