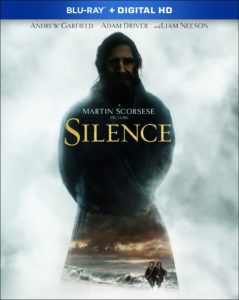 Silence starring Adam Driver, Andrew Garfield, Liam Neeson has been proclaimed as Martin Scorsese's masterpiece, which is obviously a very bold statement given the man's filmography.
Silence tells the story of two Christian missionaries (Adam Driver and Andrew Garfield) who travel to Japan in search of their missing mentor (Liam Neeson) at a time when Christianity was outlawed. When they are captured and imprisoned, both men are plunged into an odyssey that will test their faith, challenge their sanity and, perhaps, risk their very lives.
The Silence Blu-ray Combo Pack includes "Martin Scorsese's Journey into Silence," an in-depth exploration of the director's quest to make this extraordinary film, which is packed with in-depth interviews and behind the scenes footage. In addition, the film's stars, Andrew Garfield, Liam Neeson and Adam Driver, discuss how they prepared for their roles, as well as their favorite moments on set.
Silence will be available for purchase on March 28, 2017 or if you simply want a digital version of the film, it'll be released two weeks earlier on March 14, 2017.