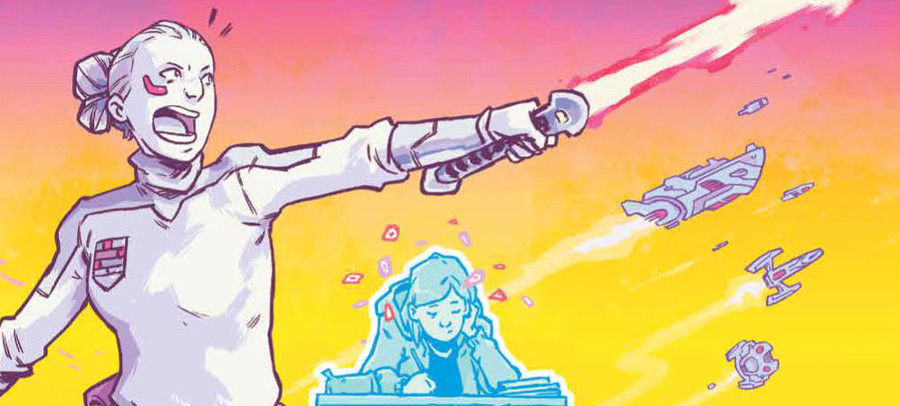 Lucy Dreaming #1
Writer: Max Bemis
Artist: Michael Dialynas
Letterer: Colin Bell
Publisher: BOOM! Studios
Lucy is your typical geeky teenager. She loves reading, she finds school boring (except English, naturally) and she longs to rebel but finds the draw of apathy too strong. In the first issue we follow Lucy going about an average school day. Accompanying this day to day drudgery is Lucy's scathing narration. The "fake blog I will never publish online because I judge bloggers but am also too pretentious to call a 'diary'".
However, once Lucy falls asleep she dreams of being the star in a space epic. Depending on your age, think Guardians of the Galaxy, Star Wars or Flash Gordon and you're on the right path. During a climactic battle sequence Lucy begins to suspect that maybe this isn't a dream after all.
Talking of age, Lucy Dreaming is aimed squarely at teenagers like the 13-year old protagonist. But, thanks to the snarky tone given from Max Bemis (Moon Knight), there's plenty for an older audience to enjoy as well. At times the writing teeters on the edge of parody but then a witty one-liner will break through and put a smile on your face. The same sense of kicking out at the world is present in Lucy Dreaming as in the lyrics of Bemis' band Say Anything. Albeit, Lucy Dreaming does so in a more family-friendly manner.
Artist Michael Dialynas (The Woods), captures Lucy's surprising range of scowls expertly. The colour-work in particular always serves to highlight our protagonist with her pink hair and bright(ish) clothes. On the other hand, her classmates and family seem to blend into their backgrounds even as the hues change to avoid becoming bland.
As you would expect, once we enter Lucy's dreamworld the art has a very different feel. Dialynas' lines are familiar but the colours become vivid to the point of surreal. Our pink-haired teenage Lucy is replaced with the white uniformed, brunette, adult Lucy. The surrounding world now filled with blues, purples, pinks and the shocking green of alien blood. At least during the dream sequences of Lucy Dreaming #1, Lucy begins as the boring one in a world (or universe) of exciting adventures. Don't worry, it doesn't take her long to start kicking out at tropes in this world.
It should be clear by now that I really enjoyed Lucy Dreaming #1. It perfectly encapsulates the rebelliousness of those early teenage years without talking down to its audience. I'm sure 13 year old me would have loved it even more than 30 year old me.
Verdict
Buy It! Much like Lucy herself, Lucy Dreaming #1 pretends to hide everything behind a layer of sarcasm but it can't help wearing its heart and its influences on its sleeve. It looks like it's going to be a lot of fun so you'd better strap in now.