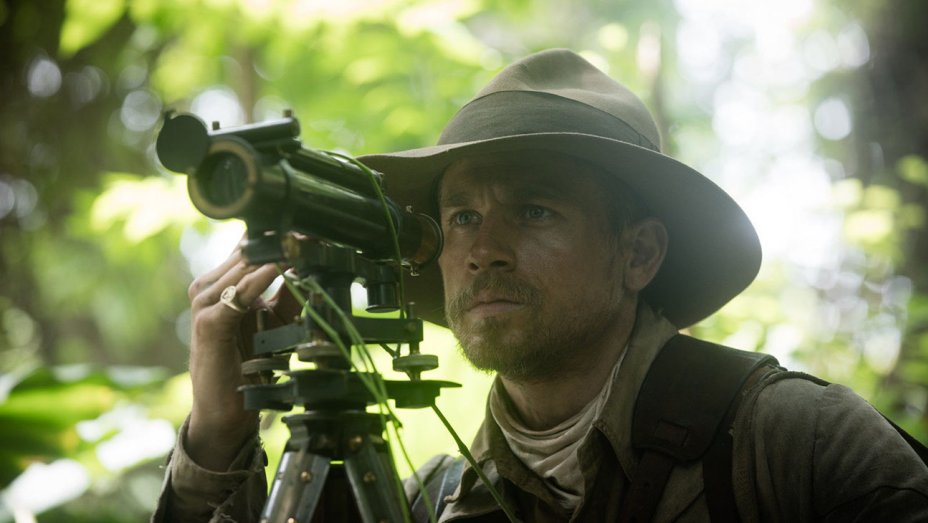 The Lost City of Z
Director: James Gray
Writers: James Gray (screenplay), David Grann (original book)
Starring: Charlie Hunnam, Robert Pattinson, Sienna Miller
A review by Mae Abdulbaki
The Lost City of Z is one of those rare films that enthralls, calling to the adventurer inside all of us. The film, in all of its mystery and sense of enchantment at the unknown, is fully aware of what kind of film it is. Based on the book by David Grann about the life of British colonel, explorer and cartographer, Percy Fawcett, director James Gray elicits tangible emotions of sadness and hope that don't quite fade even after the film is over.
Set in the early parts of the twentieth century, Percy Fawcett (Charlie Hunnam) feels like he's fought his whole life to make a name for himself in the British army. But although he's a good soldier, there are no medals of honor to his name. Instead of rising in the ranks, he is assigned to scout and map the unknown parts of the Amazon between present day Bolivia and Brazil. Leaving his wife, Nina (Sienna Miller), and family behind for a journey of almost two years, Percy is joined by Henry Costin (Robert Pattinson). The journey has the expected ups and downs, but when Percy comes across broken pottery and other artifacts that offer glimpses into an ancient civilization, he returns to London with renewed vigor and a mission to find what he has dubbed the Lost City of Z.
One of the most striking things about the film is its continued desire to uphold Percy's dreams of going back to South America. I could feel Percy's passion to discover the lost city as strongly through the screen as though I was the one on an expedition. More importantly, The Lost City of Z highlights Percy's need to seek out, find, and acknowledge the intelligence of the native people living in the shrouded greenery and protection of the Amazon. Percy isn't interested in killing or eradicating, but he seeks to understand and learn through non-violent means.
However, some of this is called into question when Sienna Miller's Nina wonders why she can't accompany Percy on his second journey into the Amazon. They argue about a woman's place and why he believes she can't come with him; it becomes a conversation filled with the double standard of a man seeking to expand on his and other fellow Englishmen's narrow-mindedness of the world they live in, while at the same time being very much tethered to the social and patriarchal confines of his society. It's also a shame because the conversation stops and ends in that one scene and is never brought up again, even as Percy's semi-estranged son begs to join him on his third and final mission toward the end of the film.
Despite this small and questionable inclusion of something that was obviously and unfortunately never going to be explored, The Lost City of Z is a fairly solid adventure. It incites intrigue regarding the unknown, but isn't arrogant in its search for it. Charlie Hunnam gives a great performance and it really feels like he's in his element throughout the film. His take on Percy is of a man who only feels alive and complete when he is on the verge of discovery and adventure. There is nothing else that soothes him and his passion and hope for finding the lost city of Z are so tangible and it becomes the driving force behind the film. James Gray gets the film through the occasional lull with understated moments, a clear destination, stunning visuals, and quiet determination. If nothing else, The Lost City of Z is somewhat sad, mysterious, and hopeful all at once.
This review originally appeared on Movies with Mae