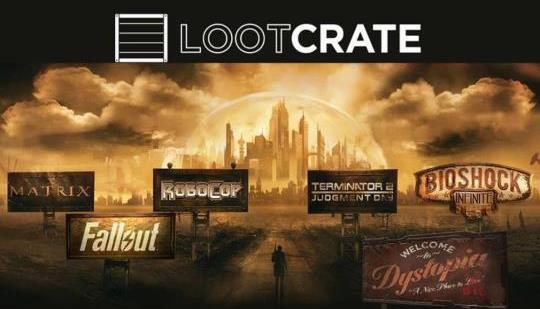 LootCrate is a monthly subscription box for fans of various pop culture areas including comics, video games, TV, movies, etc. It is filled with 4-7 various items including a T-shirt every month. The cost of the box is right around $20 a month and with that they say the items should value at least $45.
This month the theme was "Dystopia" with items from Fallout 4, Robocop, Matrix, and Terminator 2  all promised.
The first item this month is a Fallout 4 Power Armor Dorbz (Funko)
Funko items are pretty common in all of the mystery boxes that are out there anymore and the Pop! and now the Dorbz line are the ones that you will find the most. Unlike many of the figures that LootCrate normally gets this is not an exclusive. If you are a fan of the Fallout franchise this will be a nice addition to your collection.
The next item is Terminator 2 Metal Print (Loot Crate Labs)
This item is an exclusive to Loot Crates, mainly I am sure because they made it themselves. This is to commemorate the 25th anniversary of Terminator 2. The tin is not very heavy at all and feels kind of cheap. There is not even a easy way to hang it and there is not hole, or hook anywhere. If you are a huge collector of Terminator stuff you might like it but I think that looters deserve better.
Up next we have  The Matrix Puzzle ( Cardinal Games )
Once again we have an exclusive item from a franchise that is well over a decade old. The exclusiveness of this item comes from the actual picture that the puzzle makes. The design of the puzzle is very cool, and would make for a great print or poster for fans of the Matrix. Personally a puzzle is something that I am not going to sit down and do, especially a 300 piece one, but if I were to do it this would be one that I would consider glueing and hanging after I had finished it.
Our forth item is a Bioshock Infinite Key Blank ( A Crowded Coop) 
This item is also and exclusive to Loot Crate. While I know nothing about Bioshock, this is a very unique and cool item. It has a bird on one side and a bird cage on the other item. What is unique about this item is that it is an actual blank key, meaning you could take it in and get it cut to fit any lock you would like. Items like this are one of the reasons that I subscribe to mystery boxes in that I can get items both from franchises that I normally might not check out and also items that I did not even know existed.
The final item is a RoboCop T-Shirt ( Grey Matter Art)
This item is an exclusive to Loot Crate also and truthfully this item alone made the price of the box worth it. The color is perfect for a RoboCop theme and the picture is taken directly from the original movies. The shirt is soft and comfortable and fits true to size. LootCrate did a great job on this particular item as this will go right into the t-shirt drawer for plenty of use this summer.
Ending the box we have the Loot Crate Pin and the Dystopia Magazine. The pin this month unlocks some exclusive for a Fallout 4 mobile game.
Verdict: Ehhhh
This box was not a homer for me nor was it a total miss. I love the T-shirt and the the Fallout 4 Dorbz will go to my nephew who is a huge fan of the franchise. The key and puzzle are items that are cool but not something that I will most likely use for my myself. The Terminator tin print was a total miss. it felt cheap and something that you could find is a dollar bin near a cash register at a store somewhere. One thing that disappointed me was the fact that there were two video game franchises in here. Loot Crate has a gaming box that they put out so I think they could have put these items in a box like that and explored several other franchises that would have gone over better.