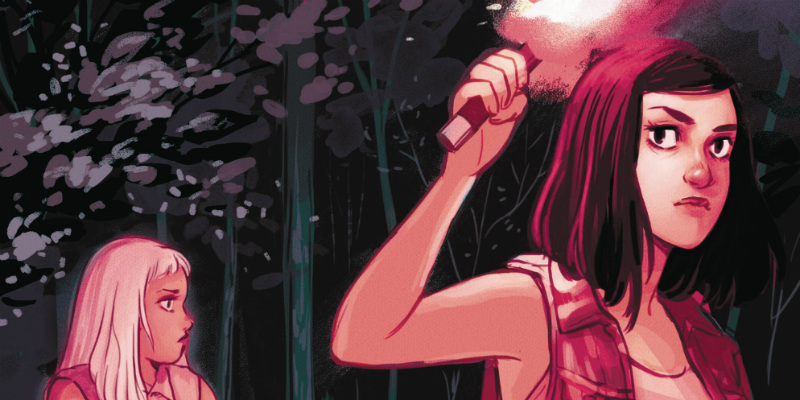 Long Lost #3
Publisher: Scout Comics
Writer: Matthew Erman
Artist: Lisa Sterle
Review by Mark Bouchard
In Long Lost #3, the question of "How hard will the series lean into horror?" is quickly answered. Incorporating a cult of seemingly-murderous forest dwellers hell-bent on sacrificing outsiders, a powerful, poised woman to lead them, and a creepy well, Long Lost #3 melds the exposition of issue two with the building horror that hooked me in issue one. Now that their car is broken down in the middle of a dark forest, and they've burned through all their flares, will Frances and Piper be able to escape the forest in one piece?
So far, each issue of Long Lost has begun with a short narrated intro, void of dialogue. Long Lost #3's four-page opener has cemented what the first two issues had led me to believe about Erman: he is truly a poet. While the tone of the issue, and the series itself is more familiar due to the relationship between Piper and Frances, these short opening sequences invoke a more epic, supernatural vibe, which sets the reader up for the unease that soon follows. Long Lost #3 is the issue that Erman's slow build begins to crescendo, culminating in a near-death experience, a stab wound, prayers, and an auger stone.
What I once believed to be Sterle's style, turned out to be the family resemblance between Piper and Frances. In Long Lost #3, she introduces us to a slew of other characters, many of whom do not speak, but all serve a single purpose: showing us what she's got in her arsenal. I've said it for the last few reviews, but Sterle's pen plays the human face and its wide spectrum of emotion like a fiddle. This issue's art juxtaposes itself: beautiful splash pages of a starry night sky, against progressing panels of exploding flesh.
Verdict: BUY IT!
The series is now 25% over. The first issue has gone back for a second print, and you're quickly losing your bragging rights for getting into Long Lost before everyone realized how good it is. Long Lost will draw you in, keep you there, and never let you get comfortable. That only contributes to its success. This is one of the best books on the shelves— I'm sick of being coy about it, just buy it. Trust me, I'm doing you a favor. Plus, now the first issue's on Comixology, too. #BringPocketsHome2018