Obi-Wan Kenobi will soon say "Hello there!" to his own Disney+ show, directed by the brilliant Deborah Chow. The new limited series will take place during Kenobi's years of hermitage between Revenge of the Sith (2005) and A New Hope (1977).
With the first footage and stills now revealed, we can start to figure out exactly how this show will tie into the rest of canon. For fans who want the full story, there's already a wealth of other Star Wars stories that directly connect to the characters, locations, and themes of Obi-Wan Kenobi (2022).
Here's your pre-Kenobi reading guide. If we missed something important, let us know in the comments!
Before Obi-Wan Kenobi
Star Wars Episodes I-III
What's the best prequel to Kenobi? The prequels!
This is where Ewan McGregor and Hayden Christensen had their start in the iconic roles of Obi-Wan Kenobi and Darth Vader. In recent years, many fans have rediscovered these films. 
Some parts of these films will never hold up—"I'm haunted by the kiss you should never have given me!"—but there's also real originality here. For all their flaws, these movies lay the groundwork for some truly great storytelling.
If you have time, consider revisiting the prequels before watching Kenobi—if only to see how far Old Ben has come from that impatient Padawan who didn't even get off the ship when he first visited Tatooine.
Charles Soule and Giuseppe Camuncoli's Darth Vader (2017) Run
Darth Vader (2017) by writer Charles Soule and artist Giuseppe Camuncoli stands out as one of the best Star Wars comics of all time—not just in canon. And it might prove to be the single most important thing to read before Kenobi. 
Vader begins in the final moments of Revenge of the Sith, immediately following the infamous "Noooooooo!" (and rendering it more emotionally into a "No. No. No." that will thematically resonate throughout the run).
If you want to know what happened to Vader between Revenge of the Sith and Hayden's return in Kenobi, this is your book.
The connections go deeper: we see the creation of Vader's castle (glimpsed in Entertainment Weekly stills from Kenobi), the birth of the Inquisitorius, and even some backstory on the Grand Inquisitor.
Speaking of inquisitors: 
Jedi: Fallen Order (2019)
More than anything else in Star Wars canon, this game explores life as a fugitive Jedi in the wake of Order 66.
The Kenobi trailer has already revealed that we'll be revisiting at least one location from this game. But aside from direct tie-ins, we see the themes of Kenobi already unfolding. We see hunted Jedi facing the tension between heroism and hiddenness. We learn more about the Inquisitors and just how emotionally broken they really are beneath all that armor.
Confession: I love the immersive experience of video games, but I suck at gaming. I've been slamming through Fallen Order on story mode just to experience the story, but you can also find some great cutscene complications out there. That should be enough to get you up to speed.
The Journals of Obi-Wan Kenobi (2020) by Jason Aaron and various artists
This is probably most direct canon tie-in to the upcoming Kenobi series.
Told as journal entries discovered by Luke Skywalker, these stories chronicle Obi-Wan Kenobi's days of solitude in the desert. 
What exactly was Obi-Wan been up to all that time? What was his mindset? How did he relate to the Lars family? The Journals of Obi-Wan Kenobi answers all those questions.
Will the new show respect those answers? That remains to be seen. The fact that we receive these stories as "journals" gives the storytellers some license to pull a "certain point of view" on us. It's also hard to tell whether these stories take place before or after the show.
Either way, it's obvious that the Kenobi series will venture beyond Tatooine. This book, on the other hand, tells us about the intervening years: the years of lonely hermitage on the dune sea.
One note of criticism: the art often falls in a no-man's-land between the prequels and the original trilogy, where Obi-Wan and Owen resemble neither of their live-action counterparts. These issues hit the shelves when Disney/Lucasfilm was still mostly ignoring the prequels, and the effort to avoid any likeness of Ewan McGregor or Joel Egerton feels painfully obvious. But with that hurdle surmounted, these are great stories.
After Obi-Wan Kenobi
So far we've covered stories that take place before the upcoming series. But what about after?
Star Wars Rebels: Twin Suns (Season 3, Episode 20)
One of the best all-time episodes of Star Wars television, Twin Suns delivers the long awaited rematch between Kenobi and Maul.
Here, the Kenobi we meet on Tatooine feels much more like the old wizard of A New Hope. It raises the question: what changed Kenobi between his last appearance in The Journals of Obi-Wan Kenobi and his appearance here? Not much time has passed, after all. We glimpse Luke in this episode, still a child. What transformed Obi-Wan from the broken man we glimpsed in the Kenobi trailer to the wise, settled Jedi Master we find here? 
Maybe the Kenobi show will answer those questions. 
A New Hope: From a Certain Point of View, "Master and Apprentice" by Claudia Gray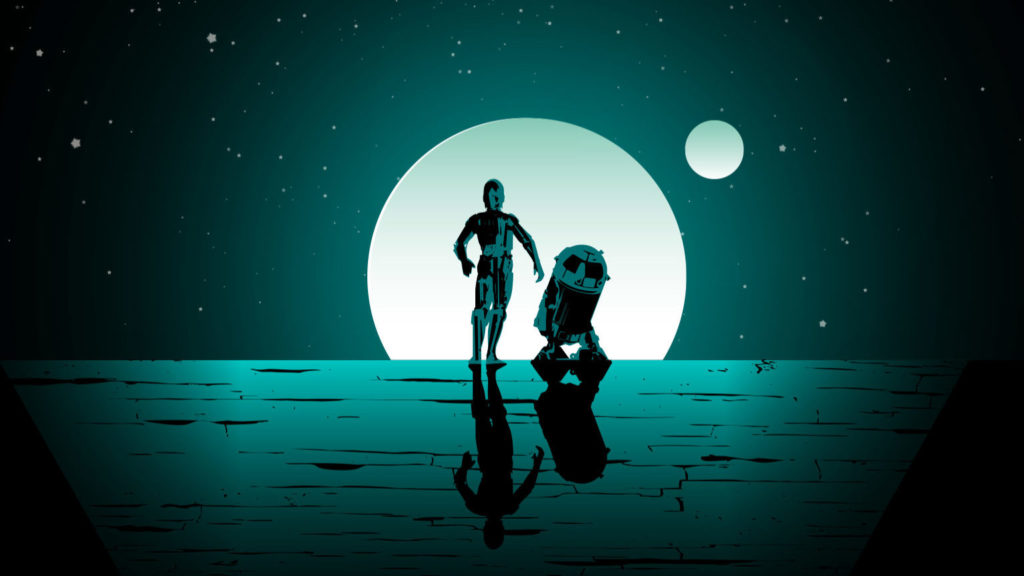 The short story collection A New Hope: From a Certain Point of View takes us through the entire film from the perspective of various minor characters. One story holds particular interest for Kenobi fans.
Claudia Gray's "Master and Apprentice" shows us a vignette of Obi-Wan's final moments on Tatooine. But it's not told from Old Ben's perspective. It's told from the perspective of force ghost Qui-Gon Jinn.
Fans have long speculated that Liam Neeson will return to live action as a force ghost in Kenobi. The first inklings of this possibility come from the final moments of Revenge of the Sith, where we learn that Qui-Gon Jinn essentially invented the whole blue-ghosts-who-can-sit-on-logs thing.
But this story by Claudia Gray shows us a bit of the relationship between Kenobi and the ghost of his former master. If the speculations prove true, we'll learn even more in the upcoming show.
For Overachievers
Those are the most direct canon tie-ins to the Kenobi series. But there's plenty more to explore if you want to know the inner-workings of Obi-Wan as a character.
Master and Apprentice by Claudia Gray
After her short story of the same name, Claudia Gray's full novel Master and Apprentice arrived. This story takes place before The Phantom Menace, where we find Obi-Wan as a young Padawan on a mission with his new master, Qui-Gon Jinn.
It's unlikely that we'll see much direct tie-in to this book in the Kenobi show, but this gives us a detailed picture of Obi-Wan's beginnings and his relationship to Qui-Gon. Plus, it's just a great read.
The upcoming novel Padawan by Kiersten White (releasing July 26, 2022) promises to take us even further into Kenobi's past. With the Obi-Wan show wrapping up just a few weeks before, this will be one to watch for canon tie-ins.
The Clone Wars: The Mandalore Episodes
If the name "Duchess Satine" means nothing to you, then you're missing the most important parts of Obi-Wan's story.
Some of the strongest character work around Obi-Wan Kenobi has come from the Clone Wars series. If you want to really see Obi-Wan in crisis, go back and watch the episodes that take place on Mandalore.
As a bonus, much of this content ties directly into The Mandalorian (2019) and the darksaber mythos. These episodes are Star Wars storytelling at its finest.
That's our Pre-Kenobi reading (plus watching/binging/playing) guide.
Is there anything important we missed? What's the most important Kenobi story to you? Let us know in the comments!
We'll see you May 25 for the start of Obi-Wan Kenobi on Disney+.