We're a month into 2020. I figured this is the perfect time to publish a list of the best films of 2019. I'm always a little wary of "Best of the Year" lists that publish in November or even earlier. Hell, I gave myself an extra month and still didn't get to see every film that could have made it onto this list. (Sorry A Hidden Life, Atlantics, and Transit.)
I was a little worried about cinema in 2019. Other than a few low-budget, off-the-radar choices in the first half of the year, everything was pretty dire. Only a few of my choices from The Best Films From the First Half of 2019 list made it onto this one. Luckily, things kicked into high gear later on, and 2019 was back-loaded with an embarrassment of riches. That's why I'm confident in listing 25 films that are absolutely worth tracking down and checking out.
I think this is a good collection of films, with at least a small handful of them becoming all-timers in my book, so I hope you check them out.
---
25. Freaks
A low-key sci-fi thriller with great performances from Emile Hirsch, Bruce Dern, and newcomer Lexy Kolker. A soothing balm for anyone tired of big-budget superhero action films.
24. John Wick: Chapter 3 — Parabellum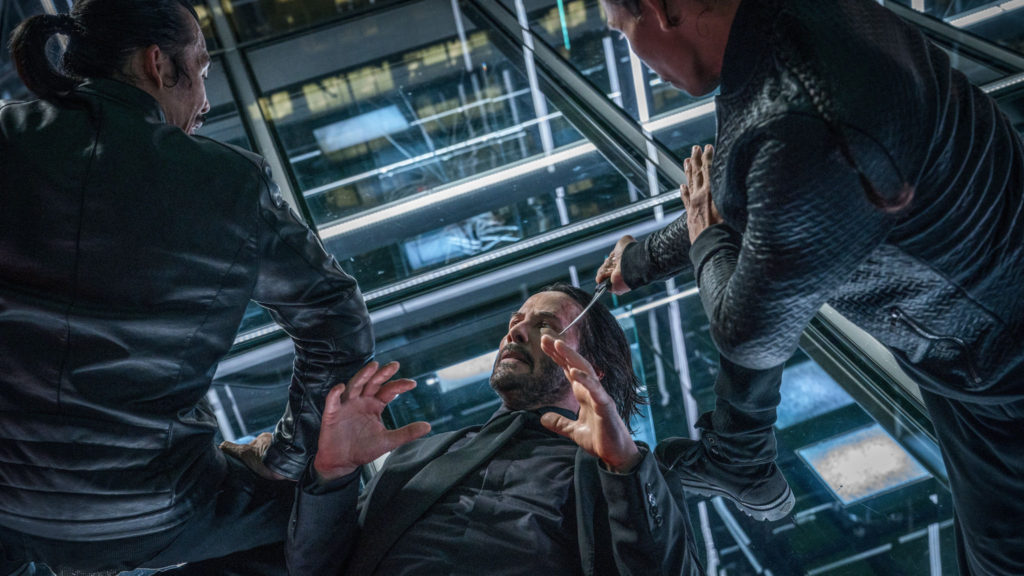 Neither Part 2 or Part 3 have quite lived up to the surprise and pleasure of the first John Wick, but Parabellum is still great fun. It adds Halle Berry's attack dogs, an all-timer of a knife fight, and Jason Mantzoukas to the John Wick universe.
23. The Report
A righteously angry film by Scott Z. Burns about the US government's successful efforts to maintain, expand, and white-wash a policy of torture. A very talky film, but it's Adam Driver doing the talking, so I didn't mind.
22. The Souvenir
Joanna Hogg's maybe-possibly-semi-autobiographical drama about a film student in a toxic relationship sounds like it could be boring and rote, but the wonderful performances by Honor Swinton Byrne, Tom Burke, and Tilda Swinton combined with Hogg's impressive eye and attention to quiet, intimate detail make The Souvenir more riveting than you'd expect.
21. Knives Out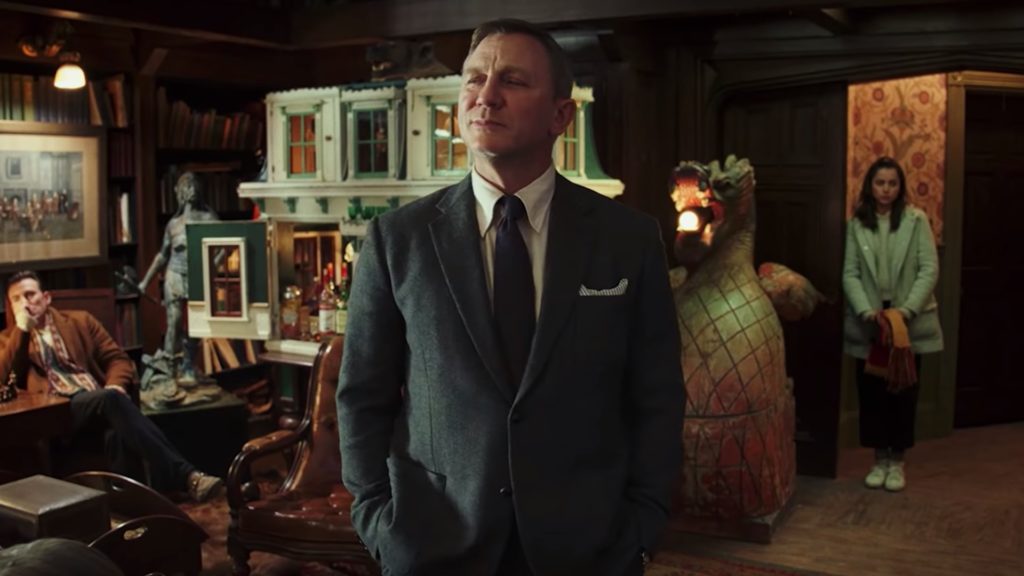 Knives Out is a murder mystery script that's both funny and annoyingly impressive. Rian Johnson has an incredibly deep bench of players, and all of them get a moment to shine. Ana de Armas, Chris Evans, and Daniel Craig are all clearly having a blast, with de Armas especially being a wonderful surprise.
20. Dragged Across Concrete
S. Craig Zahler's latest continues his streak of ugly, vicious, problematic genre works that dares you to enjoy them. Unfortunately, I can't look away. Very few filmmakers working today would include a segment with a bank employee that happens halfway through this film. That's why I'll continue to watch Zahler's work with disgust and begrudging appreciation.
19. Avengement
Scott Adkins and Jesse V. Johnson are the best star/director combo working today, and Avengement is almost as good as their best. It's a lot talkier than some of their other works, but that helps to show off sides of Adkins he rarely gets to display. Cain Burgess might be his best character since Boyka from the Undisputed series.
18. Glass
Between Freaks and Glass, 2019 was a great year for anti-superhero films. M. Night Shyamalan's incredibly divisive ending to the trilogy he started in Unbreakable and Split never quite goes the way you expect it to, which is at times frustrating, but for the most part, it's thrilling and refreshing. This might be the film on my list that I'm most confident will be re-appraised in ten years or so as an underrated classic.
17. Crawl
A lean, mean creature feature with incredibly visceral and physical performances from Kayla Scodelario and Barry Pepper. Crawl spends almost no time messing around, dropping us into the action as quickly as possible, and revealing our character's lives as we spend more time with them. Easily one of the best theatre-going experiences of the year.
16. Ad Astra
James Gray's journey through space and the inner-workings of an emotionally-stunted career man is an interesting turn for the director. He takes some ridiculous genre concepts (devastating space blasts, moon pirates, killer space apes) and plays them completely straight. Brad Pitt and Tommy Lee Jones deliver some of the most emotionally affecting moments of the year.
15. Marriage Story
An actors' showcase if there ever was one, Noah Baumbach's Marriage Story is a semi-semi-autobiographical divorce drama that's also funny as hell. Baumbach's script is as solid as usual, but it's the editing that stands out to me as the star of the show. Scarlett Johannson and Adam Driver do great work as the leads, but the best performances in my mind belong to Ray Liotta, Laura Dern, and Merrit Wever. Dern will win an Oscar for this, or I'll eat my hat. (I will not eat my hat.) (Editor's note: I'll make sure he eats his hat folks.)
14. Us
Jordan Peele's horror follow-up to Get Out is slightly more divisive, but who the hell cares about people looking for perfect logic in their horror films? Us is a funny and creepy film that pays homage to influences as diverse as Michael Jackson, The Twilight Zone, Wes Craven, and The Lost Boys. The entire thing is anchored by Lupita Nyong'o's amazingly layered double performance, but honestly, it's Tim Heidecker's Tex that stands out to me. His "too slow" hair slick gesture has stuck with me since I saw the film back in March.
13. Deadwood: The Movie
The long-awaited return to fuckin' Deadwood had a lot to live up to after being off the air for 13 years, but I'll be damned if it wasn't perfection. It would have been worth it to hear this murderer's row of character actors deliver creator David Milch's beautiful dialogue one more time. The fact that the story worked as a commentary on the time away from the show was the icing on the cake. It was a fitting end to one of the greatest TV shows of all time.
12. Ford v Ferrari
It's been a great year for Dudes Rock movies (see: The Irishman, Once Upon a Time… in Hollywood), and this is another great example. It's also a fitting entry in anti-capitalist cinema this year, with the actual workers and artists being stymied by corporate interference at every turn. The star of the show here is the incredible technical sound and film work during the races. I feel bad for you if you missed out on Ford v Ferrari on the big screen.
11. Joker
Speaking of anti-capitalist cinema… Joker is a big, dumb, blunt grievance movie that makes its point in deceptively simple terms. By liberally aping Martin Scorsese works like Taxi Driver and The King of Comedy delivers a simple story about a mentally ill man being beaten down by a system that doesn't care about him or anyone else in his socio-economic class. It's also a story about the Batman crime clown. What more could you want?
10. Shadow
Shadow is maybe the best-looking film of the year, which isn't a surprise coming from Zhang Yimou. His visuals are like a charcoal drawing come-to-life, telling a story that's almost like a fairy tale. The fight scenes are beautiful and balletic (those blade-parasols are visually fantastic), and the performances, particularly Deng Chao's dual lead roles, elevate the work even further.
09. The Lighthouse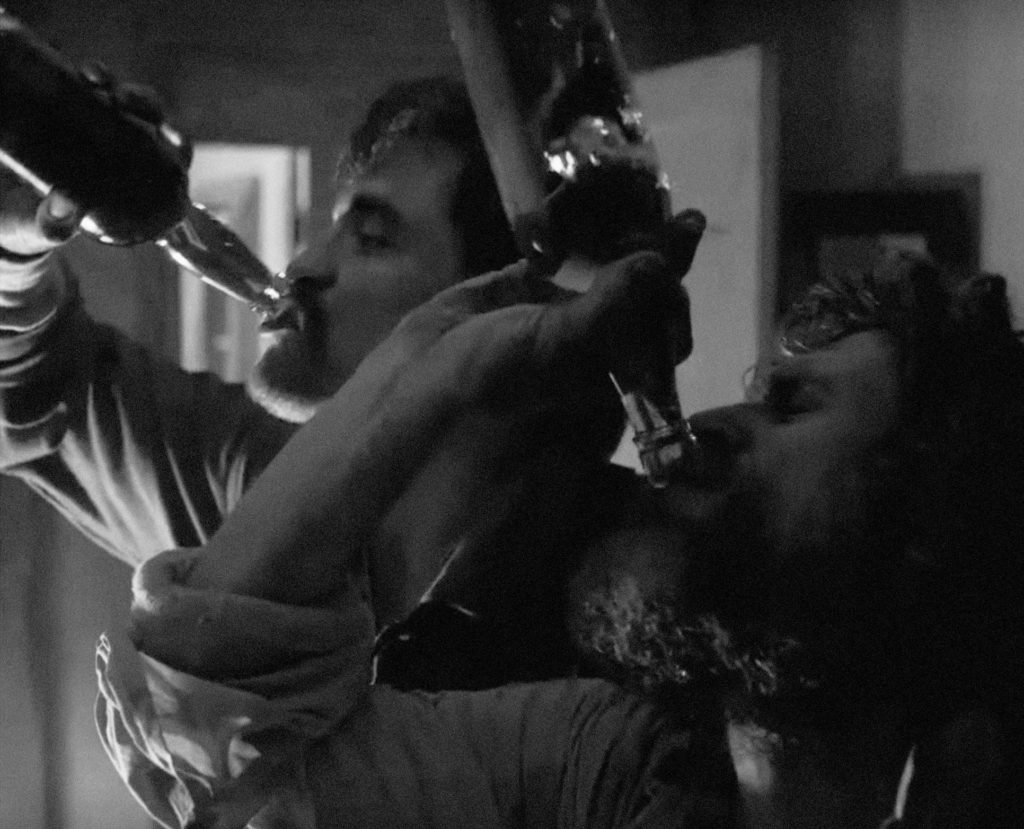 Robert Eggers' follow-up to The Witch seems aggressively anti-audience at first glance. The dialogue is stylized; it's black and white and shot in a 1.19:1 aspect ratio. But if you're not inclined to let those be barriers to entry an entire world will unfold for you on the screen, contained entirely on a small lighthouse island. Robert Pattinson and Willem Dafoe command the screen the entire time. Both play off each other perfectly, both of them criminally under-recognized this awards season. The Lighthouse is equal parts hilarious and horrifying. I loved it.
08. Midsommar
Ari Aster's second great horror movie in as many years, Midsommar is a bright nightmare of creepy cult shit. Taking inspiration from films like The Wicker Man and The Texas Chain Saw Massacre, it still manages to seem almost entirely its own beast. Jack Reynor is pitch-perfect as the epitome of a toxic boyfriend, and the camera wisely spends a lot of time close up on Florence Pugh, who currently has one of the most expressive faces in cinema. (Editor's Note: And the cutest ever.)
07. Dolemite is My Name
Dolemite is My Name was the most purely joyful experience I had watching a movie in 2019. It's refreshing to see people with talent—even if they don't have all the talents necessary—trying to make something on their own terms for people who are underserved and overlooked. Eddie Murphy is effortlessly charming as Rudy Ray Moore, treating him exactly as the folk hero he is. The supporting cast is just as impressive, especially a hilarious Wesley Snipes and Da'Vine Joy Randolph, with what should ideally be a breakout performance. Bonus points for being one of two films on this list with a surprise Bob Odenkirk appearance!
06. Little Women
As a big fan of Louisa May Alcott's classic book and the previous films, specifically Gillian Armstrong's 1994 adaptation, I had high expectations for this movie. Greta Gerwig completely blew me away. The structural changes to the story, and the winking adjustments to the finale, made perfect sense. Every moment of joy and humour and sorrow hit like a ton of bricks. Gerwig and actress Florence Pugh even managed to do the impossible: they made Amy my favourite March sister.
05. Portrait of a Lady on Fire
Portrait of a Lady on Fire is the best love story of the year. It's a period piece romance that doesn't fall into a lot of the regular clichés by isolating most of the action and streamlining the story. There are only two lead roles and two supporting roles, all of them women. Noémie Merlant as Marianne gives a strong lead performance. However, it's Adèle Haenel as the titular "Lady on Fire" and the object of Marianne's affection, who works with surprising depth in this film. She's also responsible for the best final scene in a year loaded with great final scenes.
04. Once Upon a Time… in Hollywood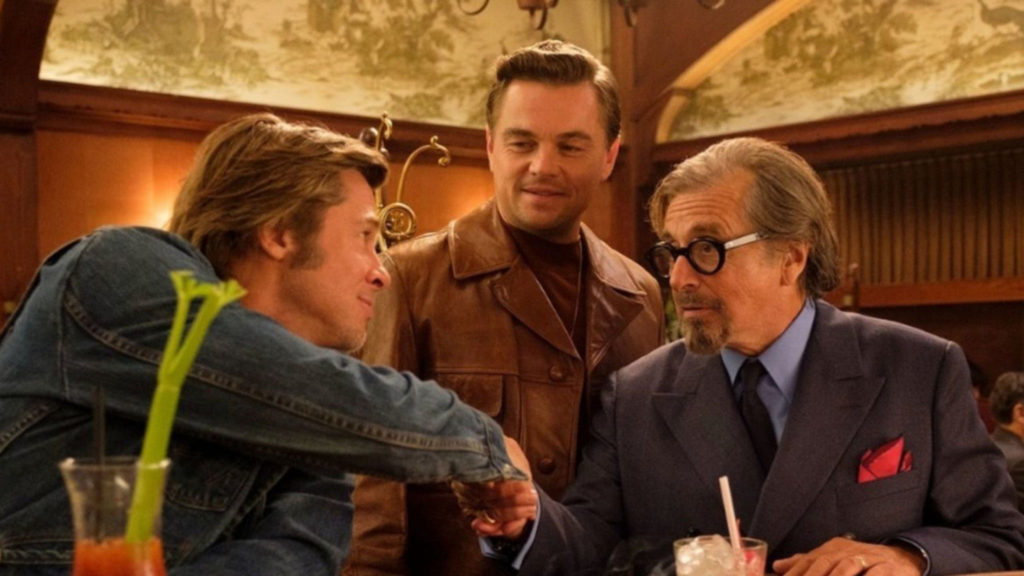 Once Upon a Time… in Hollywood is Quentin Tarantino's hangout epic about a particular time of transition in both Hollywood and the main character himself. I get why some people would feel frustrated with this admittedly indulgent film, especially if you have absolutely no affinity for late-'60s era film and television, but I think there's still plenty to love. Leonardo DiCaprio gives his funniest—and maybe best—performance as Rick Dalton. Brad Pitt's go-with-the-flow aging stuntman is the part he's been waiting to play his entire career. The very end of the movie may also be the most touching thing Tarantino has filmed since Jackie Brown.
03. The Irishman (AKA I Heard You Paint Houses)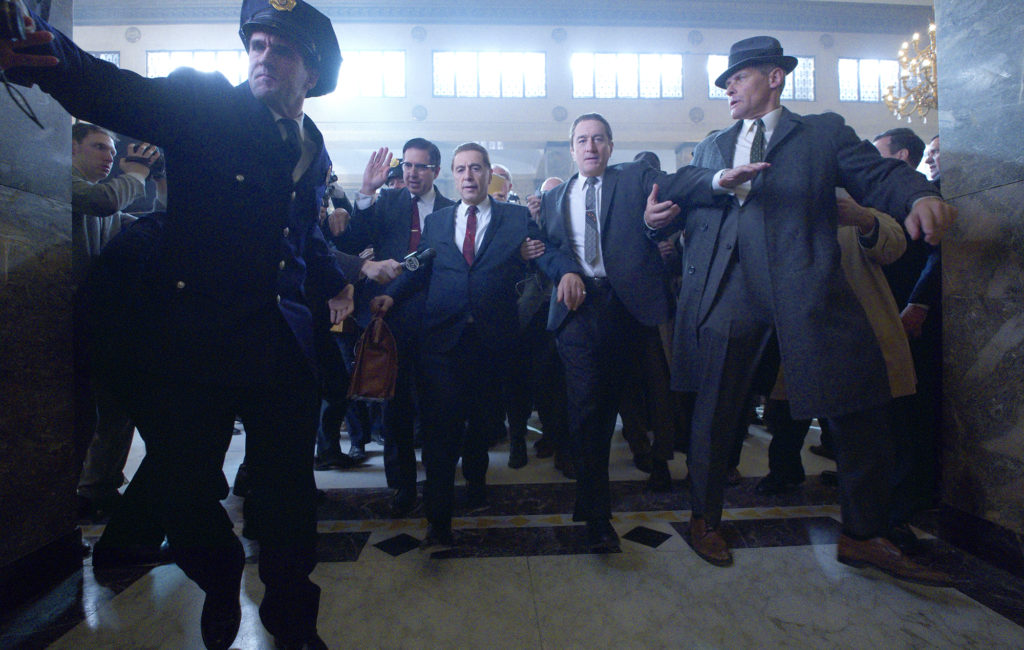 Martin Scorsese's (possibly) final commentary on the mafia is a perfect button on his occasional dips into that underworld. The unconventional editing by Thelma Schoonmaker and the digital de-aging technology turn much of the story into an old man's dreamscape of memories. Robert DeNiro, Joe Pesci, and Al Pacino deliver three of the best performances of the year, if not their entire careers. Anna Paquin's almost wordless presence hits like a ton of bricks every time she's on-screen. Also… it's really funny in a way that only Scorsese can ever be. Even with its seemingly daunting runtime, The Irishman is a film I've revisited several times in the few months since its release, and I'm sure it's a film I'll be revisiting for years to come.
02. Parasite
Bong Joon-ho's examination of class and capitalism makes a couple of great choices. It narrows in and makes us care about a single family, and it makes it extremely entertaining. There are at least three big tonal and thematic twists in Parasite, but all of them make sense and ultimately make for a better, richer film. The entire cast is remarkable and magnetic, specifically Park So-dam as the Kim family's smart and resourceful daughter, and the legendary Song Kang-ho as the Kim family patriarch. In a just world, Parasite would sweep the Oscars, and Bong Joon-ho would have a blank check for the rest of his life. We can only dream.
01. Uncut Gems
This intense and unrelenting portrait of a borderline unlikable gambling addict jeweler is the best film of the year. The fact that the writers/directors, Josh and Benny Safdie, were able to so accurately capture 2012, a year that seems wholly unremarkable, is the least remarkable thing in their bag of tricks. The steady pace, the Altman-esque overlapping dialogue, the impressive cinematography, the impressive first-time performances, and the career-best work from Adam Sandler are much more impressive. Uncut Gems may not be better than their previous film, Good Time, but I might change my mind about that after a few watches. The Safdie Brothers make the kind of movies that they want to, the way they want to, and those movies happen to be ones I love. I hope they never stop.
---
---
Honourable Mentions: Standoff at Sparrow Creek, El Camino, A Beautiful Day in the Neighborhood, Hustlers, Furie, Alita: Battle Angel, Child's Play, Cold Case Hammarskjöld, High Flying Bird and The Gangster, The Cop, The Devil.