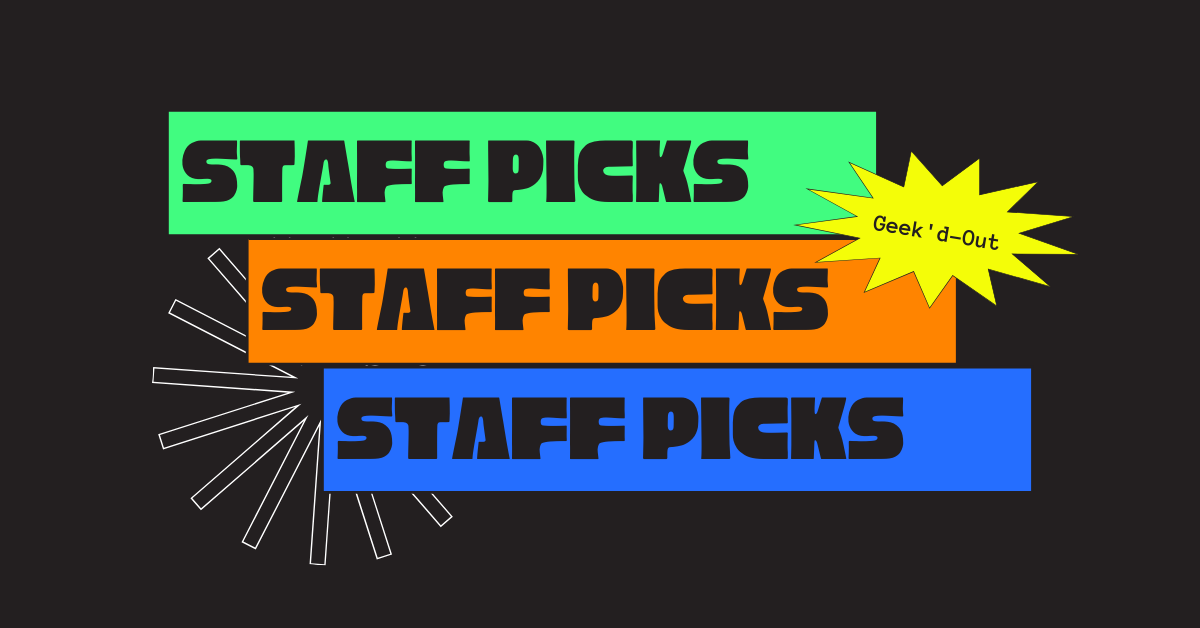 Check out what the Geek'd-Out staff is recommending this month!
---
Michael Farris Jr.: Top Gun: Maverick (2022)
Kate Bush is trending, Russia is involved in an unjust war, and Tom Cruise is back in the pilot's seat as Pete "Maverick" Mitchell. It's almost like those of us born in the late '80s or beyond are getting to experience that decade for the first time!
Top Gun: Maverick is set 36 years after the original, and Maverick is still his independent, authority-bucking self–and not achieving a higher rank in the Navy as a result. In spite of the Navy's desire to dismiss him, he's just too damn good of a pilot, so instead, he is sent to teach the next class of Top Gun pilots. But this isn't just flight school; Maverick has to prepare them for a mission with low odds of success and even lower odds of survival–and he has to do it all with Goose's son as one of his pupils.
Yes, the movie is entirely predictable. Yes, the cheese is oftentimes unbearable. But dammit…Tom Cruise knows how to put together some of the funnest movies you'll ever see. Top Gun: Maverick is an absolute thrill ride. The tight turns and G-force-induced climbs get your adrenaline pumping, but the camerawork and the bodily trauma the pilots endure lends an authenticity that takes this movie above and beyond anything you've seen before. The cast ties it all up nicely with their clashing personalities that must learn to work together in order to survive.
Fasten your seatbelts and hit the highway to the danger zone once again!
Anelise Farris
:
Pistol (2022)
We are living in a special time for music. As much as I bemoan the TikTok autotuned poppy trend, good old punk and metal will never die, and there have been no shortage of biopics and specials as of late. The most recent, FX's Pistol, now streaming on Hulu, is a six-episode series about those anarchy-loving Brits: the Sex Pistols. The show is based on guitarist Steven Jones' 2016 memoir Lonely Boy: Tales from a Sex Pistol (*now added to the TBR pile*).
Even if you're not a fan of their music, it's hard not to root for these working-class kids from dysfunctional families as they develop into full-blown rock stars out to take down the Establishment. At times heartbreaking and other times hilarious, but always full of f-the-Man energy, Pistol is one hell of a ride. Also, the acting is brilliant–special shoutout to Anson Boom who plays Johnny Rotten. That is one special dude.
Cameron Kieffer
: 
Valiant Ladies (2022)
Valiant Ladies by Melissa Grey is a romantic period drama about two proper young women who would never dare to engage in violence or frivolity. Or so their families believe. In truth, both Ana and Kiki are a pair of badass vigilantes who are as deadly with a musket as they are with a blade.
Set against the backdrop of the Spanish Empire in the 17th century, this young-adult novel is inspired by the true story of Ana Lezama de Urinza and Eustaquia de Sonza: two swashbuckling, teenaged adventurers who seek out trouble and end up finding love. And also lots and lots of trouble. A perfect novel to enjoy during Pride Month, Valiant Ladies is a fun and exciting new novel that shines a spotlight on some forgotten but truly unforgettable heroes of the past.
---
Check back next month as we share what Geek'd-Out staffers are enjoying in July!