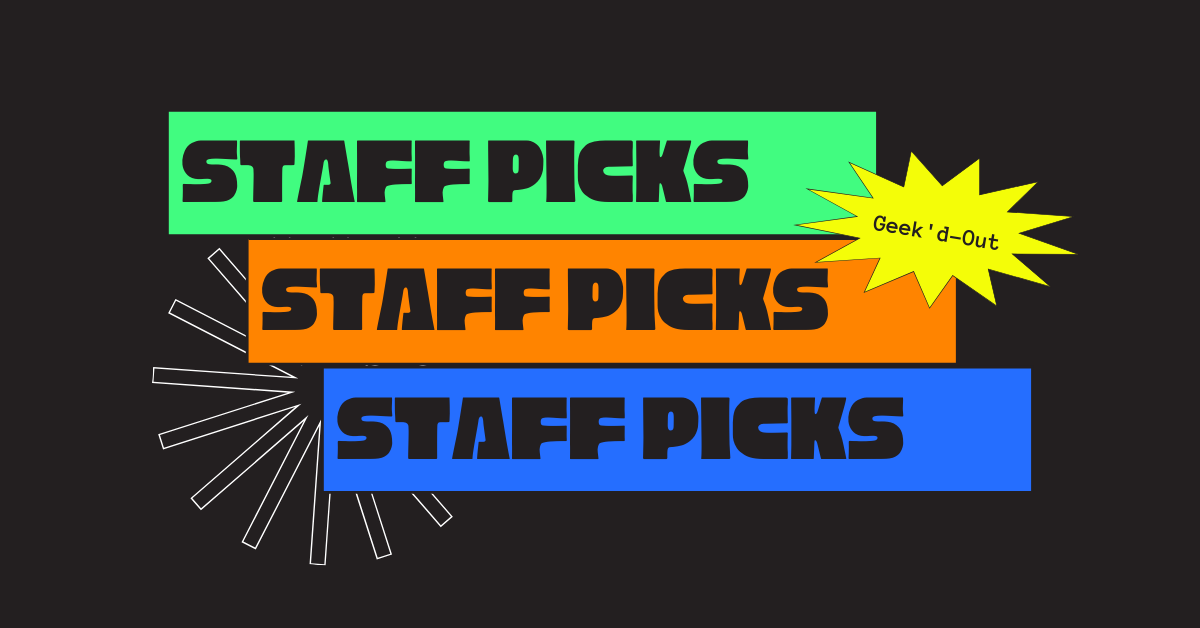 Check out what the Geek'd-Out staff is recommending this month!
---
Anelise Farris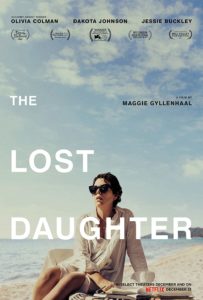 : The Lost Daughter (2021)
As an English professor, I am a sucker for any movie depicting us strange folk–such as The Lost Daughter, which made its way to Netflix December 31, following a limited theatrical release in the United States after its premiere at the Venice International Film Festival (where writer and director Maggie Gyllenhaal won the Golden Osella Award for Best Screenplay).
In the film, Leda, a college professor, is on a seaside vacation by herself. During her vacation, she becomes acquainted with a family that prompts her to reflect on her own experiences when she was a young mother pursuing her graduate degree. The stress of raising two kids while pursuing a career in academia (alongside a husband who is also an academic) causes Leda to make some tough decisions, and, as this movie reveals, she's still grappling with their outcome.
It's a heartbreaking film, based on the 2006 novel of the same name by Elena Ferrante, and the viewer finds themselves in the uncomfortable position of both empathizing with Leda and judging her (played beautifully by Olivia Colman in the present and Jessie Buckley in the past). Will it appeal as much to non-academics? Maybe not, but it's still worth the watch!
Greg Brothers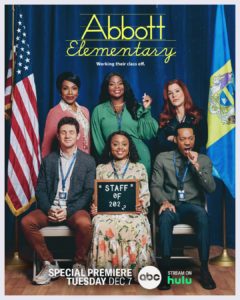 : Abbott Elementary (2021)
Great comedies are often based on taking reality and shining a light on some of the most ridiculous parts of it. Enter Abbott Elementary. Starring the show's creator Quinta Brunson, this workplace comedy follows teachers at an underfunded school in Philadelphia. Focusing on various obstacles in each episode, the show finds ways to take on everyday battles that teachers truly face and presents them in a funny and witty way. The cast plays off each other perfectly. From the fame-seeking principal Ava to the old school Mrs. Howard, the laughs come in quickly and steadily. The variety of the characters will allow anyone to find someone that matches their favorite teacher, or even perhaps their least favorite. Like any good comedy, the heart of the show comes in tackling some of the hardest subjects. By presenting them in humorous ways, it makes it more digestible to an audience who may otherwise shy away from such issues. Because the show has a wealth of material to pull from, I imagine that it will be around for years to come.
Michael Farris Jr.
: MCU in Timeline Order ( 2008-2021)
With the release of Eternals on Disney+, I decided it was finally time that I went back and gave the MCU a full re-watch, but this time in the timeline order. Fortunately, on Disney+, if you go to the Marvel section and scroll down, you'll see that they have (most of) the movies already laid out in the correct, chronological order.* They even just added some of the one-shot shorts into the timeline as well.
If you're not familiar with the MCU, the first movie that officially dropped was Iron Man. However, the first movie in the timeline order is Captain America: The First Avenger, followed by Captain Marvel, which released somewhere in-between Infinity War and Endgame. Because of that, there's a few after-credit scenes that acknowledge the events of Infinity War, but honestly, that could make for an intriguing mystery (rather than a spoiler) if this is your first time through.
I had seen several of these movies only once, and it was nice to catch back up and see how they all fully tie together. A couple observations that stood out to me were that Ant-Man made a smart move introducing us to "Legacy" characters (Hank Pym as the first Ant-Man passing the torch to Scott Lang), and that Black Widow works much better if you watch it after Civil War instead of in release order.
As with Star Wars, I can see there being a debate around whether newcomers should watch in release or timeline order. While I'm pretty set on Star Wars being introduced in release order, I see the MCU timeline order being much more beneficial for the overall narrative of the MCU.
*Incredible Hulk and the Spider-Man movies are currently not on Disney+ because of distribution rights issues. Hulk goes after Iron-Man 2, Homecoming after Black Panther, and Far From Home and No Way Home are back-to-back after Eternals.
Muriel Truax: The Good Lord Bird (2020)
I streamed this show as I was braving 2020 and it remains one of my favorites. Ethan Hawke was born to play John Brown, the fiery and possibly insane abolitionist. Daveed Diggs plays Frederick Douglas and Joshua Caleb Johnson plays Onion, a fictional runaway slave who travels with Brown. The miniseries is hilarious, yet reverent in a way that I never thought was possible to pull off in a historical show. There is a particular emphasis on Brown's family relationships and Christian faith, which I thought was well-executed and not overdone. This show moved me to tears and prompted me to research and rethink the version of the John Brown narrative I had been taught growing up. I believe The Good Lord Bird is especially relevant to the present, while we as a nation attempt to navigate social justice and racial reconciliation.
---
Check back next month as we share what Geek'd-Out staffers are enjoying in February!