It is interesting to look at the pandemic of 2020 as a period of questioning. This is in keeping with all kinds of religious and spiritual beliefs that traditionally refer to any sickness as a divine-mandated punishment for communal or individual sins, but also as a gift that gives us time to examine where we have been going wrong.
We may not accept it with that kind of grace, of course, but it is still a thought worth holding on to. COVID-19 has thrown everything we thought we knew about the world into disarray, forcing people across cultures and all walks of life to reassess priorities and learn life lessons. For artists, it has probably been a bit like seesawing between exhilaration and despair, teetering between worry about where the rent will come from and excitement at all kinds of intriguing topics to explore.
Graphic novelists are undoubtedly grappling with some or all of these questions already, as the coming months may reveal, but it's interesting to take a look at some of the titles that have just been published, especially in our time of quarantine.
---
Title: Sweet Time
Author: Weng Pixin
Illustrator: Weng Pixin
Publisher: Drawn + Quarterly
Two publications that moved me almost at once approached the concept of relationships in singular ways. While Sweet Time by Weng Pixin shone a light on bonds that are on the verge of breaking, Nori (see below) by Rumi Hara focused on how magical our childhoods can be until we grow up and lose them forever.
I thought about how these books may compel us to evaluate the nature of all relationships we have, especially when a pandemic has revealed just how strong or tenuous some of them can be. Pixin's gorgeous panels belie the seriousness of her stories, as characters mingle in and out of each other's lives trying to find common ground, coming close time and again only to eventually fail. There is something almost hallucinatory about her art, but the queries they throw up are thought-provoking. This is a book that wears its solemnity lightly and is all the better for it.
---
Title: Nori

Author: Rumi Hara
Illustrator: Rumi Hara
Publisher: Drawn + Quarterly
That same air of enchantment percolates Hara's pages as her four-year-old protagonist plunges into a personal world that could have sprung from the mind of Lewis Carroll. What elevates it isn't just the delicacy with which Hara captures the love between Noriko and her grandmother, but the elements of folklore that creep in ever so often and allow us short-lived peeks at a world we all once inhabited.
It is the kind of escapism that has made millions of us turn to Netflix in attempts to forget about the empty streets outside our windows.
---
Title: I Know You Rider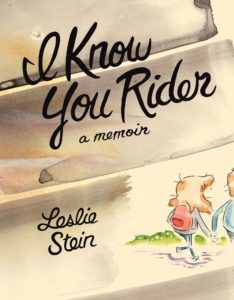 Author: Leslie Stein
Illustrator: Leslie Stein
Publisher: Drawn + Quarterly
Another great new release is a memoir by New York-based cartoonist Leslie Stein, who leaves us with tough questions about reproduction in I Know You Rider. It makes one think about how new and old parents, or couples planning a pregnancy, have possibly been reevaluating their decision to procreate in a world where certainties have been undermined in a matter of weeks.
Stein opens her memoir in an abortion clinic, rewinding from that point through the months leading up to her pregnancy, before moving to the year after it. She creates small, beautifully rendered, water-colored thought bubbles within which her conversations with family, friends, and strangers come together to create a complicated portrait of what it means to be a mother. In her skilled hands, what seems like a difficult read becomes a nuanced treatise on why we need more empathy in our lives. It moved me more than it probably would have if I weren't locked indoors, but that doesn't take away from its attributes as a work of art.
I recommend this book not only because we need to welcome new perspectives, but because we stand at the brink of an era that will be forever changed based on what we take away from the impact of this virus. It is also important to look at how traditional roles are being redefined, and Stein tackles a broader story about what it means to be a woman — unmarried and childless, at that — in a society that still relies upon men to make decisions involving a woman's body.
---
Title: Wendy, Master of Art

Author: Walter Scott
Illustrator: Walter Scott
Publisher: Drawn + Quarterly
Finally, a work by Canadian illustrator, sculptor, and writer Walter Scott, who created the character Wendy in 2014 for his first graphic novel, now throws her into the pretentious world of art school. Wendy, Master of Art takes this fictional character aspiring to be a contemporary artist and draws aside a veil revealing what happens to anyone wanting a life in the arts.
There is something deliberately casual about these simplistic black-and-white illustrations, because what Scott intends is to deflate the affectations of students we have all met some version of at universities across the planet. The institution that accepts Wendy is called University of Hell, apparently, after a tiny fictional town in Ontario. Her program of choice is a Master of Fine Arts, and she is plunged almost immediately into a world of sex, drugs, and performative activism.
Wendy's Millennial roommates struggle with everything from polyamorous relationships to gender roles, and Scott uses them all to poke fun at everything we refer to as "woke" in our TikTok-obsessed world. We track her development from outsider to artist, and it is interesting how Scott has previously described her in interviews as "a character enough like me but different enough …" This is probably what makes her so eminently relatable, round eyes and squiggly lines notwithstanding.
Scott has also maintained that the early versions of Wendy were inspired by punk, which makes sense given the chaotic scenes in which she keeps finding herself. In a world where no one can predict what the next month is going to look like, let alone the coming decade, it seems particularly apt that the punk subculture — troubled child of anarchism, nihilism, and Marxism — is one that suddenly makes the most sense.