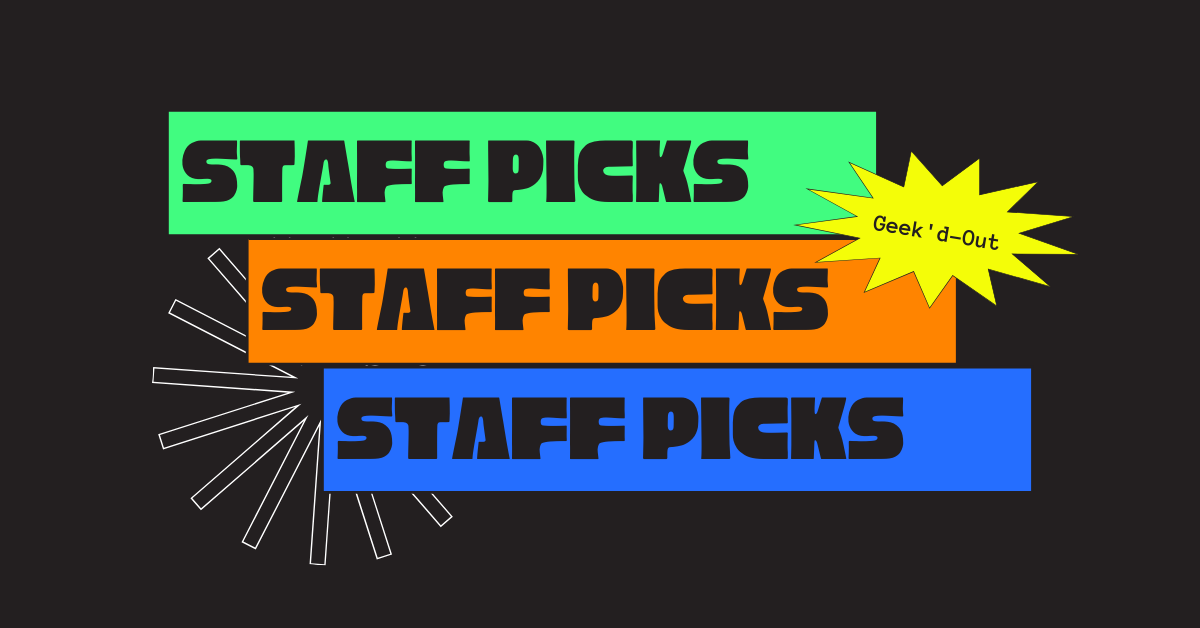 Check out what the Geek'd-Out staff is recommending this month!
---
Muriel Truax: It's a Wonderful Life (1946)
It's A Wonderful Life is an oldie but a goodie, as they say. I watch it every year before Christmas and notice new details and things to love about it every time. From the wholesomeness of George Bailey to quirky details such as Uncle Billy's unusual pets, from the humorous moment at the dance in the gym to the sacred message of the film that life is worth living, there are too many things to appreciate in this film. If you have not yet had the pleasure, I encourage you to experience it this year.
Michael Farris Jr.: Hellboy: The Complete Short Stories Volume 1 (2018)
I 
love
Hellboy. I'll admit that my first exposure to the character came thanks to Guillermo del Toro's (in my opinion) underrated films, and about 15 years later, I finally dove into Mike Mignola's source material. Hellboy is the perfect blend of folklore, horror, and just enough humor to keep the characters engaging.
I recently picked up and finished the first half of the Complete Short Stories, and Hellboy is the gift that just keeps punching. Mignola's shorts run the gamut–there's a few that are a couple pages max, and there's some that have their own mini arc. While the "Hellboy in Mexico" arc varied in strengths and weaknesses, I was especially fond of "The Midnight Circus" and "The Crooked Man," which delved into carny creep and southern gothic, respectively.
Fans of Hellboy and comics in general will find constant delight in this hefty first volume that reads way too quickly.
Anelise Farris: Why Him? (2016)
I have a weakness for raunchy comedies–especially those that star James Franco. I can't remember when it was exactly, but I was on a flight one time and decided to give Why Him? a try. And I embarrassed myself by how much I laughed out loud–like actual tears. Since that glorious discovery, my husband and I have watched it every December.
Although it's very much a Christmas movie, the humor isn't Christmas-specific, so don't think you have to wait for the holidays if you need a laugh. It's essentially a "meet the parents" movie in which Laird Mayhew (James Franco) invites his girlfriend's parents (played by Bryan Cranston and Megan Mullally) and brother (Griffin Gluck) to spend the holidays with him and Stephanie (Zoey Deutch). If that's not enough to intrigue you, KISS shows up!
Greg Brothers: The Storyteller: Tales of Life and Music (2021)
Were you looking for another rock autobiography filled with stories of drug-induced self-destructive behavior and sexual conquests? Well, The Storyteller: Tales of Life and Music is not the book for you. Instead, you get a series of stories from Dave Grohl that covers everything from his first heartbreak to recent encounters with other rock legends. However, Grohl never insults readers by acting as if being a rock star isn't everything you expect. He embraces the rockstar life and all the things that it has afforded him, but Grohl doesn't take himself too seriously. His humble and self-deprecating humor keeps the stories grounded and relatable to anyone who has ever had big dreams. And, of course, any book that is Nirvana adjacent is going to have to touch on the death of Kurt Cobain. Without giving away anything in the book, Grohl's response to Cobain's death is surprising–in a good way.
Because of how the book is broken down, it is a quick read–one that once I picked it up, I didn't want to put it back down. The beauty of the stories is that they are written in a way that you can reread them and pull something new out each time. So whether you are a fan of Nirvana, the Foo Fighters, or just Dave Grohl himself, The Storyteller: Tales of Life and Music is a must-read.
---
Check back next month as we share what Geek'd-Out staffers are enjoying in January!