With Halloween a little less than a week away, it's time to ramp up that playlist and pump out All The Spooky Tunes. And, let's be honest: these albums are great for any time, but there's something about the overcast skies and the scattering leaves that enhances the experience of these albums. Whether it's in the car or on the couch, you really can't go wrong with these eerie earfuls.
It was hard to narrow it down to just 13 albums, and a lot of notable artists got left out of the mix (apologies to Marilyn Manson). I tried to pull some of my favorites out that don't necessarily get called upon for the Halloween season but definitely belong. I also tried to include a little something for everyone, but there's a whole lot of metal … partly because I'm a metal head, partly because metal music just goes with spookin'.
So, enough with the fluff; let's get down to the nitty-gritty.
---
Nightmare Revisited (Various Artists, 2008)
Okay, I know I said I tried to go with not-very-typical-Halloween albums and then walked right into probably the most stereotypical Halloween album of all time. But it's a little different! Nightmare Revisited has all the classic songs performed by great artists (so maybe Marilyn Manson didn't get left out after all!). Along with MM, you've got "What's This" by Flyleaf, "Making Christmas" by Rise Against, "Kidnap the Sandy Claws" by Korn, "Sally's Song" by Evanescence singer Amy Lee, and a lot more. It's a special treat that adds new flavor to an old classic.
Listen on Spotify     |     Listen on Apple Music
---
Apocalyptica (Apocalyptica, 2005)
It's metal … on cellos! The trio of classically trained cellists from Finland took the world by storm when they started releasing covers of Metallica songs played entirely with cellos, and this eponymous album is their fifth studio and second album to include a drummer for their songs. "Quutamo" might be the best-known song from this album, and it really drives while still maintaining an entirely bittersweet atmosphere (along with their song appropriately titled "Bittersweet"). Another song of note is "Ruska," named after the Finnish word for autumn leaf color. "Ruska" is probably the saddest song you will ever hear as it dives into a deep and melancholy place of your heart.
Listen on Spotify     |     Listen on Apple Music
---
We Are Not Your Kind (Slipknot, 2019)
Slipknot's newest album shows why those masked freaks who creeped out of Iowa are still very relevant to us maggots. The album, from start to finish, is an audible force to be reckoned with and is perfect for your Halloween needs. "Unsainted" starts out with an eerie guitar plucking accompanied by a haunting choir, builds up as Corey Taylor joins in, and then proceeds to rip your face off in typical Slipknot fashion. Another song that is decidedly creepy is "Spiders," which is driven by a perfect piano riff that rivals that of John Carpenter's instantly recognizable Halloween theme (and weirdly also reminds me of the Call of Duty: Zombies menu screens).
Listen on Spotify     |     Listen on Apple Music
---
The Book of Souls (Iron Maiden, 2015)
Speaking of bands that are still relevant, Iron Maiden's 2015 release The Book of Souls is an impressive album for a band that has been around for 40-plus years. Let's be honest: a lot of bands that stick around that long tend to burn out and give us albums that essentially sound like the band is on cruise control. Not Iron Maiden. This ambitious album has both the longest Iron Maiden song ever (replacing "The Rhyme of the Ancient Mariner") and the longest runtime of any Iron Maiden album. "If Eternity Should Fail" is an emotional tour-de-force and features a narrative at the end introducing us to the character Necropolis, who is a being formed from the dead and "the harvester of the soul meat." And, since this is Iron Maiden, you know there's going to be a stadium rock-worthy song which elicits a "Whoa-oh-oh" from the crowd, and this comes in the form of "The Red and the Black." Last note: "Tears of a Clown" is a tribute to Robin Williams and his tragic suicide to add a little bit more melancholy to your tea.
Listen on Spotify     |     Listen on Apple Music
---
The Heart of Everything (Within Temptation, 2007)
Dutch symphonic metal! This band is perfect if you want to listen to Evanescence without actually listening to Evanescence. And, arguably, lead singer Sharon den Adel is better than Amy Lee. She really lets her talents fly with songs like dark-and-brooding "The Howling," emotional power ballad "Frozen," and make sure you don't miss her operatic performance in the title track "The Heart of Everything." Plus, you get some creepy Latin chanting to open up "Our Solemn Hour." With catchy hooks and riffs galore, this is the perfect album to light a thousand candles, don your darkest eye shadow and nail polish, slip on those black, lacy gloves, and let your little Gothic heart bleed out.
Listen on Spotify     |     Listen on Apple Music
---
Hellbilly Deluxe (Rob Zombie, 1998)
Want a change of pace from the previous album? Let's get sweaty and dirty with Rob Zombie and his near-perfect album Hellbilly Deluxe. This album took me for a ride the first time I heard it, and honestly, I don't think that feeling will ever go away each time I listen to this bombastic work of art. This album is the music version of those late night, grindhouse movies in that it is unapologetically gruesome, vile, and horny. And do you need a specific Halloween song? Look at the track list and take your pick! With titles like "Superbeast," "Dragula," "Living Dead Girl," "Spookshow Baby," "Meet the Creeper," "The Ballad of Resurrection Joe And Rosa Whore," how could you go wrong?
Listen on Spotify     |     Listen on Apple Music
---
Strange Days (The Doors, 1967)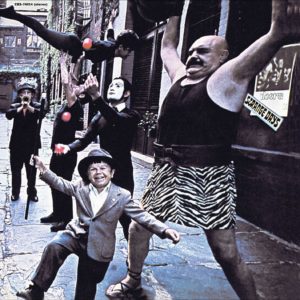 It's unfair to celebrate Halloween without the raw, rock-n-roll force that is Jim Morrison. There are a lot of Doors albums that are Halloween-ready, but Strange Days edged the competition for various reasons, and not just the haunting title track. The dark, bluesy "You're Lost Little Girl" is equal-parts mesmerizing and disturbing. And ghouls and beasts are fine, but sometimes the scariest monster in a horror story is a human. The Doors recognize this with "People Are Strange." This is a great album to drop you down in a haunted Louisiana bayou on your way to meet a cross-roads demon. Just be careful "When the Music's Over."
Listen on Spotify     |     Listen on Apple Music
---
Reise, Reise (Rammstein, 2004)
You want creepy? The always-controversial German band Rammstein has your creepy. While it's difficult to find in streaming versions of the album, the opening track on some CD pressings features audio from the last 30-seconds of Japanese Airlines Flight 123, which tragically crashed in 1985 just 12-minutes into flight. Talk about haunting. Plus, the songs in general are scary-as-crap, whether it's the opening "Reise, Reise" or the eerie guitar riff that opens "Dalai Lama." And then … there's "Mein Teil," which is based on a true story about two men who connected online and agreed to eat … uh … well, the song's title translated into English is "My Part," so we'll leave it there. Plus, there's "Amerika," which can meet your anti-war-and-imperialism needs.
Listen on Spotify     |     Listen on Apple Music
---
Three Cheers for Sweet Revenge (My Chemical Romance, 2004)
Maybe this ain't your typical Halloween flavor, but it should be. Go back to the early days of MCR (Oh man … do you think kids these days would call them "classic rock"????) with the album that brought them onto everybody's radar. I still think my default, go-to song when I think of MCR is "I'm Not Okay (I Promise)," but there's definitely some Halloween vibes to the emo heartbreak pulsating through this album. Tracks like "The Ghost of You" and "Cemetery Drive" are sure to get you in the Spooky Season mood. And don't forget that "Thank You for the Venom" spanks.
Listen on Spotify     |     Listen on Apple Music
---
Colony (In Flames, 1999)
Another throwback, taking us back to the days when In Flames threw all of their raw, pent-up rage into every glorious Swedish metal song. Are you dressing up as a ghost this year? Well, perhaps you'll be humming "Embody the Invisible" to yourself as you put together your ghostly get-up! Or perhaps you can blast "Zombie Inc." as you slather yourself in undead glory. Really, though, this whole album touches on a deep, primal part of your soul with Anders Fridén's unforgiving growl and the infinitely catchy and hum-able guitar riffs that carry you through a hellish landscape.
Listen on Spotify     |     Listen on Apple Music
---
The Art of Drowning (AFI, 2000)
Our horror-punk gods! If you find yourself in a random biker bar with dingy lights and a TV playing A Clockwork Orange behind the bar, chances are this is the music playing in the background (don't ask me how I know this). The Art of Drowning is arguably AFI at their best, when they were right on the verge of being a commercialized success while still drawing heavily from their hardcore roots. Just about every song on this is production glory that absolutely rips. Take a ride as "The Lost Souls" carries you into the haunting bass riff that launches "The Nephilim," and before you know it, the album is over and your ears are ringing with minor-key, buzzsaw-y greatness. Oh yeah, and that cover might as well be a Halloween decoration for your next party.
Listen on Spotify     |     Listen on Apple Music
---
Untouchables (Korn, 2002)
A few seconds into Untouchables, and you know this album is HUGE. The sound production alone makes you feel like you're in the middle of an arena with Jonathan Davis screaming right at you, and that's no accident as the band spent about two years and $4,000,000 to put this monstrosity (I mean that in a good way) together. In fact, Davis ranks this as his second-favorite album, behind only the album that started it all for them. It is weird, creepy, messed up, whatever you want to call it, but it drips with Halloween-y sound. Start off with the Grammy-winning "Here to Stay" with Head's gravely riff, make your way to "Blame" that is sure to bring you to your own personal moshpit, get spooky with "Thoughtless," and … uh … do what you want with "Beat It Upright."
Listen on Spotify     |     Listen on Apple Music
---
S&M (Metallica, 1999)
Want to get some great Halloween music while feeling cultured AF? This live album is a great way to top it all off as the Masters of Metal themselves teamed up with the San Francisco Symphony orchestra and produced one of the greatest live metal albums ever. It's got haunts for days. You've got titles like "Of Wolf And Man," "The Call of the Ktulu," "Devil's Dance," "The Thing That Should Not Be," and so much more. And the orchestra stands up to the challenge of performing with Metallica; crank up the beginning of "Fuel" and imagine yourself in the climax of a slasher film as you rip through demons with your soul-powered chainsaw. It's especially useful if you find yourself in that exact situation on Halloween!
Listen on Spotify     |     Listen on Apple Music
---
So there you go! You've got pretty much all the music you need to take you through Halloween and beyond.
As a bonus, a lot of Geek'd Out staff threw together some of their favorite Halloween songs and made you a playlist for your Halloween party! So don your costume, turn down the lights, give the kiddies their candy, and try not to summon too many demons and ghouls to your shindig!